China and the U.S. Are Long-Term Enemies: An Intelligence Squared Debate [SOLD OUT]
VIEW EVENT DETAILS
This event is now sold out. Please watch the webcast beginning at 6:45 pm ET.
Is China's ascendancy a threat to the U.S.? China's rise as an economic and military power, coupled with its aggression in the South China Sea, have led some to call for a major rebalance of U.S. policy and strategy. Can China be trusted to act as a responsible global stakeholder? And will they be a long-term ally, or adversary?
In this Intelligence Squared debate, ASPI President Kevin Rudd and Kissinger Institute Director Robert Daly will oppose the motion "China and the U.S. are long-term enemies." Defending the motion will be Heritage Foundation Senior Fellow Peter Brookes and University of Chicago Professor John Mearsheimer.
Viewers are invited to vote on the motion online ahead of the debate.
Related Content
In 2014, as a Senior Fellow at the Harvard Kennedy School's Belfer Center for Science and International Affairs, ASPI President Kevin Rudd studied the question of whether China's rise can be managed peacefully and concluded that it can — if Washington and Beijing commit to placing their relationship on a stable, long-term footing. To learn more about his analysis and his recommendations for how the U.S. and China can author a common narrative of mutually beneficial achievements, read his report U.S.-China 21: The Future of U.S.-China Relations Under Xi Jinping.
Debaters
For the motion:
Peter Brookes is a senior fellow for national security affairs at the Heritage Foundation's Davis Institute for National Security and Foreign Policy. He is also serving his fourth term as a congressionally appointed member of the U.S.-China Economic and Security Review Commission. Brookes previously served in the administration of President George W. Bush as deputy assistant secretary of defense for Asian and Pacific affairs, responsible for U.S. defense policy for 38 countries and five bilateral defense alliances in Asia. Prior to this, he was a professional staff member with the House International Relations Committee, served with the CIA and the State Department at the UN, and worked in private-sector defense and intelligence industries. A decorated Navy veteran and a retired commander, Brookes served on active duty in Latin America, Asia and the Middle East in aviation and intelligence billets.
John Mearsheimer is the R. Wendell Harrison Distinguished Service Professor of Political Science and the co-director of the Program on International Security Policy at the University of Chicago, where he has taught since 1982. He graduated from West Point in 1970, served five years as an officer in the U.S. Air Force, and then held fellowships at the Brookings Institution, Harvard University's Center for International Affairs, and the Council on Foreign Relations. Mearsheimer has written extensively about security issues and international politics more generally. He has published five books, including Conventional Deterrence (1983), The Tragedy of Great Power Politics (2001), and Why Leaders Lie: The Truth about Lying in International Politics (2011). He has also written many articles for both academic and popular publications, including International Security, Foreign Affairs, London Review of Books, New York Times, and Los Angeles Times.
Against the motion:
Robert Daly has directed the Kissinger Institute on China and the United States at the Wilson Center since 2013. He came to the Wilson Center from the University of Maryland. Prior to that, he was American director of the Johns Hopkins University-Nanjing University Center for Chinese and American Studies. Daly began work in U.S.-China relations as a diplomat, serving as cultural exchanges officer at the U.S. Embassy in Beijing in the late 1980s and early 1990s. He has taught at Cornell and Syracuse University and has worked on television and theater projects in China as a host, actor, and writer. Daly has lectured at scores of Chinese and American institutions, including the Smithsonian Institution, the East-West Center, the Asia Society, PACOM, and the National Committee on U.S.-China Relations. He has lived in China for 11 years and has interpreted for Chinese and Americans, including Jiang Zemin, Yu Zhengsheng, Jimmy Carter, and Henry Kissinger.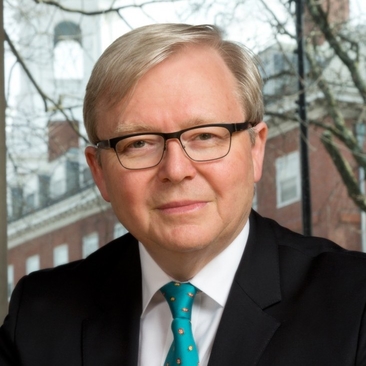 The Hon. Kevin Rudd is President of the Asia Society Policy Institute. He served as Australia's 26th Prime Minister and as Foreign Minister. In 2014, Mr. Rudd conducted a major research project on the future of U.S.-China relations at Harvard's Kennedy School. As Chair of the Independent Commission on Multilateralism, Mr. Rudd is leading a review of the UN system. He is a Distinguished Fellow at Chatham House in London, a Distinguished Statesman with the Center for Strategic and International Studies in Washington, and a Distinguished Fellow at the Paulson Institute in Chicago. He is proficient in Mandarin Chinese, serves as a Visiting Professor at Tsinghua University in Beijing, and co-chairs the China Global Affairs Council of the World Economic Forum.
Event Details
Kaufman Center 129 West 67th Street New York, NY 10023
This event is now sold out.

Add to Calendar
20151014T214500
20151015T003000
UTC
Asia Society: China and the U.S. Are Long-Term Enemies: An Intelligence Squared Debate [SOLD OUT]
Kaufman Center 129 West 67th Street New York, NY 10023
---