Afternoon Plenary: Perspectives from CEOs
CEOs discuss their journey to corporate leadership positions and the nexus between diversity, mentorship, community service, and leadership development in one's career.
Featured Panelist: Ronnie C. Chan, Chairman, Hang Lung Properties Ltd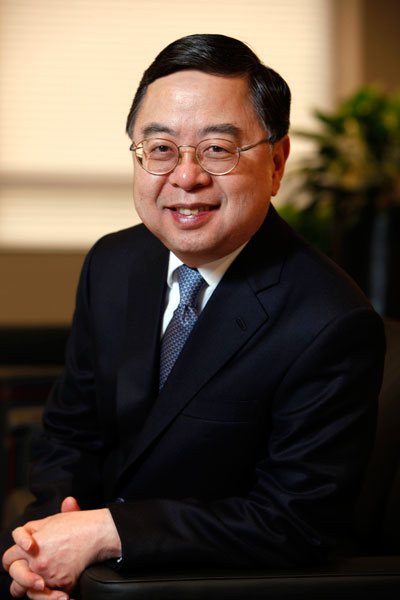 Mr. Ronnie C. Chan is the Chairman of Hang Lung Group Limited and its subsidiary Hang Lung Properties Limited. Both are publicly listed companies in Hong Kong, with the latter being a constituent stock of the Hang Seng Index. Founded in 1960, it has been expanding into mainland China since 1992. For 2008, Hang Lung Properties reported a net profit of US$1,685 million. Following successes in Shanghai, from 2005 to 2009, Hang Lung plans to invest US$5 billion and build about eighteen world-class commercial complexes in several major Chinese cities, like Tianjin, Shenyang, Jinan, Wuxi and Dalian.
Mr. Chan co-founded the Morningside group. In the past two decades, Morningside and its associates owned and managed companies focusing on manufacturing, public transport operations, outdoor advertising, media, healthcare, online game operators, high tech and biotech inveshnents in mainland China, developmental capital investments in Southeast Asia, manufacturing and distribution in Europe, and service industries, biotech and other venture capital investments in North America.
In Hong Kong and the mainland of China, Mr. Chan is Chairman of the Executive Committees of the One Country Two Systems Research Institute and ofthe Better Hong Kong Foundation, Convenor ofthe Hong Kong Developlnent Forum, a Vice President of the Real Estate Developers Association of Hong Kong, a Governing Board member of the China-United States Exchange Foundation, and an Advisor to the China Development Research Foundation of the State Council of the People's Republic of China. He also founded and chairs the China Heritage Fund which restores cultural relics in China. He is a fonner government appointed Non-executive Director of The Securities and Futures Commission of Hong Kong, the founding Chairman Emeritus of the Asia Business Council, and a former Chainnan of the Hong Kong-United States Business Council.
Internationally, Mr. Chan is a Vice Chairman of the Board of the Asia Society and Chairman of its Hong Kong Center, a founding Trustee of the African-Asian Society and a Director of the Board of the Peter G. Peterson Institute for International Economics. He is a member of the Council on Foreign Relations, the National Committee on United States-China Relations, the Committee of 100, and the Advisory Board of the Center for Strategic and International Studies in Jakarta. Mr. Chan is a former director of Standard Chartered PLC and Motorola, Inc. He is also a former member of the governing boards of the World Economic Forum, East-West Center, Pacific Council on International Policy, Eisenhower Fellowships, and The Maureen and Mike Mansfield Foundation.
Mr. Chan is involved in many educational endeavors. He is a Court member of the Hong Kong University of Science and Technology, a Trustee of the University of Southern California, and a Governing Board member of the Indian School of Business. He serves on the President's Council on lnternational Activities at Yale University, the International Advisory Council of the Freeman Spogli Institute for
International Studies at Stanford University, the International Advisory Committee of The Pacific Basin Institute at Pomona College, and the International Advisory Committee of the Institute of Asia-Pacific Studies at Waseda University. He also co-chairs the International Advisoly Board of The Culture and Civilization of China, a joint project of Yale University Press and China International Publishing Group. He is a fonner Co-Chair of the Advisory Committee of the Center for Real Estate at the Massachusetts Institute of Technology and a former Brittingham Visiting Scholar at the University of Wisconsin-Madison.
Mr. Chan is a frequent speaker at international conferences and has published numerous articles in International Herald Tribune, Financial Times, Newsweek, Fortune, Asian Wall Street Journal, Far
Eastern Ecoitornic Review and Japan Tirnes. Mr. Chan holds an MBA from the University of Southern California and an honorary doctorate in social sciences from the Hong Kong University of Science and Teclmology. In 2004, he received the Asia Society Leadership Award for strengthening economic, cultural and political ties between China and the United States, Hong Kong, Taiwan and Southeast Asia. He also received the Highest Alumni Award of the University of Southern California in 2009. He is 60 years of age and resides in Hong Kong with his wife. They have two grown sons.