Weekly Rewind: #SelfieWithDaughter, Magical Tattoos in Phnom Penh, and a Robot Wedding in Tokyo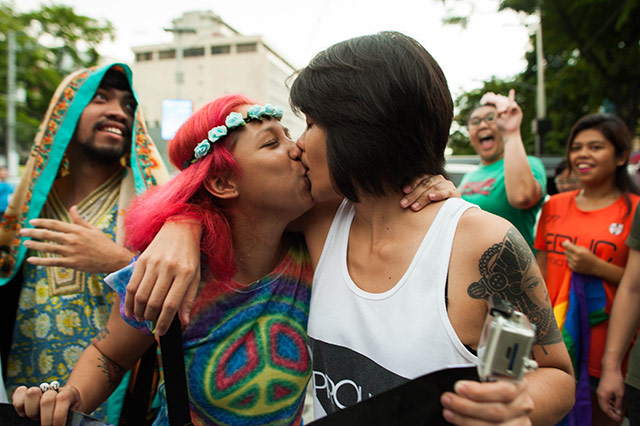 Filipino LGBT participants march in Luneta park during the Pride March on June 27, 2015 in Manila, Philippines. (Dondi Tawatao/Getty Images)
Welcome to Asia Society's Weekly Rewind, featuring some of the best Asia-related content you may have missed. This week:
Stories
Social media takes to 'SelfieWithDaughter' whole-heartedly
Himanshi Dhawan | Times of India
Last Sunday, Indian Prime Minister Narendra Modi used his monthly radio show to launch #SelfieWithDaughter, a campaign encouraging fathers to post selfies of themselves with their daughters to social media. The campaign, which aims to champion girls in a country where the births of boys vastly outnumber births of girls each year, has drawn thousands of participants, including a number of politicians and celebrities. Read about the campaign, then scroll through a slideshow of notable participants.
The Magical Tattoo Artists of Cambodia
Nathan Thompson | Post Magazine
Magical tattoos, known as sak yant in Khmer, have centuries of history throughout Southeast Asia, and are believed to "render their wearers impervious to bullets, protect them from misfortune and endow them with sexual magnetism." In Cambodia, however, the tradition was mostly lost during the Khmer Rouge genocide and civil war. In this South China Morning Post magazine feature, writer Nathan Thompson recounts his experience getting a tattoo and meeting with sacred tattooists in Phnom Penh.
The 10 Korean Contemporary Artists You Should Know
Julie Daunt | The Culture Trip
Art historian and writer Julie Daunt surveys South Korea's flourishing contemporary art scene for The Culture Trip: "From neon words to hyper-realistic sculptures to threaded installations."
What's That Got to Do With the Price of Beer in China?
Catherine Putz | The Diplomat
Asia is driving growth in global beer demand. "Asia is a growing market both globally and domestically—with Asian beer makers breaking into world markets and beers from around the world finding their way into the region," writes Catherine Putz in a comparative analysis of the beer market in Asia.
Multimedia
See China's rapid island-building strategy in action
Simon Denyer | Washington Post
Take a look at new images of China's artificial island construction in the South China Sea.  
First Robot Wedding In The World Takes Place In Japan [Video]
Jan Dizon | Tech Times
The world's first robot wedding took place last weekend in Tokyo. Robots Roborin (the bride) and Frois (the groom) got married in a ceremony officiated by a humanoid robot named Pepper.
Video: First ever robot wedding in Japan (RT)
Overheard This Week
"The divine winds have blown in favor of Japan."
— Soccer fan Noriko Kimura, after the Japanese national team qualified for the Women's World Cup Championship after a last-minute own goal by England in Wednesday's semifinal. [The Guardian]
By the Numbers
271,058 — Japan's population decline in 2014, the biggest drop on record and the sixth straight year of decline [Asahi Shimbun]
25.9 — The percentage of the Japanese population 65 years or older [Asahi Shimbun]
270 — The number of people injured in an explosion at Formosa Fun Coast water park in Taiwan on Monday. Two victims have died since the incident. [Taipei Times]
 
---
Each week, Asia Blog will feature highlights from Asia-focused feature writing, photography, and multimedia. Do you have recommendations? Please email a link and any related details to blog@asiasociety.org (we regret that we won't be able to respond directly to each inquiry).
Opinions expressed on highlighted articles are solely those of the author(s), not of the Asia Society.