Video: Is China's Turn to Fracking a Reason to 'Ban it Everywhere Else?'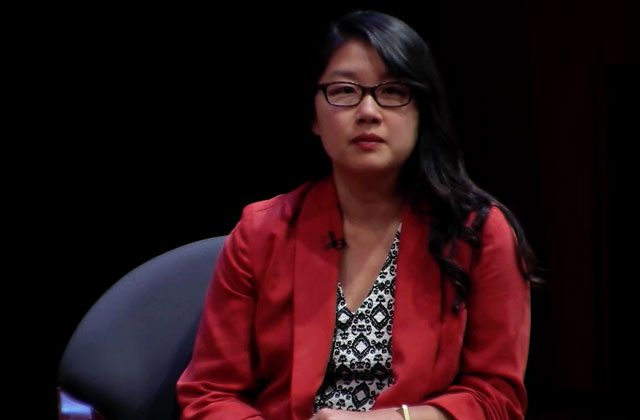 Mother Jones interactive producer Jaeah Lee at Asia Society New York on June 11, 2014.
As the United States attempts to curb its rampant carbon emissions and forestall the most harmful effects of climate change, fracking has quickly entered the mainstream lexicon as a controversial alternative to coal. Hydraulic fracturing — fracking for short — is a means of releasing natural gas trapped within rock formations deep underground. While the use of fracking has come under fire in the U.S., it's booming in China, where an alternative to coal is needed to sustain the country's rate of economic growth.
On Wednesday, Asia Society presented an exclusive preview of an investigate report by Mother Jones and Climate Desk into China's fracking boom, followed by a panel discussion about the uncertain future of energy in China. A collaboration among seven journalistic organizations, Climate Desk is dedicated to probing the costs of the climate change as it unravels worldwide. (Wednesday's event was co-organized by Asia Society's Center on U.S.-China Relations, Mother Jones, and Climate Desk.)
James West, the event's moderator, traveled across China over the past year as senior producer for Climate Desk. He framed the importance of the discussion by noting that "we can't act on climate change without China. We need China: the most polluted country on earth, the most populated country on earth, and the world's biggest emitter of greenhouse gases."
Mother Jones interactive producer Jaeah Lee shared anecdotes pertaining to China's environmental woes that are a by-product of its addiction to coal.
"You could feel the air burning as it went down your throat; it was a very visceral experience," said Lee of her visit to Lanzhou, one of the first cities to burn coal in China. "For the people living in these areas … even those that want to move away can't afford to. And others have said, 'Besides, what's the point? It's just as polluted everywhere else.'"
Oscar-nominated director Josh Fox, who spent years learning about the American gas industry for his documentary Gasland, dissected the science behind fracking. Since the process of hydraulic fracturing can result in leaks of methane — a greenhouse gas significantly more potent than carbon dioxide — Fox argued that fracking is "catastrophic" to the prognosis of climate change. "If we say China is going to [pursue fracking] no matter what, all the more reason to ban it everywhere else."
Ella Chou is the energy director of MingX, a consulting firm that specializes in streamlining U.S.-China bilateral investment in environmentally friendly technologies. Chou expressed satisfaction that environmentalism was finally receiving public attention in China, even if that attention is long overdue.
"In April, China amended the environmental protection law, which was promulgated 25 years ago and hasn't been amended since. In this amended law, they finally gave civil society groups standing to do public interest litigation."
Orville Schell, Arthur Ross Director of Asia Society's Center on U.S.-China Relations, noted that shale gas fracking in China may have some virtues, and in any case will continue to proliferate in the coming years.
"China has a deep and abiding need for energy efficiency," Schell said. "You do have a possibility for having regulation at a higher standard — hopefully the highest standards — brought to bear. China's not immune, as some might imagine, to the effects of climate change."
Video: Highlights from the program (3 min., 9 sec.)