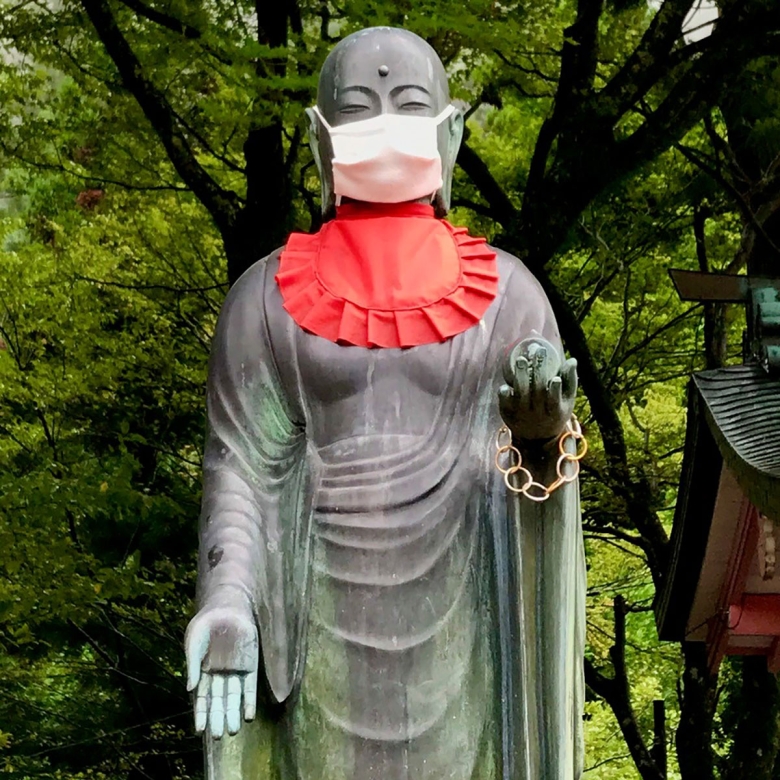 Hieizan Enryakuji Temple in the age of COVID-19. Photograph by Julia Yonetani
Dreaming With: Ken + Julia Yonetani
In the lead up to the opening of Part 2 of the Triennial, our Dreaming With Q&A series provides an exclusive glimpse into the artists' lives and studios.
Where have you spent your time during the pandemic?
We were participating in an art residency at Shigaraki Ceramic Culture Park, in Shigaraki, Japan, when the first COVID-19 cases in Japan were confirmed. Gradually the staff stopped accepting new artist residents. Like the monkeys on the bed, one by one the artists left for their respective countries without anyone to replace them, until, eventually, nobody was left, except for our new work, which was supposed to go to exhibitions in New York and Australia but, like us, got stuck!
We also have an organic farm in Kyoto prefecture called Rice Valley because that is what "Yonetani" means in Japanese (our farm website is ricevalley.jp/en/). So, we headed to the farm and planted lots of vegetables and prepared the rice fields with our kids. There was no strict lockdown in Japan. On the weekends we went mountain climbing and discovered deserted mountain tracks around Kyoto prefecture.
While many of our exhibitions in Australia and New York were postponed or canceled, we were lucky enough to get some great last-minute opportunities for exhibitions domestically in Japan, instead. We had a solo show titled "Dysbiotica" at Mizuma Gallery Tokyo in August 2020 (mizuma-art.co.jp/en/exhibitions/2008_kenjulia/) and our first large solo show in Japan, "That is Why I Want to be Saved," opened at the new Kadokawa Culture Museum in Saitama in November 2020 and is on view until March 2021 (kadcul.com/en/event/26).
We were also busy editing and translating our first fully bilingual Japanese and English catalogue, titled Dysbiotica: The Age of Imbalance. It is now available from Amazon (amazon.com/Dysbiotica/dp/4763020161) and Mizuma Gallery Tokyo (mizuma-art.shop-pro.jp/?pid=151563521).
Ken Yonetani on the farm. Photograph by Noam Levinger
What books, music, movies, or podcasts have inspired you recently?
Julia's native language is English, and Ken's is Japanese. So, we usually are reading books in different languages! Ken just finished reading artist Makoto Aida's first novel, Geisai (Art Fest), a kind of tell-all about the Japanese art scene. It evoked a lot of chuckling. Since COVID-19, Julia, on the other hand, has been afflicted with a dystopian eco-fiction obsession, which has included The Butterfly Effect by Rajat Chaudhuri (Olive Turtle, 2018), In Memory of Water by Emmi Itäranta (Harper Voyager, 2014), and now American War by Omar El Akkad (Knopf, 2017). In American War the year is 2074 and the United States is ravaged by climate change, civil war, and plague. Some days it seems like maybe we got there already!
Recently we watched the movie Under the Silver Lake (2018), which was a great inspiration to not spend too much time online and fall down the Internet conspiracy rabbit hole!
Ken + Julia Yonetani, Dysbiotica. Photograph by MIYAJIMA Kei, image courtesy of Ken + Julia Yonetani and Mizuma Art Gallery
What are you working on right now?
Maybe coincidentally, we were already making work about the breakdown in the balance of ecosystems at a micro level when COVID-19 appeared. This series of works is titled Dysbiotica, from the term "dysbiosis," meaning an imbalance in microbial systems. Based on the notion that ecosystems on a global scale as well as humans rely on microbial systems, [the series] questions the role humans have played in causing a systemic imbalance in the micro-world and our own microbiomes. The pandemic was a surprise and complete shock, but it also seems to fit in with this theme. We are continuing this theme now.
What artist or work of art has most recently had an impact on you?
We are often inspired by other forms of art, like cinema. We love the aesthetics of Stanley Kubrick movies.
What are you most looking forward to in 2021?
While being closely connected to Japan, we have always had one foot out the door. Most of our exhibitions have been in Australia or other countries. Now we are kind of stuck here, it is very hard to travel, so we are looking forward to deepening our roots locally. We discovered this is important and rewarding. Like a large tree when it spreads its roots underground, the roots, in turn, help the tree flourish and flower, enabling its seeds and pollen to travel afar.
What do you want viewers to take away from experiencing your work in the Triennial?
Our work might seem dystopian and ironic, but we like to think it also evokes spirituality and a sense of connection and hope.
Are there any fun facts about your practice or your work in the Triennial that you would like to share with readers?
We raised the butterfly which is in the exhibition with the assistance of scientists at the Otaki Lab, University of the Ryukyus, Japan. They were conducting research on the impact of the Fukushima Nuclear Power Plant accident of 2011. While the first generations of butterflies were severely affected, gradually the mortality rates dropped and after around twenty-seven generations, the butterfly population appeared to have largely recovered. In human terms, this would be the equivalent of four to five hundred years. It seems like a long time, but the power of nature to regenerate [combined with] a perspective that embraces longer, geological time frames can help when envisaging a more balanced future.
Related Updates
Artist Q&A
Dreaming With: Ahmet Öğüt
Artist Q&A
Dreaming With: Susie Ibarra
Artist Q&A
Dreaming With: Samita Sinha