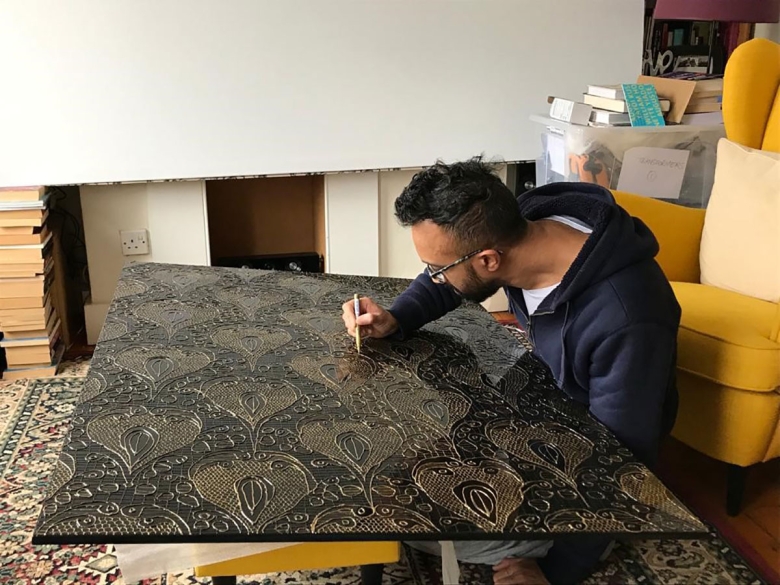 Hetain Patel working at home over lockdown, 2021. Photographer: Eva Martinez
Dreaming With: Hetain Patel
Our Dreaming With Q&A series provides an exclusive glimpse into the artists' lives and studios.
Where have you spent your time during the pandemic?
In my flat in London, with my wife. Apart from visiting my parents between the first two lockdowns, we haven't moved from here.
What books, music, movies, or podcasts have inspired you recently?
Films and TV by the director Nicholas Winding Refn and composer Cliff Martinez like Drive (2011) and Too Old To Die Young (2019). The noir-ish quality of this duo has been influencing my current work. I've also been enjoying tuning out of work via some great trash tv on Netflix like Selling Sunset—reality TV mixed with huge millionaire houses and Californian weather that feel quite dreamy from the perspective of current lockdown in a small one-bedroom flat in London.
Hetain Patel on the set of Don't Look at the Finger, 2017. Photographer: Nick Matthews
What are you working on right now?
My biggest project is a new film that I've been developing for nearly years, Trinity. The shoot kept being postponed since last spring, but now it's looking like we will be able to go ahead this April, which I'm very excited about. I'm also currently working on some sculptures, including a set of action figures of characters from my recent films, and a body of paintings based around a burglary at my grandmother's house in Bolton, North West England.
What artist or work of art has most recently had an impact on you?
I've recently been revisiting Athi-Patra Ruga's brilliant sculpture, Proposed Model of Francois Benga (1906–1967), 2018. It has been on my mind since seeing it at his solo show at Somerset House in London. His ornate use of colors and textures and slippages away from human reality have been feeding my own experiments with sculptures.
What are you most looking forward to in 2021?
Getting some sense of real-life normalcy back, in whatever form that comes. I'm usually a home hermit, but even I'm dying to get out and be in a busy bar or restaurant with a group of friends. I'm not sure how close we'll get to this but my optimism for it is still there. I also have a bunch of new works that I am dying to finish and exhibit, and with the rollout of vaccines going on I'm hoping this will happen in physical form this year so I can't wait for that. Even though a good number of the works I make are digital I'd love to say goodbye to "digital exhibitions" as the default mode of experiencing art—in the gallery, theater, cinema, outdoors, yes, but please no more on the laptop!
Hetain Patel on the set of Don't Look at the Finger, 2017. Photographer: Nick Matthews
What do you want viewers to take away from experiencing your work in the Triennial?
I hope they'll be entertained, emotionally involved, and uplifted. The work I'm presenting comes from the heart. It's very personal and hits the core of what I'm about and what I want to put out in the world.
Are there any fun facts about your practice or your work in the Triennial that you would like to share with readers?
I don't have a permanent studio—I've primarily worked from home long before any lockdowns. This has suited me for many years as most of my work has been either at the computer or in a hired rehearsal room or set. However, I've been making a lot more physical "stuff" over the last year or so, paintings and sculptures, so now I really need a studio. My art at the moment is all over our small flat—in my living room, kitchen, and sometimes paintings drying in the bedroom.
Related Updates
Artist Q&A
Dreaming With: Ahmet Öğüt
Artist Q&A
Dreaming With: Susie Ibarra
Artist Q&A
Dreaming With: Samita Sinha