Asia Society Presents New York Premiere of 'Recycling: Washi Tales,' March 24-25
Four theatrical tales of paper making from Japanese history unfold in a world created by distinguished paper artist, Kyoko Ibe.
Designed by paper artist Kyoko Ibe
Written and directed by Elise Thoron
With Karen Kandel (storyteller/writer); Shonosuke Okura (Noh otsuzumi drummer); Shisui Arai (biwa plucked lute musician); Makiko Sakurai (actor); Sonoko Soeda (actor).
Asia Society New York (725 Park Avenue at 70th Street)
March 24-25 at 8:00pm
$30 for non-members; $26 for students/seniors; $22 for members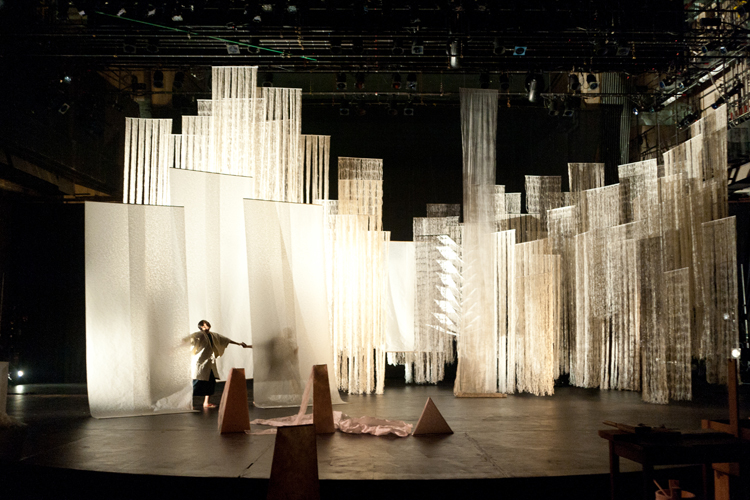 Washi Tales dress rehearsal at Krannert Center for the Performing Arts on September 16, 2016. (Valerie Oliveiro)
---
NEW YORK, March 2, 2016—Asia Society presents the New York premiere of Recycling: Washi Tales, a theatrical performance that brings to life the human stories contained in sheet of washi, Japanese handmade paper, as it is recycled through time. Four tales of paper making from different periods of Japanese history unfold on stage in a world created by distinguished paper artist, Kyoko Ibe.
The Papermaker, played by actor Karen Kandel, serves as narrator and guide to the audience as she creates something new from what she learns of the old. Washi Tales explores aesthetic and spiritual values of recycling, beyond practical environmental concerns, into the realms of history and the imagination.
Washi Tales has been staged at the Krannert Center for the Performing Arts in Urbana, Illinois, and at the Los Angeles County of Museum Art (LACMA) in September 2011. After the Asia Society performance, the play will be staged in Nara, Japan in September 2016.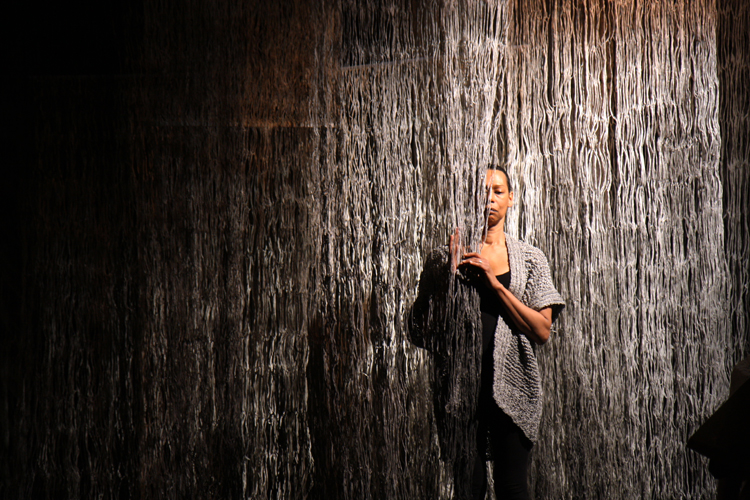 Karen Kandel at work-in-progress presentation of Washi Tales at New York Theatre Workshop Residency in March 2011. (Isaac Bloom)
Tale 1: "Najio River," a legend from the Edo period, tells of a papermaker and her daughter who embark on a journey from their village, Echizen, to find the papermaker's disappeared husband. Mother and daughter travel to Najio, her husband's native town, where the villagers are making paper just like in Echizen. Her husband has brought back secrets of the craft, but no one in the village will tell her where he is. She learns her husband already has a wife and child in Najio. The mother knows the village will never accept her, but that perhaps it will accept her daughter. Walking away from the village alone, she loses herself in the beautiful reflection of cherry trees by the river. Her drowned body is found, covered with petals and fine clay, which her daughter uses to make a sheet of paper. The new paper is so heavy with clay it does not burn. Thus, Najio's "fireproof" paper is discovered. Based on a contemporary short story by Tsutomu Minakami.
Tale 2: "Sen no Rikyu" tells the tale of a 16th century tea master to the powerful Shogun Hideyoshi, who designs a tea house with recycled paper walls. The house is so perfect and humble it defies the Shogun's power. The tea master is asked to die for his audacity. His legacy creates the simplicity of wabi sabi aesthetic and tea ceremony.
Tale 3: "Hogosho" (scrap paper) springs from Kyoko Ibe's most recent work, a series of panels incorporating hand written documents from a 19th century village in Northern Japan including tax records, deeds, lists of wedding gifts, instructions for building a temple. The words are no longer legible, but the human hand is still present. As the Papermaker begins to recycle old documents she hears rustling, laughter, and voices from the Northern village whispering, singing about the land and the life gone by. Rice fields, wedding feasts, an illegal geisha… worlds coming loose from the fiber… she struggles to capture them before they are lost.
Tale 4: "Fujiwara Tamiko" is about the 9th century Emperor Seiwa's beloved consort. Upon his death, she recycles love letters and poems he wrote her to make paper on which she writes sutras for his soul's peace. She gives the sutras to his family and friends. This is the first recorded instance of recycling in Japanese chronicles—a woman transforming loss into prayer.
Washi Tales is held in conjunction with the exhibition "Kamakura: Realism and Spirituality in the Sculpture of Japan," on view at Asia Society Museum from February 9 to May 8, 2016.
Presented with support from The Japan Foundation and the Asian Cultural Council.
Major support for the performances at the Asia Society is provided by the Doris Duke Charitable Foundation, the Helen and Will Little Endowment for Performing Arts, and the Fan Fox and Leslie R. Samuels Foundation, Inc.
For press information contact pr@asiasociety.org.
About the artists
Kyoko Ibe started her artistic creation using handmade paper at a time when the material was used exclusively for traditional Japanese arts and crafts. After completing a master's degree at the Kyoto Institute of Technology in 1967, Ibe continued working with paper. She has been invited to more than 20 countries for exhibitions, workshops, lectures, both as a teacher and jury member. Her work pushes the limits of paper, transforming a craft into an art form. She also creates large-scale installations, a wide range of interior products, stage sets, and costumes. Ibe's radical new approach to paper combines a respect for tradition with technological experimentation. She has collaborated with many foreign theatre groups and received an Isadora Duncan Visual Design Award for the stage set of the Tandy Beal Company in 1987. She has received many national and international awards and was chosen as a Special Advisor for Cultural Exchange for 2009 by the Agency of Cultural Affairs of Japan. She is a professor of the Kyoto Institute of Technology. She has had exhibitions at the Los Angeles County Museum (LACMA) and the Krannert Art Museum, where she was an adjunct professor, and an installation at the Japan Society, New York.
Elise Thoron is a playwright, director, educator, who brings stories not widely heard to life on stage. Her plays have been produced in the United States, Europe, and Japan. They include Green Violin, music by Frank London, (Nine Contemporary Jewish Plays); Prozak and the Platypus, music by Jill Sobule (CD/graphic novella); Charlotte: Life? Or Theater? based on paintings by German, Jewish artist Charlotte Salomon; Recycling: Washi Tales based on the artwork of Japanese paper artist, Kyoko Ibe, Asia Society New York, and Nara, Japan (2016), Krannert Center for the Performing Arts and Los Angeles County Museum of Art (2011). For over twenty years, Elise created cross-cultural exchanges with Russian and American theater artists with the Eugene O'Neill Theatre Center. She directed the first Sam Shepherd play in Moscow. She also adapted and directed The Great Gatsby in Russian at a The Pushkin Theater in Moscow, where it played for over nine years. As Associate Artistic Director at American Place Theatre, Elise developed and directed many new plays and solo shows, and co-founded, with Artistic Director Wynn Handman, Literature to Life, a highly successful theater literacy program now nationwide. For Literature to Life she adapted/directed House on Mango Street, The Brief and Wondrous Life of Oscar Wao, The Giver, and developed Lemon Andersen's County of Kings for students, before directing it at The Public Theater, Spoleto Festival, and venues around the world. Elise directed Lemon's first play ToasT at The Public Theater (2015), Under the Radar Festival (2013), and Sundance Lab (2012). She is currently writing Hatuey: A Memory of Fire, a new Cuban nightclub opera with Frank London (Sudance Ucross residency, Mass MoCA Lab).
Karen Kandel is a member of Mabou Mines. Her performance awards include three Obies, Dramalogue, Connecticut Critics Circle, Craig Noel Award, Edinburgh Festival's Herald Angel Award; Helen Hayes nomination; Drama League Outstanding Performance citation. Kandel has received support for her own interdisciplinary work from the Alaska Artist-in Residence / Rasmuson Foundation, Asian Cultural Council, TCG Future Collaborations, Peter S. Reed Foundation, Jim Henson Foundation, and Spencer Cherashore Fund. She is one of six artists in the U.S. to receive the Audrey Skirball-Kenis T.I.M.E. Grant. Karen and Mabou Mines participated in the TCG/Fox Fellowship, William and Eva Fox Foundation. Karen is a United States Artists Fellow.
Sonoko Soeda was born in Tokyo in 1975. She is a longstanding member of the Bungaku-za Theatre Company, one of the oldest and most well-known theatre companies in Tokyo. Sonoko was an Asian Cultural Council grantee in 2008 and researched theater in New York City for six months. As an actor, she has performed in many productions, including Onnano Isshou, Chinmoku to Hikari, Nukegara, Kadode, and Hamlet Clone (also touring in Germany in Brazil). She has translated from English to Japanese Roger Ruef's Hospitality Sweet, Sarah Kane's Phaedra's Love, and, most recently, Edward Albee's The Goat; or, Who Is Sylvia?
Makiko Sakurai has studied since 1986 shomyo, the chant form of the ancient Heian period (781-1192 AD) associated with the Tendai sect of Buddhism, with teachers Genshin Nakayama and Ryoshu Kamiya. She performs it in its pure unaccompanied form, and also in the context of gagaku (medieval court music). She has adapted it for contemporary settings, and also in collaboration with Japanese composers, Mamoru Fujieda and Ayuo, (The Night Chant and Izutsu both released on the Tzadik label). She also performs female folk music and dance of the Heian era. She has studied the Japanese bamboo flute ryuteki, and the Javanese gamelan in Surakarta, as well as Yemenite ritual and chant in Jerusalem, and the Navajo language in New Mexico. She was in residence at the Wurlitzer Foundation in Taos, creating music and dance with children at Taos Pueblo in 2000. Sakurai originally studied piano at Nara Temple and at Osaka University of the Arts.
Masako Arai was born in 1947 in Yokohama into a biwa player family. She studied with her father beginning at the age of six. Later, she studied traditional playing from Mastuda Seisui and modern Japanese playing from Kineya Masakuni. She won first place in the Japan Biwa Players Association Contest and received the Minister of Culture Award and the President of NHK (Japanese National Broadcasting Association) Award. She succeeded her father in leading his group, Jyousui kai, and has become a renowned teacher. Although biwa was originally used for solo performance and singing, Shisui Arai introduced group performance for the instrument and composed many pieces that have expanded the biwa tradition. Pushing the limits of traditional performing styles, she collaborates with a wide range of artists and has performed in more than 10 countries. She was a member of Dojoji (A Forbidden Journey) produced by Kyoko Ibe, which traveled to four Scandinavian countries. She frequently collaborates with Noh master Akira Matsui and drummer Shonosuke Okura.
Shonosuke Okura is the eldest son of the late 15th generation head of the Okura School, Chojuro Okura. With the otsuzumi, a Japanese traditional percussion instrument, he has collaborated with various well-known artists in Japan and internationally, embracing a wide range of genres and artistic forms. In the United States, he participated in the Lakota Tribe's 100th anniversary commemoration of the Wounded Knee Massacre and also recorded with the legendary Native American flutist Carlos Nakai. He has performed at various ceremonies and events around the world including a tea ceremony at the Temple of Dendur at the Metropolitan Museum of Modern Art in New York and at the Vatican Palace Concert Hall. He teaches a diverse range of students his traditional art form in international workshops. He received the Japan Cultural Design Award in 2005.