Asia Society Policy Institute Establishes Policy Task Force to Support India's Accession to APEC
U.S.-India Business Council Chair and MasterCard CEO Ajay Banga to Co-Chair Initiative; Confederation of Indian Industry Joins as Partner
NEW YORK, July 20, 2015 — The Asia Society Policy Institute (ASPI) launched today an initiative, India and APEC: Charting a Path to Membership, to develop the case and a strategy for gaining Indian membership in the Asia-Pacific Economic Cooperation (APEC) forum.
The ASPI initiative will be supported in India by the Confederation of Indian Industry (CII), India's leading business association.
Established in 1989, APEC is among the Asia-Pacific's most important forums for regional dialogue and economic collaboration. Its 21 member economies represent approximately three-fifths of world GDP and half of world trade. India is Asia's third largest economy and its absence from the APEC forum is a missed opportunity for both India and the region.
The initiative launch today at the Asia Society in New York featured the initiative's chair, Kevin Rudd, President of ASPI and former Prime Minister of Australia, and his two co-chairs: Ajay Banga, President and CEO of MasterCard and Chairman of the U.S.-India Business Council; and Shyam Saran, former Foreign Secretary of India and Special Envoy of the Prime Minister.
"To achieve its economic potential, India should become more fully integrated into global supply chains and international trade and investment flows," Rudd said. "Including India in APEC, which for more than 25 years has spearheaded trade and investment liberalization efforts across the Asia-Pacific region, will help open India's economy to the region and the world, to the benefit of India and its neighbors and trading partners."
As a partner in the new initiative, CII will provide vital business expertise, ensure that the interests of Indian businesses are represented in the Task Force's activities, and help engage India's government in charting a path toward APEC membership.
"Joining APEC would bolster India's Act East policy by helping it improve its economic engagement and cooperation with Asia-Pacific countries," argued Saran. "Membership in APEC would be a helpful step towards India becoming better integrated with Asia-Pacific economies, which will be welcomed by U.S. and Asian businesses that want to invest more in India and help with the jobs growth it needs," Banga said.
The other Task Force participants come from various APEC member economies, such as Indonesia, Korea, the Philippines, and the United States. During the first year of the initiative, the Task Force will examine the challenges and opportunities of Indian membership in APEC and develop a plan for India's eventual accession to APEC. The Task Force members will share their findings with their governments during 2016, in anticipation of the APEC Summit that is scheduled to be held in Lima, Peru in November of that year. The Task Force will also organize roundtable discussions and ongoing research on India's role in international trade and investment.
"Stronger trade and investment ties among India and other Asia-Pacific economies will not only generate economic benefits, but also foster stability across the region. India's entry into APEC would make it a more inclusive forum for trade consultation and dialogue and thereby mitigate the divisive effects that new trade regimes in Asia could have," said Rudd.
Task Force Co-Chairs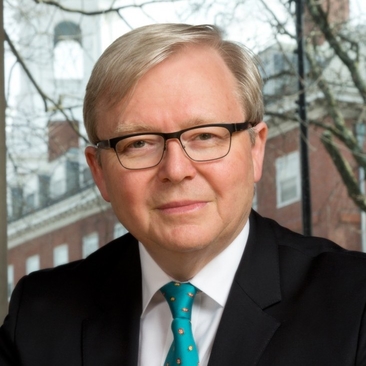 The Hon. Kevin Rudd joined the Asia Society Policy Institute as its inaugural President in January 2015. He served as Australia's 26th Prime Minister and as Foreign Minister. As Chair of the Independent Commission on Multilateralism, Mr. Rudd is leading a review of the United Nations system. He is a Distinguished Fellow at Chatham House in London, a Distinguished Statesman with the Center for Strategic and International Studies in Washington, and a Distinguished Fellow at the Paulson Institute in Chicago. He is proficient in Mandarin Chinese, serves as a Visiting Professor at Tsinghua University in Beijing, and co-chairs the China Global Affairs Council of the World Economic Forum.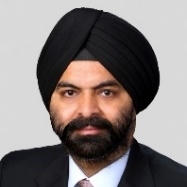 Ajay Banga is President and Chief Executive Officer of MasterCard and a member of its board of directors. He is a member of President Obama's Advisory Committee for Trade Policy and Negotiations. He chairs the U.S. India Business Council and serves on the U.S.-India CEO Forum. Prior to MasterCard, Mr. Banga was Chief Executive Officer of Citigroup Asia Pacific. He is a graduate of Delhi University and the Indian Institute of Management, Ahmedabad.
Shyam Saran was Foreign Secretary of India from 2004 to 2006 and currently serves as Chairman for the Research and Information System for Developing Countries (RIS), a think tank specializing in studies on economic and trade issues. He served as Ambassador of India to Myanmar, Indonesia, and Nepal as well as High Commissioner to Mauritius. After his retirement from the Indian Foreign Service, he was appointed the Prime Minister's Special Envoy for Indo-U.S. civil nuclear issues and later as Special Envoy and Chief Negotiator on Climate Change.
About the Asia Society Policy Institute
With a problem-solving mandate, the Asia Society Policy Institute tackles major policy challenges confronting the Asia-Pacific in security, prosperity, sustainability, and the development of common norms and values for the region. The Institute builds on the mission of the Asia Society, which has sought for 60 years to explain the diversity of Asia to the United States and the complexity of the United States to Asia, and to be a bridge in problem-solving within the region and between Asia and the wider world.
About the Confederation of Indian Industry
The Confederation of Indian Industry (CII) works to create and sustain an environment conducive to the development of India, partnering industry, Government, and civil society, through advisory and consultative processes. CII is a non-government, not-for-profit, industry-led and industry-managed organization, playing a proactive role in India's development process. Founded in 1895, India's premier business association has over 7400 members, from the private as well as public sectors, including SMEs and MNCs, and an indirect membership of over 100,000 enterprises from around 250 national and regional sectoral industry bodies.