Curriculum
Homeland Afghanistan


Homeland Afghanistan explores the geopolitical and cultural heritage of Afghanistan through a humanities perspective. "Homeland" has meaning in every culture. The homeland may be where ancestors are buried, where one is born, or an adopted land. The site of both bounty and misfortune, it is a setting that connects the past to the future. The United States and Afghanistan are now inextricably linked: the only true way to secure one homeland is through understanding of the other. Afghanistan served as a meeting place of peoples, cultures, and influence in the ancient world – and today. Visitors to Homeland Afghanistan will get a better understanding of people and patterns, and will find themselves compelled to think differently about the complex world region. The history is told through 75 video episodes, featuring leading experts – as well as hundreds of archaeological finds, paintings, literary works, music, photographs, and documentary films.
China and Globalization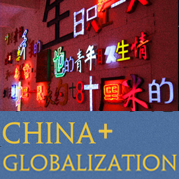 China and Globalization is an important demonstration of what's possible – and perhaps what's necessary – in language education going forward. Why China and Globalization? First, China has been a global culture throughout history, one that has been integrally connected with the rest of the world from the earliest periods through to today. Second, language learning should not be separated from the learning of other academic content; rather, intersections and continuities between the two should be consistently explored and built upon. This project was conceived at a ripe moment in the field of contemporary Chinese language education, when mobile technology and interactivity are growing by leaps and bounds. Its concept was simple: Make modern Chinese accessible and relevant to a diverse population of learners – from beginners to heritage students – make it interactive and real-to-life, apply sound pedagogy and a flexible format, and offer it freely.
Visible Traces

Visible Traces began as a collaborative venture between the Queens Borough Public Library in New York and the National Library of China in Beijing to bring rare maps, books, and rubbings to the American public. The Queens Borough Public Library then invited the Asia Society's Education Division to develop teaching materials that would introduce these important objects and images to U.S. classrooms. The National Library of China provided the images and expertise relating to the objects from the Visible Traces exhibition. Now on the web, Visible Traces is available worldwide and will continue to foster cross-cultural connections as well as links between the past and present.