US Envoy: Candidates' Support of 'National Unity' Is Key to Next Afghan Government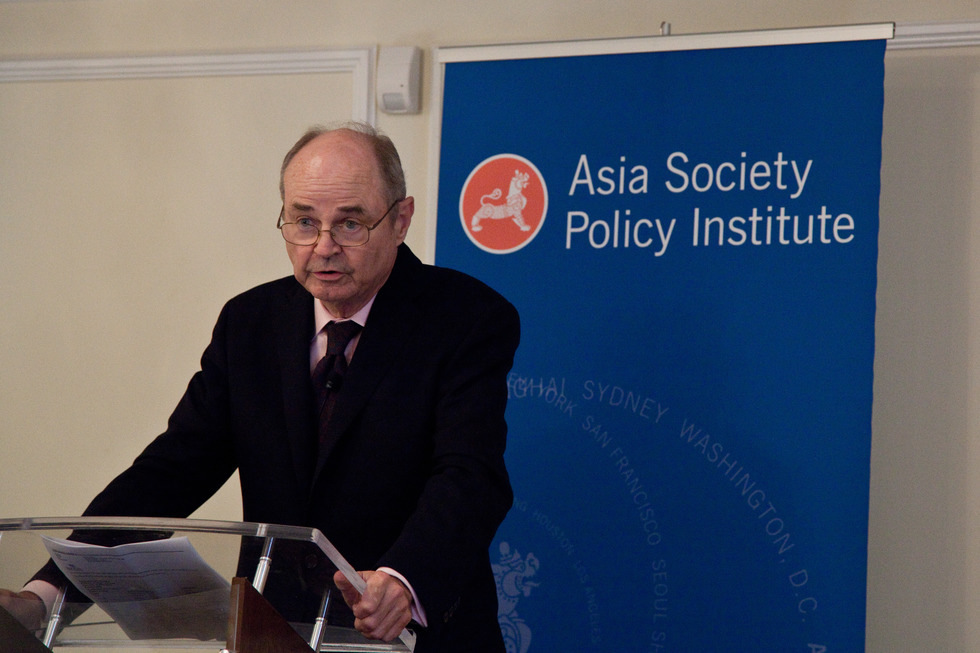 Amb. James Dobbins, U.S. Special Representative for Afghanistan and Pakistan, speaks at the Asia Society Policy Institute in Washington, D.C. on July 9, 2014. (Christina Dinh/Asia Society)

Following Amb. Dobbins's remarks, veteran analysts Hassan Abbas, Clare Lockhart, and Omar Samad debated the causes of and possible solutions to Afghanistan's political crisis.
WASHINGTON, July 9, 2014 — With Afghan presidential candidate Abdullah Abdullah challenging the preliminary results from Afghanistan's second round of voting, which put former finance minister Ashraf Ghani in the lead by more than a million votes, Ambassador James Dobbins, U.S. Special Representative for Afghanistan and Pakistan, said that the two candidates and their campaigns will need to come to a consensus about how the next Afghan government will be formed.
"This idea of a government of national unity that does reflect participation of all of the significant elements of Afghan society, including those that were embodied in either of the campaigns, is, we think, a prerequisite for a successful government following what we hope will be a successful election," Dobbins said.
Dobbins spoke at an Asia Society Policy Institute event in Washington, D.C. focused on Afghanistan's future following the presidential election. His keynote address preceded a panel discussion featuring governance expert Clare Lockhart, former Afghan ambassador Omar Samad, and professor and author Hassan Abbas.
Dobbins said he believed that Afghanistan's society and system of governance are not yet well-organized enough for the country's winner-take-all election system to produce satisfactory results.
"The levels of trust in the society aren't substantial enough. As I've suggested, the checks and balances are not adequate enough. And [the] democracy is not sufficiently developed to the point where a winner take all system, in which the losers retire and organize for the next election but don't share any power following their loss, is really a workable solution," Dobbins said.
"For this to go forward, there needs to be both clarity about who won the election, but there also needs to be some degree of consensus about how the successor government to President Karzai is going to be formed."
Video: Afghanistan isn't ready for a "winner take all" election (1 min., 33 sec.)
Dobbins also said he expects that the new government will continue to rely on patronage, in the manner of Afghan President Hamid Karzai, to stabilize the fault lines in Afghan society.
"You had a country with very weak institutions that didn't project much beyond the capital, and [Karzai] had a country that was divided into two languages, different religious structures, different tribal and ethnic structures. And he held it together very successfully through a process of distributing patronage," Dobbins said.
"I think that some degree of patronage allocation and power sharing is going to be essential for a new government to be formed that retains the support of all elements of society," Dobbins added. "At the same time, it's clear that voters were demanding a degree of improvement in the quality of governance, and a degree of diminution in the level of corruption."
Dobbins described Afghanistan's political situation earlier this week as "very dangerous," with Abdullah rejecting the election results and his supporters talking about establishing a "parallel presidency" with the backing of some of the country's governors.
"The situation looked like it was going to go badly off track in a way that might have been irremediable," said Dobbins.
In phone calls, U.S. Secretary of State John Kerry was able to convince Abdullah and his camp not to proceed with setting up a government. President Barack Obama also spoke with Abdullah and with Karzai, cautioning Abdullah about "moving preemptively in an unconstitutional fashion," as Dobbins put it.
"We've made clear that neither the United States, nor its partners, are likely to support a divided Afghanistan," Dobbins said.
Given Afghanistan's "continued dependency on international financing," Dobbins said, a political division would "begin to roll back the extraordinary progress that's been made over the last 13 years" and make "a sudden detour back into the mid-1990s, which would be a great tragedy."