Treatment of Asians at the Oscars: 'Antithesis of Progress'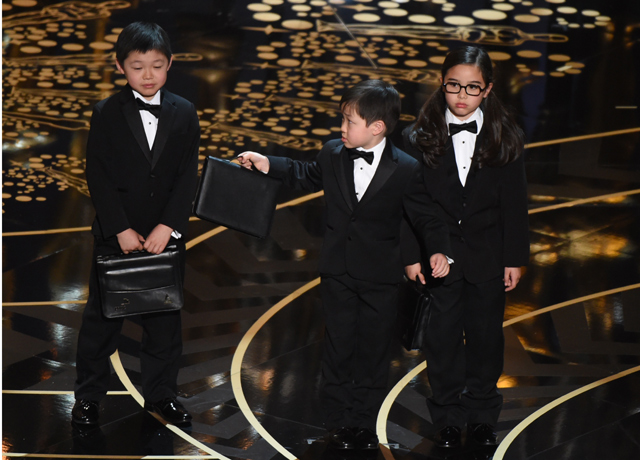 Children represent accountants from PricewaterhouseCoopers on stage at the 88th Oscars on February 28, 2016 in Hollywood, California. (Mark Ralston/AFP/Getty Images)
The run up to this year's Oscars included so much talk of racial diversity — or rather the lack of it — that no one was surprised when host Chris Rock cracked wise about Hollywood's perennial exclusion of African-American nominees during the ceremony. But the comedian's attempt to find humor in racial discrimination would up offending an additional minority group: Asian-Americans.
In one segment, Rock brought three young Asian-American children on stage and quipped that they were accountants from Pricewaterhouse Coopers, the consulting giant. "If anybody's upset about that joke," Rock said, seemingly in anticipation of the fallout, "just tweet about it on your phone that was also made by these kids." 
The audience laughed. But many prominent Asian-Americans were not amused.
Seriously though, when is this going to change?!? Tired of it being "cool" and "ok" to bash Asians smh #Oscars https://t.co/1nBvAd3V0q

— Jeremy Lin (@JLin7) February 29, 2016
To parade little kids on stage w/no speaking lines merely to be the butt of a racist joke is reductive & gross. Antithesis of progress.

— Constance Wu (@ConstanceWu) February 29, 2016
The resurfacing of tired racial stereotypes — that Asians are obedient, hard-working, diminutive, and clever with numbers — obscures an equally troubling issue: Asians continue to struggle to advance their careers in an entertainment industry still dominated by whites. This serves a core theme of the Netflix sitcom Master of None, in which co-creator and star Aziz Ansari plays an Indian-American actor trying, in vain, to get his career off the ground. In one episode, Ansari's Dev Shah grows frustrated that films and television shows seemingly only have room for one "Indian" character, forcing him to compete with the same actors each time. Dev's experience hardly seems far-fetched. Mindy Kaling, an Indian-American comic actress, recently recounted to the New York Times that a casting agent once "couldn't find" an actor of South Asian descent to play a part modeled on Kaling — who had tried out for the part herself.
This practice — casting white actors for parts clearly meant for Asians — isn't new. A recent article in The Huffington Post cited 25 examples of actors of European descent portraying a racial minority on film, including classic movies in which Marlon Brando, Yul Brynner, and Katharine Hepburn played a Japanese, Thai, and Chinese character, respectively. Despite the presence of many qualified Asian and Asian-American actors today, the practice hasn't gone away. Last year, director Cameron Crowe apologized after casting Emma Stone, a fair-haired actress of European descent, in the role of the Eurasian-American Allison Ng.
As with Chris Rock's comments, Crowe's choice of Stone elicited immediate outcry in the media; a sign that, at least, these decisions are no longer met with silence. But it is telling that three small children pretending to be accountants eclipsed the number of Asians who actually won an Oscar: Sharmeen Obaid-Chinoy.