Time to 'Freak Out' About Chinese Stocks? Depends on Who You Ask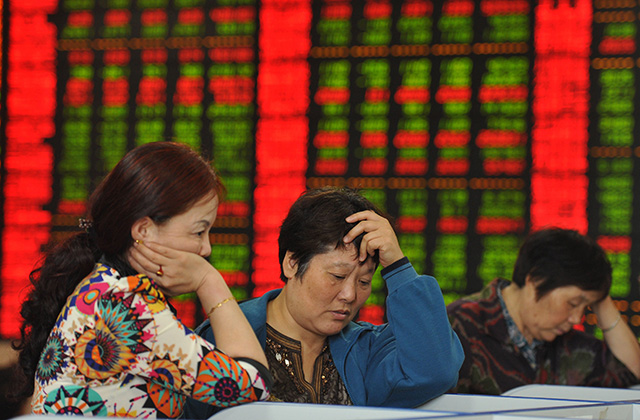 Investors check share prices in a stock firm in Fuyang, China on June 29, 2015. (STR/AFP/Getty Images)
The past year has been a roller coaster ride for Chinese stocks. The Shanghai Composite Index shot from 2,000 points in July 2014 to nearly 5,200 last month, but now it continues to plunge, closing just above 3,500 on Wednesday. Since June 12, the index has fallen 32 percent while the Shenzhen market is also down 41 percent. Over $3 trillion in value has evaporated.
While much of the world's attention has focused on Greece's debt crisis, the financial blog Zero Hedge succinctly put things into perspective on Twitter:
China has lost 15 Greeces in market cap in three weeks

— zerohedge (@zerohedge) July 8, 2015
Inflating the Bubble
For months, analysts have been warning that China's markets were distorted. Writing in The Wall Street Journal, commodity analyst Gabe Collins and China SignPost co-founder Andrew Erickson explain how Chinese stocks' meteoric rise paradoxically coincided with a "rapidly slowing real economy and largely tepid consumer economy" — hardly a sustainable situation. They go on to explain how this is symptomatic of much deeper issues in China's economy.
In the below video interview with The Wall Street Journal, Silvercrest Asset Management Managing Director Patrick Chovanec expounds on how the market's fall "rips the mask off where the Chinese economy really is."
CNN explains that the initial bull market was partly a result of state media hype. In April, the Communist Party's official mouthpiece newspaper People's Daily declared that the stock surge was "just beginning," which sent a misleading signal to investors. "The common perception since last summer has been that the government wanted a sustained rally and would act to keep it going," Mark Williams of Capital Economics told CNN. "Official media were trumpeting the markets' rise and even suggested that skepticism about it reflected a lack of confidence in the leadership's plans for economic reform."
A separate Wall Street Journal piece elaborates on how a steady stream of bullish propaganda and word of mouth resulted in millions of new investors opening brokerage accounts, hoping to ride the boom. One 32-year-old college art teacher explained how she'd gotten into the market just two weeks earlier, saying, "I don't really follow news on stocks that closely. My hairdresser said it was still a bull market and I needed to get in." The piece goes on to trace how the bubble ultimately burst, citing a glut of new IPOs and margin investing — the practice of investing with borrowed money.
In the China Economic Review, Hudson Lockett illustrates how some small-time investors reacted to the stock market plunge as it happened. One 21-year-old investor could only watch in disbelief and mutter, "terrifying."
'Grasping at Straws'
The Chinese government is reaching deep into its toolbox in attempting to stabilize the market. Quartz provides a roundup of stock market stimulus measures so far taken by the government. Bloomberg noted that as of Wednesday "at least 1,331 companies have halted trading on mainland exchanges" and another 747 fell by the 10 percent daily limit, leaving many people who want to sell their shares out of luck. Meanwhile, the government has ordered state-owned enterprises not to sell shares and financial institutions including the central bank are shoring up liquidly to stabilize the markets. However, these measures have so far failed.
"Beijing's latest bid to calm the market has had the opposite effect," IG Group market analyst Bernard Aw said in another Wall Street Journal piece. "The panic is spreading and authorities appear to be grasping at straws to hold back the tide." The Economist agrees that China's intervention measures "screamed of panic" and adds, "It shows that the Communist Party, powerful though it may be, cannot indefinitely bend markets to its will. Chinese leaders should heed that lesson and get on with the challenges of liberalizing their economy. A relapse towards statism will not just set China back. It also will not work."
Amid the unfolding sell-off, yet another Wall Street Journal article reports that many eyes have turned to Xiao Gang, chairman of the China Securities Regulatory Commission. But Primavera Capital Group Chairman Fred Hu says he's been unfairly criticized. "The government wants to manipulate the markets to suit whatever short-term policy purposes, generally biased toward promoting a bull market," Hu told WSJ. "The public also expects the securities regulator to ensure large gains while protecting them from losing money. It's impossible for Xiao Gang, or for anyone before or after him, to meet those conflicting goals."
Many analysts have suggested that the government's failure to stabilize the market could have political ramifications that rival the economic impact. The New York Times explored this "double threat," saying that, "For a government that loves absolute control, getting pushed around by the markets is an unsettling experience." In the same article, Hong Kong University of Science and Technology Visiting Professor Harry Harding says this could be particularly bad for Chinese President Xi Jinping, who has made many enemies through his anti-corruption campaign. "There are significant forces who have their knives out for him and are waiting for him to fail," Harding said. Again in The Wall Street Journal, Andrew Browne says, "Far more than simply a market crisis, the turmoil on the Shanghai Stock Exchange is viewed by China's leadership as a potential security threat to the regime."
Not Time to 'Freak Out'
In spite of the harrowing situation in China, most analysts appear to believe the fallout won't be felt too strongly outside of the country. In a ChinaFile conversation about how much the Chinese market matters to the world, Gavekal Dragonomics economist Chen Long said, "The Chinese stock market could matter to the rest of world if the Chinese stock market had a contagious effect in other markets, or if the market movement told us something about the health of Chinese economy, or if the market movement itself could affect the Chinese economy. But none of the three seems to be true so the impact is very limited."
CNN offers a similarly sober analysis with "5 reasons not to freak out about China," pointing out that China's market is largely insulated from the world (foreigners hold only 1.5 percent of Chinese shares), and domestically, stocks make up only 15 to 20 percent of Chinese household assets. The piece adds that, "The vast majority of Chinese companies still have access to financing, which should keep the economy churning."
In The Telegraph, Jeremy Warner compares the current situation to the 1929 stock market collapse in the United States that precipitated the Great Depression, saying that China cannot "keep answering each successive bubble by creating another." Citing gold and housing as other bubbles the government has helped to inflate, he added, "The authorities were happy to tolerate the bull market at first, hoping it might encourage a switch from debt to equity financing, but there seems little chance of that now. The stock market boom has only succeeded in adding to the debt."