#TBT: Chinese President Jiang Zemin Meets Henry Kissinger and David Rockefeller in 1995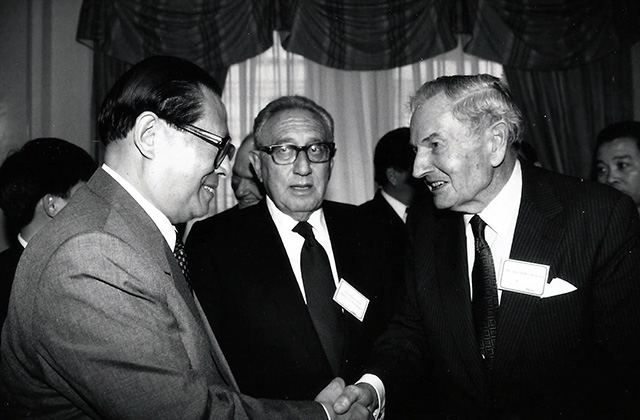 (L to R) Jiang Zemin, Henry Kissinger, and David Rockefeller meet at a 1995 Asia Society conference in New York. (Elsa Ruiz/Asia Society)
In October 1995, Asia Society co-hosted a corporate conference in New York City titled China and China-U.S. Relations Towards the New Century. In the above photo from the event, then-Chinese President Jiang Zemin shook hands with David Rockefeller, former CEO of Chase Bank and brother of the late Asia Society founder John D. Rockefeller 3rd, while former U.S. Secretary of State Henry Kissinger looked on. Kissinger, who negotiated President Richard Nixon's famous 1972 trip to China that would pave the way to normalized China-U.S. relations, has met with Jiang on numerous occasions spanning from 1987 to their most recent encounter in 2013.
In front of U.S. business groups at the conference, Jiang spoke of the China-U.S. relationship, saying, "History tells us that both will reap the benefit from our cooperation while neither can escape the harm of our confrontation. Our people do not want to see stagnation or retrogression in bilateral relations. The right choice for us to make is to proceed from the reality of China-U.S. relations, take a global perspective, and look into the next century."
Each week for "Throwback Thursday" (#TBT), we'll reach into our archives to find a photo from the organization's nearly 60-year history. Some photos will feature important moments, some will feature important people, and others still will just be photos we love. Do you have an Asia Society photo you'd like us to consider including in this series? Please email the photo and any related details to photos@theasiablog.org (we regret that we won't be able to respond directly to each inquiry).