Taking the Pulse of the China-Hollywood Relationship With Li Bingbing, Others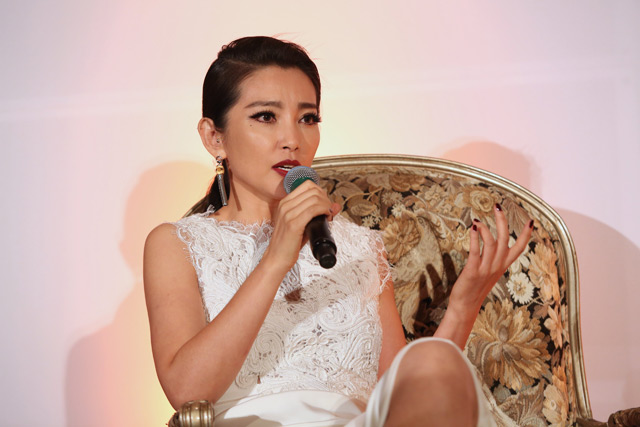 Chinese actress Li Bingbing speaks during the 2013 Asia Society U.S.-China Film Summit and Gala held at the Millennium Biltmore Hotel on Tuesday, November 5, 2013, in Los Angeles, Calif. (Ryan Miller/Capture Imaging)
Chinese star actress Li Bingbing has a one-word message for Hollywood producers looking to cast her in their next films: "Leonardo." As in DiCaprio.
Calling it a "great moment for Chinese film," Li, who stars in the upcoming Transformers: Age of Extinction with Mark Wahlberg and Kelsey Grammer, told a packed crowd at Asia Society's U.S.-China Film Summit she feels "so lucky to be working at this moment in time," as American and Chinese filmmakers search for new avenues of cooperation. And, who knows, maybe one day Li will get to share a screen with Mr. DiCaprio.
An industry "who's-who" from Hollywood and China gathered at the fourth annual summit, which aims to boost an already-mushrooming cooperation between the titans of the global film industry. Among those attending were former senator Christopher Dodd, who now serves as chairman and CEO of the Motion Picture Association of America (MPAA); long-time ace producer Mike Medavoy (Amadeus, One Flew Over the Cuckoo's Nest, Silence of the Lambs, and hundreds more films); Dreamworks President Lewis Coleman; Barry Meyer, outgoing chairman of Warner Bros; Greg Foster, Chairman and President, IMAX Entertainment; and Zhang Xun, President China Film Co-Production Corp. The event was emceed in a mix of English and Mandarin by the Chinese-American television and radio host Kelly Cha.
A gala dinner honored Dodd and Li, a star of the Chinese screen whose work has increasingly included American fare as well. Medavoy, who was born in Shanghai, introduced both honorees. He called Li's work an example of the great "crossover potential" — stars and films whose appeal reaches both the American and Chinese audiences, and thanked Dodd for making the U.S.-China relationship a priority in his two and a half years as MPAA chief.
Dodd called the potential for Hollywood studios in the Chinese market "breathtaking," though he cited the need for China to safeguard intellectual property and to boost the number of imported films that are allowed to be screened each year. Dodd said that figure — which was 20 when he took the helm at the MPAA and now stands at 34 — should be seen as a key metric for success.
Like so many subsets of the U.S.-China relationship, the film industry is loaded with both potential upside and real challenge.
Coleman, who oversees DreamWorks' burgeoning cooperation with its Chinese partners at a new joint-venture studio operation in Shanghai — where the next installment of Kung Fu Panda is being made in part — spoke earlier in the day of a steep learning curve on the creative front.
"It requires a level of collaboration that we find difficult for the Chinese," Coleman said, "mostly because, while they live in a cooperative society, they're not very cooperative, they're competitive."
On the infrastructure side of the film business, China's largest real estate developer, Wanda, makes the growing U.S. ties look easy. Last year Wanda bought AMC, the second-largest movie theater chain in the U.S., for $2.6 billion, and the company is also investing in making movies of its own. But American audiences have little history of watching Chinese films and are years, if not decades away from accepting subtitled films in mainstream commercial theaters.
"Because of language and cultural sensitivities, I don't think that Chinese films can travel around the world that well yet," said Zhang Zhao, CEO of Beijing-based studio LeVision, which was behind Tiny Times one of the highest-grossing Chinese language films this year.
Conversely, China last year became the largest export market for Hollywood films and its box office is up 35 percent in the first nine months of the year to $2.7 billion in gross ticket sales.
China is building theaters and adding movie screens at a rate not seen in the U.S. in decades, and Chinese audiences are ballooning. But Hollywood's support of free-wheeling market-driven creative expression clashes with China's strict state control of a filmmaker's end-product. Movies in China can't touch a whole raft of subjects deemed destabilizing to society by the government. Director Jia Zhangke's critique of rising violence in China, A Touch of Sin, winner of the Best Screenplay award at the Cannes Film Festival in May, was released to great critical acclaim in the U.S. last month but has yet to be cleared for release in China.
Beyond her plea for a Leonardo DiCaprio partnership, Li also said that while she was grateful that her fluency in English had won her more roles, she wished more American actors and producers spoke her language. "Not one of them can speak Chinese," she said with a smile. "It's so unfair."
In his remarks at the dinner, Dodd offered an interesting historical footnote. He said he had last been in the banquet room at the Biltmore Hotel 53 years ago, when the Democratic National Convention gathered there to nominate John F. Kennedy for president. On that night in 1960, Dodd said, he was working as a page.
Jonathan Landreth contributed to this report.