Should the US Ease Sanctions on Iran? Myanmar Offers Some Lessons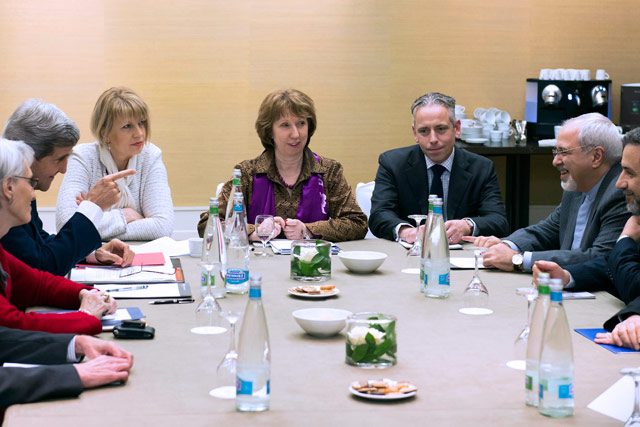 U.S. Secretary of State John Kerry (2nd L), European Union foreign policy chief Catherine Ashton (C ) and Iranian Foreign Minister Mohammad Javad Zarif (2ndR) wait prior to a meeting on November 9, 2013, on the third day of talks on Iran's nuclear program at the Intercontinental Hotel in Geneva Switzerland. (Jean-Christophe Bott/AFP/Getty Images)
This week, debate intensified over whether the U.S. should offer sanctions relief to Iran, as the P5+1 coalition prepared for another round of nuclear talks in Geneva. In the U.S., President Obama urged leading senators to withhold new sanctions while negotiations are underway.
The New York Times' Room for Debate invited Suzanne DiMaggio, vice president of Global Policy Programs at Asia Society, to comment on how sanctions against Myanmar influenced that country's transition to democracy. The discussion, "Sanctions' Successes and Failures," also included filmmaker Beheshteh Farshneshani; Emanuele Ottolenghi of the Foundation for Defense of Democracies; Christian von Soest of the German Institute of Global and Area Studies; Senait Gebregziabher of Oxfam; journalist Michael Holman; and historian Joseph F. Jordan.
In her response, "Balancing Sanctions with Diplomacy," DiMaggio wrote:
A clear understanding of the efficacy of sanctions in Myanmar remains elusive, but one thing is certain — the easing of sanctions is helping to spur on Myanmar's reform process. […]
If the talks underway in Geneva between Iran and the P5+1 lead to a verifiable Iranian commitment to agreed limits on and greater transparency of Iran's nuclear program, the U.S. should be ready to respond swiftly with some measured easing of sanctions. Sanctions relief will not preclude the U.S. from continuing to test Tehran. In fact, it will provide the leverage needed to maintain progress over what will inevitably be an intense process of negotiations.
Read the rest here.