Rex Tillerson: Nations Benefit Through Expanded Trade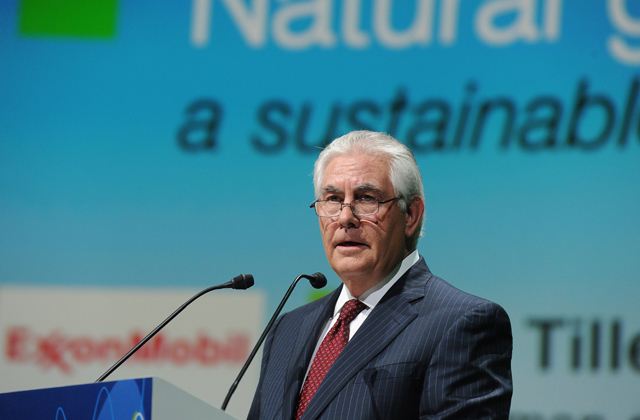 The ExxonMobil Chairman Rex Tillerson was selected on Tuesday to be the next U.S. Secretary of State. (Eric Piermont/AFP/Getty Images)
On Tuesday, President-elect Donald Trump named Rex Tillerson, the chief executive of ExxonMobil, as secretary of state, concluding a lengthy, public search. Like many of Trump's other cabinet selections, Tillerson has never served in government — but his international experience is extensive. As the head of the world's third-largest energy corporation, Tillerson has secured deals with executives and leaders in a number of different countries. In fact, his relationship with one such leader — Russia's Vladimir Putin — may imperil his chances at confirmation in the Senate.
In announcing his decision on Twitter, Trump called Tillerson "one of the truly great business leaders in the world." But Tillerson appears to part ways with his future boss in one key respect: trade. Throughout his campaign for the presidency, Trump attacked deals like the North American Free Trade Agreement (NAFTA) and the Trans-Pacific Partnership (TPP) as disadvantageous to the United States and called the World Trade Organization (WTO), a central tenet of the U.S.-led global order, a "disaster."
Tillerson, by contrast, appears to be a proponent of free trade. In a 2013 appearance at an Asia Society symposium on the future of the energy sector in Asia, he said that "nations benefit through expanded trade that creates economic value and enhances international diversity."
"There is no better way to fulfill the noble goals of the Asia Society than to work toward trade, cooperation, and sound policy in the energy sector," he added.
If Tillerson survives his confirmation hearing and replaces John Kerry as U.S. secretary of state, how his position on trade evolves will be one of the most interesting questions facing the incoming administration.
Watch video of Tillerson's appearance at Asia Society below: