Photos: Australian Chef Lance Seeto's Take on Healthy Eating — the Fijian Way
Foodies intent on discovering the best that international cuisine has to offer often overlook the rich and vibrant culinary culture of the South Pacific islands. With a unique background rooted in food from a very young age, acclaimed Chef Lance Seeto brings traditional Fijian cuisine to the global stage and also introduces the world to a healthy eating style, drawing from natural ingredients for a balanced diet. With a continued education in nutritional medicine and biochemistry, Seeto is able to use this knowledge of the body and its needs to enhance his cooking and understand what's missing from the Western diet that is causing non-communicable diseases.
Award-winning Chef of the exclusive Castaway Island Resort, Seeto is also a member of the International Food Wine & Travel Association, and his popular cooking show Taste of Paradise is endorsed by the Fiji Ministry of Health. His Fijian Food Safari Facebook page reaches more than two million weekly readers who follow his culinary and personal explorations. This broad audience gives Chef Seeto a reputation in Fiji of revolutionizing local cuisine and helping Fijian restaurants, tourism resorts, and people honor their culture through cuisine.
His highly-anticipated cookbook, Coconut Bliss: Inspiration and the Ancient Foods of Life is scheduled for worldwide release this year, and will follow Chef Seeto's personal journey that fuses medicine and food, inspired by local artisanal techniques and indigenous recipes.
How does your background — born in Papua New Guinea, of Australian-Chinese descent — influence and inspire your cooking? After leaving Australia in 2009, what drew you to Fiji?
I never imagined my unique heritage would be of use to build an international career, but that is just one of the incredible ironies of re-discovering myself in the South Pacific islands. I actually rejected my Chinese upbringing and looks growing up in "white Australia" in the early 1970s. Living in a more Americanized, Anglo-Saxon Australia, if you didn't have fair hair and light skin you were inevitably made to feel inferior and insecure. My parents were general traders who supplied Chinese food ingredients to Melbourne's Chinatown restaurants. I remember as a child helping my dad deliver bags of rice and boxes of ingredients imported from China to the backstreets and alleyways of Melbourne's growing restaurant trade. Cooks would save the "parson's nose" and necks of the many shoyu chickens that they would chop each day.
Food has always been in my blood! The inspiration to cook came from my grandmother, not my parents. As in most Chinese families, they wanted their eldest son to become a professional: a doctor, lawyer, merchant banker or scientist. I certainly had the aptitude for university but my love of food ensured I was going to reject my parent's wishes and be a cook. "A cook is the hardest and most unglamorous job a Chinese can have!" I recall my father saying. "Your mother and I have worked hard to put you through university and you want to be a bloody cook? Eh-yah!"
Those childhood insecurities and dissatisfaction with life in general followed me, haunted me, well into adult life. I eventually reinvented my cooking career in the hotel and resort industry. I think it gave me the opportunity to visit distant tourism locations throughout Australia, but in retrospect, I was probably escaping an unfilled life. When a position for Executive Chef came up on the award-winning and famous Castaway Island in Fiji, it was a chance to start anew.
Little did I know that a native people and the complete isolation from my Western lifestyle was going to be the catalyst for a life-changing journey to rediscover a passion and purpose in life. The local Paramount Chief of the region says it was an act of God; I was meant to come to Fiji. Not only for my own personal development — to embrace my humanity — but to help an entire native civilization on its path to modernization of its food. Just as European travelers came to the islands centuries ago from other worlds, it seems I have arrived at a time when the country wants to learn how to cook and the importance of embracing and protecting their ancient culture.
Fiji is a nation with both a rich cultural history and more recently, a booming tourist industry. How is this reflected in Fijian food? (e.g. your own take on modern Fijian cuisine) What are some traditional aspects of Fijian cuisine and cooking, and how do you preserve these cooking methods and recipes in your own style?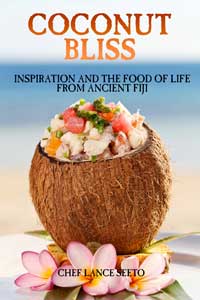 Fijian food is where Hawai'i was some 20 years ago but without the American influence. The two very distinct cultures of Polynesian/Melanesian and Indian have lived separately for over 200 years, and the food has remained simple and basic, with very little fusion or crossover between the two. Traditional Fijian food is derived from the Polynesian settlers some 3,500 years prior, and similarly to Hawai'i, is based on proteins from the land and sea, root vegetables of taro, breadfruit and sweet potato, leafy greens and tropical fruits; with an emphasis on coconut due to its abundance.
Fijians still live in villages and own more than 93% of the 330-island archipelago. This means that many traditional cooking methods are still alive and practiced every day. Indian curries and Chinese chop suey dishes also permeate Fijian cuisine today. The boom in tourism, however, has highlighted the lack of complexity or excitement in modern Fijian cuisine for the gourmet palate. Fijian chefs in our industry do not eat like their customers and rarely can afford to travel or experience fine dining. This lack of international skills is also exacerbated by an inexperienced palate, and is one of the biggest challenges facing the industry. The adoption of the Western diet has also created a form of fusion that is not healthy and contributing to non-communicable diseases of obesity, diabetes and heart disease.
However, there is much excitement in the ancient cooking techniques, many of them unknown even to the most well-traveled foodie. Using seawater for marinades, scorching scraped coconuts with hot river stones to create an earthy coconut milk or the Polynesian use of taro leaves offer the creative chef opportunities to combine past techniques and flavors with modern haute cuisine. I love using these simple but very creative tropical flavors in a menu I call "1808" — the first year Chinese were recorded to have come to Fiji. By initially cooking meats and seafoods using artisanal methods, I infuse the finished dish with Asian flavors to create a form of infusion not seen or experienced anywhere else in the world. Learning and embracing the ancient stories of cannibalism and culture also gives me the chance to combine dining in Fiji with the cultural myths and legends of an ancient people.
Many people are unfamiliar with Fijian cuisine. How would you describe it, using all of your senses, to emerging foodies? What can we learn from the Fijian diet?
Think ancient Hawaiian with coconut! The earth oven is called "lovo" in Fiji and uses the same principles of wrapping pork in taro leaves, and putting chickens, root vegetables and fish into the pit. Unlike the unfortunate Hawaiian history and loss of culture, the Fijian cooking methods have endured thousands of years and have been adapted by generations but are still enjoyed in every village today. The smoky flavors that permeate the meats and vegetables come from the heated river stones and firewood that create a slow-burning steam oven. The men usually prepare the lovo, while the village prepare salads of ancient bush ferns, seaweed and seafood using coconut and lemon juice.
The traditional diet of the Fijians is gluten- and dairy-free and offers the modern world a look at how the native used to eat compared to our mainly processed Western diet. Eating majority organic, non-genetically modified produce and wild meats and seafood holds many nutritional lessons for humanity that has become sick and fat. Their daily use of herbal medicines and remedies like coconut oils, medicinal leaves and barks also provides lessons in natural remedies. The menus in my restaurants reflect this healthier way of eating, with many international travelers embracing this refreshing and healthier way to see food as medicine.
You mention Confucius philosophy as being crucial not only to what you eat, but also to achieve a healthy state of being. What do you mean by this?
The older civilizations of the Chinese, Mediterranean and Polynesian people all embraced the philosophy of eating the foods of life for nutrition and longevity; food as medicine. The modern Western diet eats more for convenience, price and flavor, with the modernization and corporatization of foods largely eliminating the vitamins and minerals that all living species, including human beings, need for optimum health. As a species we have forgotten why we need essential foods containing magnesium, zinc, selenium and manganese for our cells and immune system to be in the best possible state of health.
I sometimes think that wild animals and insects are much smarter than humans when it comes to healthier eating, as they are not bombarded by clever marketing, nor [do they] design their diet based on how much they can afford! Food is a critical and key player in determining our long-term health, and the links between diet and disease need more attention, especially in the 21st century and especially at a time when non-communicable diseases grip the planet.
What are some of your favorite Fijian recipes?
My all-time favorite Fijian dish is the ceviche-like salad called "Kokoda" (koh-kon-dah). It is a fish salad that cures raw white-flesh Spanish mackerel with lemon juice, then mixes it with fresh coconut cream, onions and tomato. The cured fish becomes velvety in the creamy coconut and is delicious served at room temperature. My other is any type of seafood but especially charred with a dressing of pure seawater, lemon juice and chili. Wild but very tasty, organic and full of nutrition!
Video: Lance Seeto's Taste of Paradise (11 min., 31 sec.)