Photo (and Video) of the Day: 'Space-Baby' Buddha at Asia Society Hong Kong Center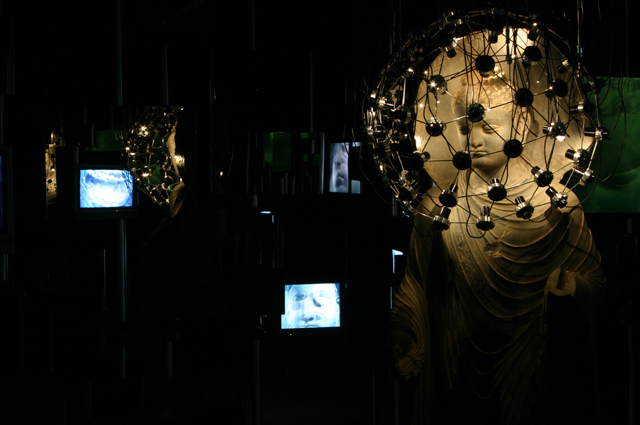 Artist Michael Joo's installation, Bodhi Obfuscatus (Space-Baby), is a Gandharan Buddha surrounded by fiberoptic cables, mirrors, live surveillance cameras and monitors, on display February 10 at Asia Society's new Hong Kong Center. (Davis Thompson-Moss /Asia Society)
New York-based artist Michael Joo's Bodhi Obfuscatus or "Space-Baby," is part of the new Asia Society Hong Kong Center's upcoming exhibit, Transforming Minds: Buddhism in Art, which will showcase Buddhist works from the world-renowned collection of Mr. and Mrs. John D. Rockefeller 3rd, along with contemporary works by leading Asian and Asian American artists. The exhibition will be on view from February 10 to May 20, 2012.
In just a few hours, the Asia Society Hong Kong Center will celebrate its grand opening (learn how to watch the ceremonies live here). This is a historic moment for the Asia Society — for the first time in the organization's 56-year history, it will have a physical location outside of New York City.
Take a tour of our new home in the video below. (10 min., 30 sec.)
Want to see your images in our Photo of the Day posts? Use Flickr and tag your photos "asiasociety" or simply email your best shots from Asia to photos@theasiablog.org. Be sure to include where and when the photo was taken. We look forward to seeing — and publishing — your submissions!