Interview: Williams College President Adam Falk on Liberal Arts Education and Asia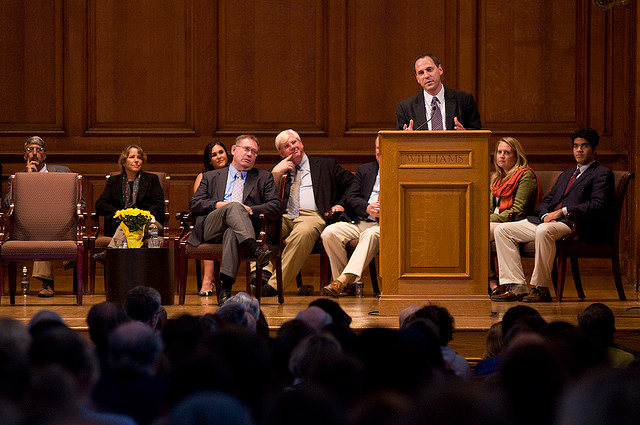 President Adam Falk's introduction to the Williams College community on September 30, 2009. (Marco Sanchez/Flickr)
Adam Falk is the 17th president of Williams College, an elite liberal arts college in Williamstown, Massachusetts. Prior to joining Williams as president and physics professor, Falk served as Dean of Faculty at Johns Hopkins University and later as the James B. Knapp Dean at the university's Zanvyl Krieger School of Arts and Sciences. A high-energy physicist by training, Falk is the recipient of several distinctions and fellowships from the American Physical Society, the National Science Foundation, the Alfred P. Sloan Foundation, and the U.S. Department of Energy, just to name a few. He earned his bachelor's degree with highest distinction from the University of North Carolina at Chapel Hill and Ph.D. from Harvard University.
President Falk will speak at an Asia Society Hong Kong luncheon presentation, "Liberal Arts Colleges in the Global Age," this Friday, June 28. Tickets are available for purchase here. Asia Blog checked in with the president for a brief Q&A ahead of his appearance at Asia Society Hong Kong later this week.
Broadly speaking, why is Asia so relevant to American higher education?
There are several reasons. The most obvious is that many Asian students choose to study in the U.S., enriching their own experience and those of their fellow students. Another reason is that, as Asian systems of higher education innovate, U.S. colleges and universities will have things to learn. Then there's the way that in an increasingly global society, the ways that Asian higher education prepares its students to take on leadership positions in the world will have an influence on us all.
A liberal arts curriculum is neither vocational nor professional. Rather, it is rooted in the humanities, social sciences, and natural sciences. What do you believe is the single biggest advantage of a liberal arts education in terms of global competitiveness and literacy?
What then Williams President John Sawyer said in the 1960s applies even more so today. The more rapid the rate of change in society, the more useful, in a way the most practical, education is one that develops in its students their capacities to read and calculate carefully, think critically, express themselves fully, and solve problems creatively, drawing on a deep grounding in history and current events.
What can Asian higher education systems learn or borrow from their American counterparts? Why?
For many decades the U.S. stood as a model of broad accessibility to higher education. More recently, other countries, including some in Asia, have made such strides along these lines that we in the U.S. may soon be looking there for inspiration.
Liberal arts schools are popping up across Asia: Yale-NUS College in Singapore and NYU Shanghai are both opening doors this August. Does this indicate that there's a heightened interest in liberal arts education in Asia and, if so, would you go as far as call this a new "trend" in Asian higher education?
Interest in the liberal arts seems to be growing around the world, including in Asia. As a passionate believer in the importance of this form of higher education to the preparation of the leaders that this world very much needs, I certainly welcome this trend.