Interview: Racism, Sexism, and The Need for a New Way of Talking About Tibet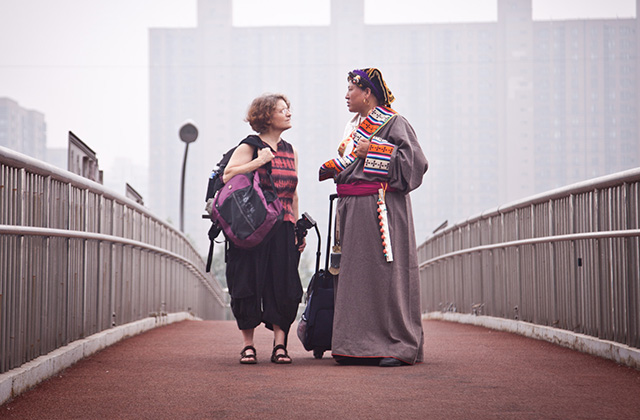 Reporter Jocelyn Ford and Zanta, the subject of her film, stand on a Beijing overpass. (Jocelyn Ford)

"Dark Days for Women in China?" In a ChinaFile conversation, analysts discuss what the recent crackdown on feminist activists signifies. Learn More
As Beijing-based reporter Jocelyn Ford was preparing for work one morning, she got a desperate call from a Tibetan woman named Zanta who she'd encountered selling jewelry on an overpass two years earlier. When they met, Zanta tried to give Ford her seven-year-old son.
Widowed at age 28, Zanta was straddling two completely different worlds — and both regarded her as a second-class citizen. In her Tibetan village, she grappled with a repressively patriarchal culture and abusive in-laws, which tradition and Buddhist belief dictated she remain obedient to. She migrated to Beijing hoping to get her son, Yang Qing, an education, but her status as a Tibetan and an illiterate migrant worker brought severe discrimination and hardship there, too. When Zanta met Ford, she thought the American reporter must be a family member from a past life who could perhaps provide a better situation for her son.
Ford didn't adopt Yang, but she did help send him to school and became intimately involved with the family. Hoping to present a portrait of Tibetan life beyond the headlines that dominate coverage of the region, she turned Yang and Zanta's story into the film Nowhere to Call Home: A Tibetan in Beijing. Ahead of an April 30 screening and discussion of her film with Asia Society Northern California in San Francisco, Ford spoke with Asia Blog about gender issues in Tibet, how Han Chinese have reacted to the film, and the surprising signals she's received from authorities.
The film involves Tibet — always a sensitive topic — and explores tough racial, gender, and socioeconomic issues that the Chinese government may not want highlighted. While making the film, were you ever impeded by authorities? And has anyone tried to stop you from screening it in China since it was released?
I think the more interesting question is why I haven't faced more obstacles. When I started the project, I thought state interference might be my biggest concern. I assumed I would never be able to show my film in China. However it gradually became apparent that jealousy and rumor mongering in Zanta's community was the bigger concern. Women in Zanta's community are not supposed to be independent or strong-minded.
I've been surprised not only that I've been able to screen in China, but my film has been well-received. At the last public screening in Beijing, tickets sold out in about two days. I'm thrilled my documentary has been called an important film by some leading scholars in the PRC. I've screened at the Chinese Academy of Social Sciences, a number of anthropology conferences, universities, and high schools. The very first organization to pay me a screening fee was [the official state media] Xinhua News Agency, which showed the film at a training session for senior editors. A senior researcher at the Party School watched the film and gave it a thumbs up.
So far I've had one screening canceled out of nearly two-dozen. That screening was organized for a gender studies class in Guangzhou and was canceled after the five feminists were detained for plans to plaster anti-sexual harassment slogans in public spaces on International Women's Day. Interestingly, on International Women's Day — after the now famous five were detained — I did a sold-out public screening in Beijing at an activist venue known to be watched by authorities. That's China.
Notably, I've heard via the grapevine that several U.S. institutions have shied away from association with my film because they are afraid of damaging China interests. Ironically, the Asia Society screening is possible due to a trans-Pacific ticket generously provided by the Chinese government-affiliated Confucius Institute at New Mexico State University. It's early days yet, but if there is greater interest in the social justice issues raised in my film in China than in the U.S., well, that's the way it should be!
What kinds of reactions have you received from Han Chinese toward the film?
Responses have run the gamut, but mostly have been surprisingly positive. In general, younger audiences have been shocked by the discrimination and unfairness Zanta and Yang Qing face. A number of high school students have pledged after screenings that their generation will fix the problems of discrimination and unfairness. I've been particularly encouraged to hear the discussion of what they can do as individuals. Some older audiences have been more dogmatic. Some have argued that all migrants get a bum deal, and Zanta's ethnicity isn't an important factor. A few have said Tibetans are threatening and intimidating, so it's normal they have difficulties renting a house or getting a job. Some have told Zanta she should not be exposing China's social issues to the world. Zanta's honesty, passion, and sheer will power to overcome seemingly impossible obstacles are infectious, and audiences around the world have found her an inspiration. I believe her courage and credibility help slice through dogmatism.
Did you ever feel frustrated by how superstitions seemed to steer Zanta's life in destructive directions, like when she insisted she had to maintain ties with her abusive in-laws even years after her husband had died?
Absolutely. I was torn by my desire to respect her beliefs and traditions, and by my frustration at the injustice and abuse she put up with due to these beliefs. The film explores the challenges of engaging in a constructive relationship with someone whose value system and beliefs are 180 degrees different from one's own. I fear too many well-intentioned people who reach out to the less advantaged stumble because they fail to take into consideration the recipients' worldviews and value systems. They make too many inaccurate assumptions about how their interlocutor will respond. In the film you see me experiencing this … in real time.
How has making this film made you feel about the political discourse that typically dominates discussion of Tibet?
Frankly speaking, if people are concerned about the quality of life for individual Tibetans living inside the PRC, I think it's time to move beyond looking at Tibet-China issues through polarized political lenses. I think more Tibetans inside the PRC would benefit if concerned individuals instead put on the lens of humanism. If they were to do this, there would be a lot more attention paid to gender issues.
I find the unspoken taboo of speaking about Tibetan social problems — for fear of losing international support for the political cause — counterproductive. Gender injustice is serious in some communities. When I first met Zanta she bought into the idea that women are inferior to men. Her biggest desire was to be reincarnated as a man. Over the past decade, she has come to value equality of the sexes.
I think the question should be who should hold the reins of the modernization process in Tibetan communities. As a Tibetan student leader at a university in Shanghai put it: "We want to modernize ourselves. We don't want to 'be modernized' by the Han majority" (when I asked his girlfriend her thoughts, she was silent. Women in some Tibetan communities are not supposed to speak).
Do you think Tibet is over-romanticized in the West?
Yes. There have been a number of books written about this. I think it is human nature to want to believe there is a perfect society somewhere we can all aspire to. Having said that, should you find Shangri-la, let me know! I'll be there in a split second to check it out!
How are Zanta and Yang Qing doing now since the film came out?
Much better! Thanks for asking! The day before I left for the U.S. Zanta told a foreign reporter friend of mine she's a lot more empowered than when we first met. It was the first time I'd heard her unequivocally acknowledge this. She used to be in tears all the time. These days, more often than not she is laughing when she picks up the phone. The film has given a big boost to sales of her own jewelry designs, and this month she registered her own brand name in China! We're still looking for a business partner for her, especially someone who could help her reach customers abroad. Yang Qing is doing better in school. Three years ago I was able to enroll him in a Beijing public school, no mean feat for migrants in Beijing. Thanks to the film, I've found tutors to help him. We no longer worry he will fall to the pressures around him to cheat or steal. He's becoming a positive role model for his younger cousin. I couldn't be prouder! There have been many dark days along the way, and we will undoubtedly face challenges ahead. But I am cautiously optimistic the toughest times are behind us. And, in case readers don't know why I'm saying "us," Zanta considers me a relative from her past life.
Nowhere To Call Home: A Tibetan in Beijing (trailer) from TripodMedia on Vimeo.