Interview: Novelist Manu Joseph Explores Family Happiness, 'Illicit' and Otherwise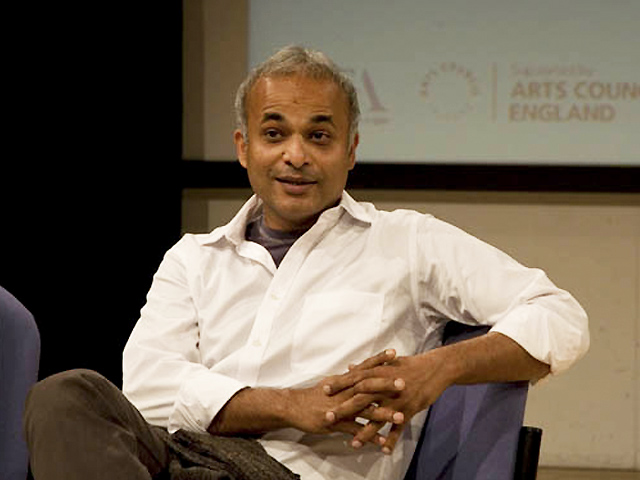 Manu Joseph at the World's Literature Festival in Norwich, England on June 23, 2011. (Writers' Centre Norwich/Flickr)
In 2010, novelist Manu Joseph won the PEN Open Book Award and The Hindu Best Fiction Award for his first book, Serious Men. It was also shortlisted for the Man Asian Literary Prize, the regional Commonwealth Prize, and the Bollinger Everyman Wodehouse Prize for best comic novel.
Joseph, a New Delhi resident, a columnist for the International Herald Tribune and editor of Open magazine, has now released his highly-anticipated second novel, The Illicit Happiness of Other People. The story revolves around the Chackos, a Christian family living in a gossipy Madras housing community in the late 1980s, and begins three years after the gifted but troubled teenager Unni Chacko mysteriously falls from the balcony of his building. When Unni's alcoholic father Ousep gets a delivery from the post office — one of Unni's drawn comics, lost in the mail — he is jolted out of his stupor and embarks on a solitary quest to understand his son and rewrite his family's story.
"It's all real, I haven't made up anything," Joseph told the Indian newspaper The Hindu.
Joseph appears at Asia Society New York with fellow novelist Hari Kunzru this Thursday, January 10 to talk more about his new book, and he will also appear (without Kunzru) at Asia Society Texas Center in Houston on Tuesday, January 15. We reached out to him via email to get his thoughts on his work.
Your novels (especially The Illicit Happiness of Other People) mix comic and tragic elements. Have you had any negative response from readers and critics who see this sort of satire as possibly trivializing mental illness?
I would argue that my novel is not about mental illness — in fact, in part, it questions our idea of sanity and argues that sanity is a majority psychiatric condition, and that what we call ideology, even the idea of enlightenment, is probably a psychiatric condition. In this light, the novel raises questions regarding the many myths of sanity and the outer reaches of mental aspirations. So it is people who claim they are sane who should take offense and I am very happy to offend them.
India has changed enormously since the 1980s. Even in the fictionalized India of The Illicit Happiness, you don't draw a very pretty picture of that era — the violence within families, the sexual repression, the limited horizons, the gossip and snobbery — but did you find an almost perverse nostalgia in re-creating this world, essentially the world of your childhood in southern India? In The Hindu, you said that "It's all real, I haven't made up anything."
I am a bit suspicious of people who paint a pretty picture of India. But this is irrelevant to The Illicit Happiness of Other People, which is not a political novel, not even a novel that aspires to be sociological or critical of the nation — unlike my first novel, Serious Men. The background hum of The Illicit is the Madras I grew up in and this background is not fictionalized. If it were, I would have been whipped by now by the very clever Tamil population all over the world. I re-created this world because it was important for the story.
You have described yourself as a graphic novelist who can't draw — do you have any plans to collaborate with a graphic novelist and writing another novel? Your character Unni Chacko is an aspiring graphic novelist — would you be interested if an editor or graphic artist approached you with a proposal to turn the book into a graphic novel?
I had described myself as a cartoonist who does not have the talent to draw. I make a distinction here between a graphic novelist and a cartoonist — I am prone to regard a cartoonist as more journalistic and less fantastical than a graphic novelist. I would love it if a good artist wants to turn this novel into a graphic novel. I also promise not to interfere at all.