Book Excerpt: 'The Illicit Happiness of Other People' by Manu Joseph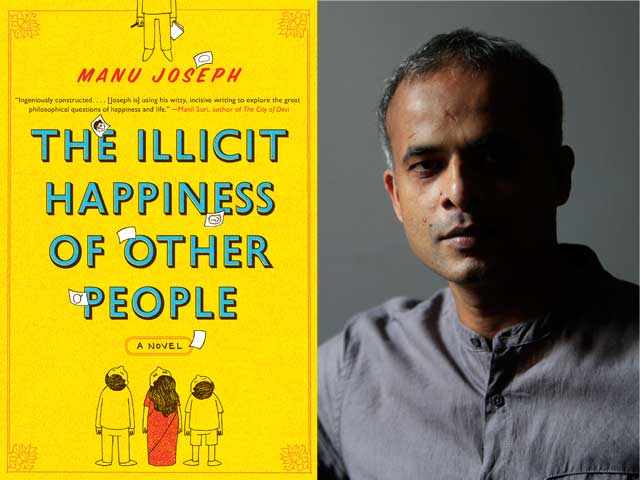 L: "The Illicit Happiness of Other People" by Manu Joseph (W.W. Norton & Company, Inc.). R: The author. (Ritesh Uttamchandani)
The second novel by award-winning Indian author Manu Joseph, The Illicit Happiness of Other People is the witty and yet touching tale of the Chackos, a Christian family living in a gossipy Madras housing community in the late 1980s. The story starts three years after the gifted but troubled teenage son Unni Chacko mysteriously fell from the balcony of his building. When the post office delivers a comic drawn by Unni that had been lost in the mail since his death, his alcoholic father Ousep is shocked out of his stupor and ventures on a solitary quest to understand his son and rewrite his family's story.
Manu Joseph will read from and discuss his new novel with Hari Kunzru at Asia Society New York on Thursday, January 10, 2013 and Asia Society Texas on Tuesday, January 15, 2013.
---
Ousep Chacko, according to Mariamma Chacko, is the kind of man who has to be killed at the end of a story. But he knows that she is not very sure about this sometimes, especially in the mornings. He sits at his desk, as usual, studying a large pile of cartoons, trying to solve the only mystery that matters to her. He does not ask for coffee, but she brings it anyway, landing the glass on the wooden desk with minor violence to remind him of last night's disgrace. She flings open the windows, empties his ashtray and arranges the newspapers on the table. And when he finally leaves for work without a word, she strands in the hall and watches him go down the stairs.
On the playground below, a hard brown earth with stray grass, Ousep walks with quick short strides towards the gate. He can see the other men, the good husbands and the good fathers, their black shoes polished, serious shirts already damp in the humid air. They walk to the scooter shed, carrying inverted helmets that contain their outrageously small vegetarian lunches. More men emerge from the stair way tunnels of Block A, which is an austere white building with three floors. Their tidy, auspicious wives in cotton saris now appear in the balconies to bid goodbye. They are mumbling prayers, smiling at other women, peeping with one eye into their own blouses.
The men never greet Ousep. They turn away, or become interested in the ground, or wipe their spectacles. But among their own, they have great affection. They are a fellowship, and they can communicate by just clearing the phlegm in their throats.
"Gorbachev," a delicate man says.
"Gorbachev," the other one says.
Having thus completed the analysis of the main story in The Hindu, which is Mikhail Gorbachev's election as the first executive president of the Soviet Union, they walk towards their scooters. A scooter in Madras is a man's promise that he will not return home drunk in the evening. Hard-news reporters like Ousep Chacko consider it an insult to be seen on one, but these men are mostly bank clerks. They now hold the handlebars of their scooters and stand in a languid way. Then they kick suddenly as if to startle the engine into life. They kick many times; some even appear to bounce in the air. Eventually, the engines roar and they ride out, one by one, sitting at the very edge of the front seat as if that is the cheaper option. They will return the same way at six in the evening carrying jasmine flowers for their wives, who will wear them in their freshly washed hair, filling their homes with an aphrodisiacal odor and stirring the peace of their fathers-in-law who live with them, those old men who are so starved for flesh that they fondle children, fondle fully grown men, furtively flap their thighs when they watch women's tennis on TV.
At the gates, the fragile watchman stands in a farcical para-military outfit that puffs in the wind, and he cautiously salutes his foe. Ousep nods without looking. That always gets the guard's respect. Ousep turns for a glimpse of the women on the balconies, and they pretend they were not looking at him. On his own balcony on the third floor there is no one.
As he walks towards the far end of the street he is in full view of all the balconies of the four identical buildings on Balaji Lane, in full view of all the housewives and the unmoving old wraiths, who watch with open mouths. Ousep walks fast in the morning, the little finger of his right hand sticking out as if to receive a signal. From the other gates more scooters emerge. Some of the riders stare at him as if it is safer to meet his eyes when they are wearing helmets, which is true in a way women disappear from the balconies munching the final strands of prayer, women appear on the balconies preoccupied with many things. When they see him, their eyes rest on him a moment longer to accommodate a quick judgment. Considering everything, considering all that has passed and the way he is, it is reasonable that people should stare at him, but he hates it. They may find it hilarious if they are told his but the truth is that Ousep Chacko is a man who wants to be inconspicuous, who suffers when eyes are on him. But then the fate of shy people is that all their fears usually come true.
As things are, it does not take much to be a spectacle on this narrow tarred lane. It waits all day to be startled by the faintest hint of strangeness passing through. Such as a stray working woman in the revolutionary sleeveless blouse, who has the same aura here as a divorcee. A man with a pony tail. A north Indian girl in jeans so tight you can see daylight between her legs. It is as if such apparitions are a sign that the future, which has arrived in other places, is now prospecting the city. Here now is the final stand of an age, the last time one can profile a street in Madras and be correct. Men are managers, mothers are housewives. And all bras are white. Anglo-Indian girls who walk in floral frocks are Maria.
That is how the people on Balaji Lane would remember these days many years later. And when they remembered these times they would also remember, with a chuckle, the Malayalee Catholic family, the cuckoos among the crows- the despicable man called Ousep Chacko, his stranded wife who told her bare walls all her reasonable grudges, and their son Thoma, who was weak in maths, What became of them, did they survive the sheer length of life, did they make it through?
And they would remember Unni, of course. They would never forget Unni Chacko. "Remember Unni?" they would say. "Did anybody ever find out why he did that? Why did Unni Chacko do what he did?" Nobody would ever mention what Unni actually did. It is such a terrifying word in any language.
---
Reprinted from The Illicit Happiness of Other People: A Novel by Manu Joseph. Copyright (c) 2013 by Manu Joseph. With the permission of the publisher, W.W. Norton & Company, Inc.