Interview: Filmmaker Focuses on Water and Warming in Northern Pakistan
This year, an Italian-born filmmaker, Niccolo Piazza, is preparing to release The Karakoram Anomaly, a documentary examining life, culture and heritage in Baltistan and the Hunza Valley, locations in Pakistan's mountainous northern regions, against a broader backdrop of climate change. The Karakoram and Western Himalaya mountain ranges are part of this area, and it holds one of the largest stores of glacier water outside of the Poles; hence, the local community's livelihoods may be directly affected by man-made changes to the environment.
In an exclusive interview with Asia Blog, Piazza speaks about his inspiration behind the documentary, and his aspirations to produce future works — focusing on Pakistan's rich culture and heritage — for a Western audience.
Niccolo, what was your journey in becoming a filmmaker?
Becoming a filmmaker was never part of my plans. I am Italian, born in Milan, and I moved to London when I turned 19 to actually study music and pursue a career in music production. But after graduating and getting a job I quickly fell out of love with that "career." It was not in the studio, but outside that I was getting a chance to meet a lot of like-minded, creative people, including from other disciplines — like filmmakers, who really got me excited about their craft and ultimately made me want to change course.
A couple of years later I got my first real filming "gig" completely by chance — a photographer friend was commissioned a project about ancient Egypt and asked me to go along with him to shoot some videos. Not knowing ANYTHING about filming, I just went to Cairo and totally improvised! I ended up spending more than two years in Egypt, on and off, shooting all sorts of projects. I still feel like that was the best way to learn, by far.
I would say that I've always remained fond of this "homemade" approach to filmmaking.
Which is why I've set up Moonweed Digital (in 2006) as a small team of committed, independent professionals who come together to collaborate on projects that all of us are truly passionate about. The core team, as far as going on location for our filming "expeditions," is usually just myself and my wife Aliya Salahuddin (from Karachi), who works on the scripts and is my producer. She worked at GEO TV for many years while still living in Pakistan and later, in London; she is also responsible for the 10-ish words of Urdu I can speak!
When did you start working on The Karakoram Anomaly? What led you toward putting this documentary together?
I would say that there are at least three reasons why we decided to film The Karakoram Anomaly.
First and foremost is the fact that in my opinion there are far too few news stories, or documentaries (at least on TV channels here in the West) that offer any narrative about Pakistan other than the usual "doom-and-gloom," "war on terror"-related, headline-grabbing, "breaking news" sort of thing that we have heard about a million times already. I don't blame the media entirely — I myself have been guilty of focusing on some of these aspects in the past, for example when we shot a documentary on the plight of the religious minorities (Christians, Shias, Hindus) across Pakistan. I certainly think it is important to keep talking about these issues because the whole world should be concerned about the future of Pakistan. But at the same time this trend ends up presenting a very one-sided and unfair portrayal of the country, which in reality is a wonderfully diverse place, culturally and ethnically, with a rich heritage and so much history — not monolithic at all.
I've been to Pakistan many times (both my parents-in-law are still based in Karachi) and I know there is a lot more there than what we usually see on TV in Europe, and especially in America. Here in Italy, for example, TV viewers tend to be somewhat "obsessed" with art and history; so where on Italian TV channels are all the documentaries on Lahore or Mohenjo-daro or Taxila or the Buddhas in Swat? NOWHERE! So I've sort of pledged to make, in the years to come, a series of films that will focus on Pakistan's culture and heritage, and I'd like to consider The Karakoram Anomaly a first effort in this context.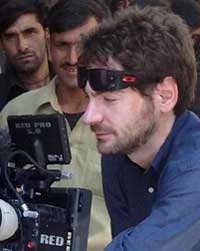 Niccolo Piazza
The second reason is a report published in April 2012 on Nature Geoscience by a Grenoble University-based team of researchers led by Dr. Julie Gardelle. They had been monitoring satellite images of the ice mass on the Karakoram range for the past 10 years, and concluded that unlike the neighboring Himalaya, the glaciers in this region are seemingly not decreasing at all.
I was living in the U.S. at the time (a country overcrowded with climate skeptics, it seems) and was shocked at seeing certain journalists take advantage of this study as an excuse to belittle the whole theory of climate change. Even if Dr. Gardelle herself stressed that this "anomaly" was in no way contradicting the global warming models!
I thought that this could be a very intriguing premise for a film on the Karakoram, to go and find out the truth behind this study. In many ways I feel that it is right to touch upon the issue of environmental conservation in ANY film about mountain regions, because these are very harsh places to live and water management is absolutely crucial to the survival of local communities.
It turns out that scientists don't think, thank God, that the Karakoram range is actually under any IMMEDIATE threat from climate change (although long-term the situation could still change dramatically), and that's because of this climatic "anomaly" that we explain in the film.
So while the original theme for the film came to us when we decided to take a cue from this issue, we later decided to focus primarily on telling the story of the communities who live in the Northern Areas, and their symbiotic relationship with their environment.
These communities are truly unique, even if only compared to others within the context of the rest of Pakistan (in terms of customs, for example, or heritage, or even language), and do lend themselves to being considered a bit of an anomaly too. Hence the title of the film, which is not only intended to be in reference to the environmental aspect of the anomaly, if you will.
And thirdly, there is a bit of a personal reason. I remember the very first time I went to Karachi, I was on a PIA flight from London. While we were landing, a video started playing on the airplane's screens, showcasing some of Pakistan's most picturesque locations (Multan, Shalimar Gardens, etc.) — the usual promotional stuff that looks like it was put together by the Ministry of Tourism. It was nicely done and was very effective, in that I remember seeing some images of these beautiful snowy peaks, and since then I've been trying to find an excuse to go there! Let's say that making this film was an excellent excuse.
Video: Watch a trailer for The Karakoram Anomaly (3 min., 27 sec.)
As the director of this production, what would you like to get across to your audience?
I guess I always thought of making this documentary for a mainly Western audience, which is the one I think I understand better. And I think that, with this particular audience in mind, it is always important to stress upon the issue of climate change: in a way because it is the excessive, unsustainable lifestyle of the West (and now maybe China also) that is causing all the problems, yet many of the negative effects of this phenomenon are felt very far away, sometimes on the other side of the world.
I would like to remind people who live here that their actions (or inactions) are already having dire consequences, like on the Himalaya, where glaciers are under a more immediate threat, and I would like viewers to feel a bit more empathy towards these communities who will undoubtedly suffer the most, because of how their survival is intimately connected to the scarce natural resources available locally. I don't think most people appreciate how difficult it is to manage water resources, for irrigation and drinking for example, through canals that need to be built and maintained, in these remote mountain regions. Water is abundant, but access is a challenge.
And I also hope the film will be able to give a sense of how much of an extraordinary treasure (both natural and man-made) the Karakoram region really is. Ideally, I'd be happy if we could encourage more and more people to go and visit it themselves. Having seen what I have seen, I think it should be compulsory for EVERYONE to go.
How long did the filming take?
We spent only a couple of weeks on location, but we were filming every single day, and were constantly on the move from one place to the next. Because our film focuses on the mountain communities, we would spend the majority of the time at very low altitudes, mainly in the valleys (as opposed to high up on the glaciers), so we could travel to a lot of different places very quickly.
We were greatly helped by Nazir Sabir, who met us repeatedly in Islamabad to answer any questions we might've had (and also kindly agreed to be interviewed on camera for the film), and his team (our guides, Rehmat and Sher Khan, our driver Nawaz and logistics supervisor, Sultan) went really out of their way to accommodate any of our requests, and came up with great suggestions of their own. It is also worth mentioning the outstanding support we got from the Agha Khan Rural Support program, who really helped us access the main forts and heritage sites across Baltistan and Hunza, and embraced our project with great enthusiasm and invaluable assistance. And I am truly grateful to the ISPR for getting our filming permissions ready in record time, given how winter was fast-approaching — which would have forced us to postpone the project by many months.
Will you be screening the documentary in Pakistan this year?
Yes, in fact the first-ever public screening is going to be in Islamabad on September 9th. I can't wait to get some feedback from a mainly Pakistani audience, actually.
There will be a second screening in Skardu the following week, hosted by an Italian research organization, Ev-K2-CNR, who have been studying the Baltoro glacier for 30 years and have a permanent team in Pakistan throughout the year.