How a Robust Media Has Transformed Afghanistan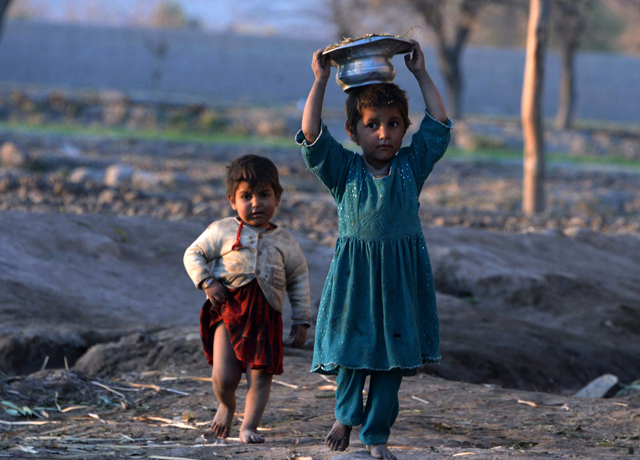 Young Afghan children carry cow dung, to be used as fuel, as they walk on the outskirts of Jalalabad. (Noorullah Shirzada/AFP/Getty Images)
UPDATE: Reporters Without Borders has awarded the Press Freedom Hero medal to Lotfullah Najafizada, the head of TOLONews and a member of Asia Society's Asia 21 Young Leaders network, for enabling spirited public discussion in Afghanistan. TOLONews is a division of Saad Mohseni's MOBY media group.
---
On the night of January 20th, a Taliban suicide bomber struck a bus carrying our employees in Kabul, killing seven and injuring another 15. Among those we lost was 21-year-old Mehri Azizi, a bright and energetic graphic artist, who would soon be promoted to creative services coordinator at Afghanistan's largest media group. With this attack, we were reminded of the numerous sacrifices made by Afghans since the ouster of the Taliban in 2001 to rebuild their country and establish the foundations of progress and democracy. We were also reminded about the risks of running a private media group in a country with ongoing conflict, where journalists are frequently targeted. With news reports coming out of Afghanistan generally pessimistic, I am not surprised when people ask me whether these risks — and the sacrifices — are worth it.
There is no doubt in my mind that the country individuals like Mehri and her colleagues have worked so hard to build is a better place than it was under the Taliban. In every domain, whether in health care, infrastructure, media and technology, democratic governance and gender, we have made enormous strides. While before 2002, Afghans had access to fewer than 30,000 fixed telephone lines, and only one radio station, today they are served by six telecom companies, with mobile data services available across the country. They are also more connected and better informed, with access to more than 70 TV stations and 175 radio stations. Half of Afghan girls are enrolled in school, compared to practically none under the Taliban, and women make up 20 percent of students in higher education, a proportion that is increasing year-on-year. The infant mortality rate has been reduced by half.
Afghans can also be proud that in 2014 we held our third national democratic elections, with people engaging directly with candidates over their proposed programs in townhall-style meetings and casting votes across the country. Yet one of the untold stories of these successes is the role played by the media. When my brothers, sister, and I founded the country's first independent radio station — Arman FM — in Kabul in 2003, little did we anticipate the profound impact the media would have in re-shaping Afghan society. We later expanded our operations to include a second radio station, two entertainment TV channels, digital platforms, and the country's leading 24/7 news network. Beyond enhancing access to information, the media has contributed significantly to making Afghan society more tolerant, open, and united.
Reality singing programs like Afghan Star and the Roshan Afghan Premier League football aired on Tolo TV have drawn people together across many fault lines. Drama, comedy, soap operas — including our own local productions — have shifted attitudes around issues such as gender equality, confidence in the national security forces, and the value of education and skills. Our work to bring Sesame Street to Afghanistan has improved literacy rates among children, with the unexpected benefit of increasing adult literacy, particularly among mothers, who frequently watch the show with their children. Female TV and radio presenters have contributed to relaxing conservative attitudes about women in the workplace and given women greater confidence to pursue careers in different artistic, scientific, and professional fields.
Just as profound is the impact the media has on promoting transparency and accountability. Afghans frequently turn to TV or radio journalists to voice their complaints about government services, and the media regularly investigates cases of corruption, holding officials accountable for their actions. Our coverage of the fatal stoning of female student Farkhunda Malikzada in Kabul in early 2015 was instrumental in turning public opinion against the murderers.
Small wonder that the enemies of democracy have increased their hostility to the media, as it upholds the very values that voids their ideology: freedom of expression, plurality of opinion, transparency, human rights, and greater equality for men and women. Since 2015, there have been 106 reported incidents of violence against journalists in Afghanistan, with a similar situation in countries like Syria and Iraq where Al-Qaeda and extremist groups operate. And in October last year, the Taliban directly threatened our channel Tolo TV and a sister organization 1TV, after we reported on allegations that they had attacked a women's hostel and raped students, during their assault on Kunduz.
The Taliban made good on their threat against us on January 20. Yet despite this brazen and atrocious attack on our employees, what I see in the Taliban's action is not an affirmation of strength, but weakness and desperation. It is not lost on Afghans that the majority of victims of the Taliban insurgency are innocent civilians. A survey conducted by ATR in 2014 found that only 7 percent of those polled were in favor of Taliban rule, reflective of how little their bankrupt ideology resonates among Afghans. And more than anything, what I have seen since the attack is the overwhelming solidarity we have received from Afghanistan's media family (#AfghanistanChoosesLife), civil society, the National Unity Government, and our partners around the world. This more than anything is evidence that although the risks and sacrifices have been high, the large majority of Afghans are determined to defend the progress we have made since 2002, and overcome the issues that have so long divided us.