As Hong Kong's 'Occupy' Awaits Court Verdict, a Look at Its Asian Counterparts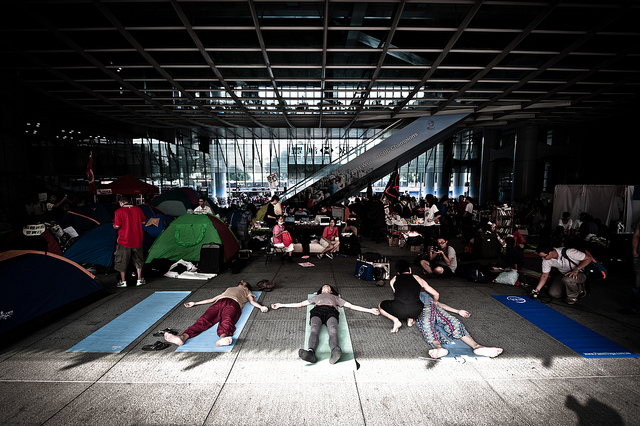 Protesters receiving free massages at the site of Occupy Central, Hong Kong, photographed on October 23, 2011. (dawvon/Flickr)
The HSBC bank in Hong Kong has finally made its move — it applied to the city's high court last Friday for an eviction of the Occupy Central movement that has set up camp since October 15, 2011 in Central, the heart of Hong Kong's business district.
"We asked them to vacate voluntarily and we haven't really heard anything formal from them so we went to court," HSBC Hong Kong spokesman Gareth Hewett told AFP.
Occupy Central, inspired by the Occupy Wall Street movement in New York City, mainly protests sharp income inequality in the city of seven million, where thousands of low-income people are forced to live in "cages" as they are unable to afford the rising cost of housing driven up by speculation.
The hearing will be on July 16, and approximately 20 of the regular protestors have vowed to stand their ground despite the threat of looming legal action.
"We are clarifying — we will not give up occupying," the occupycentralhk webpage said, decrying HSBC's claim to the space as private property on which it intends to hold its own events. If evicted, the Hong Kong movement will follow New York and London on the list of Occupy campaigns to be dispersed and/or relocated by authorities.
Occupy Asia
In less than three months, the original Occupy Wall Street will be a year old, but how have similar movements in Asia fared? The Occupy movements in Asia have aims similar to their American counterparts, but many focus on more than just corporate greed. Substantial movements in a number of Asian cities have addressed other relevant social issues like democracy and urban development.
Seoul, South Korea
More than 600 people braved the rains but failed to occupy Seoul Plaza on October 15 and 22, 2011, opting instead for a candlelit vigil across the street. Their main focus was the free trade agreement the Seoul government was about to seal with the United States (which was viewed as privileging corporations at the expense of workers' rights), greater social welfare spending and a call for legislation making it illegal for employers to treat non-regular employees differently from regular ones.
Tokyo, Japan
In Tokyo, about 300 people gathered on October 15 and a few dates after that in the districts of Roppongi and Hibiya. Protesters struck out against Tokyo Electric Power Co., owner of the Fukushima plant, in addition to calling for an end to nuclear power and the Trans-Pacific Pact, a free trade agreement between Japan and the United States. However, the demonstrations in Japan mostly went unnoticed by the media for reasons that are still open to debate. (One theory is the mainstream media's skepticism about the movement's ability to sustain itself, and another is government's cozy relationship with larger media outlets.)
Kuala Lumpur, Malaysia
Occupy Dataran, as it is called in Malaysia, is an attempt at participatory democracy. While the movement acknowledges solidarity with its New York counterpart, the first Occupy Dataran assembly was held on July 30, seven weeks before Occupy Wall Street launched on September 17. With attendance at around 200 each meeting, participants have gathered on Saturdays for debate and voting on issues that the assembly forms a working group to implement, such as its "I Love Capitalism" film festival last fall.
A official clampdown on Occupy Dataran took place on April 24 of this year, but a look at its Twitter feed confirms that the movement has since resumed with a series of public discussions, screenings and other programs.