Four Questions for This Week's Trump-Xi Summit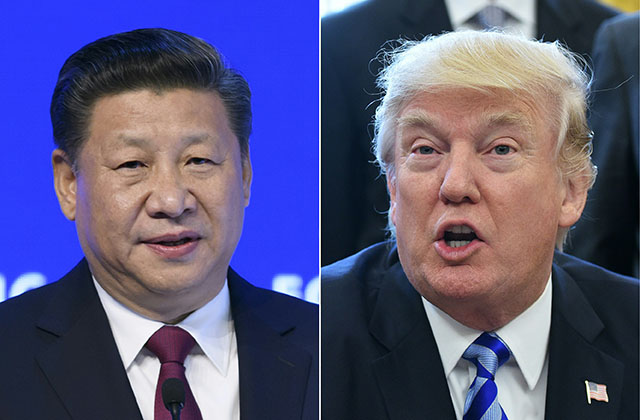 Chinese President Xi Jinping will meet American President Donald Trump in Florida on Thursday for a two-day summit.(Fabrice Coffini/AFP/Getty Images)
On Thursday, U.S. President Donald Trump will welcome Xi Jinping, his Chinese counterpart, to Trump's Mar-a-Lago resort in south Florida for a two-day summit. The gathering marks the first meeting between Trump and Xi, leaders of the world's two largest economies — this, alone, makes it a high-profile gathering.
Before the summit kicks off, what are the key issues at play? Here are some questions to consider.
What is the purpose of these summits? What do they accomplish?
The summit meeting between Xi and President Barack Obama at the Sunnylands estate in Rancho Mirage, California, in 2013 — the direct antecedent to this week's summit — resulted in few tangible changes to the U.S.-China relationship. This was largely by design. The Sunnylands summit instead provided a relaxed setting for the two leaders to exchange ideas and get to know each other without the pageantry of an official state visit.
This doesn't mean these informal summits are merely of symbolic value. The visit of Japanese Prime Minister Shinzo Abe to Mar-a-Lago in February — where he and President Trump enjoyed a round of golf and engaged in some slapdash crisis management — signified the enduring strength of the U.S-Japan alliance. Washington's relationship with Beijing is decidedly more complex. But the fact that the Xi and Trump can come together for an amicable visit is meant to reassure observers concerned that Sino-American relations may become more volatile. "These casual, short-sleeved summits give each leader a gut-check about the other," said Isaac Stone Fish, a senior fellow at the Center on U.S.-China Relations. "And that's very important."
There is a possibility that this summit may exceed its modest expectations for action. President Trump's zeal for negotiation — combined with his stated desire to upend the existing order — may actually endear him to Xi and the Chinese, who have long chafed at what they perceive as the American preference for principle over pragmatism.
"[Trump] has a value-free version of how you interact with other leaders that the Chinese could find quite welcome," Orville Schell, the Arthur Ross Director of the Center on U.S.-China Relations, told the Los Angeles Times.
What is the state of U.S.-China relations leading into the summit?
During his campaign for the presidency, Trump forcefully and repeatedly used strong rhetoric to describe his displeasure with China, whom he accused of manipulating its currency and "raping our country." As president, Trump vowed to label China a currency manipulator and re-negotiate the two countries' trade relationship, which Trump believed had greatly disadvantaged the United States.
After his victory, Trump sparked a diplomatic imbroglio in December when he accepted a congratulatory phone call from Taiwan President Tsai Ing-wen. The conversation, which marked the first direct communication between a Taiwanese leader and American president or president-elect since the U.S. broke off formal relations with the island in 1979, infuriated Beijing.
In the months since, however, Trump has seemingly moderated his stance toward China. In February, he reassured Xi during a phone conversation that the U.S. still upheld the One China Policy. And during a visit to Beijing last month, Secretary of State Rex Tillerson struck a conciliatory note toward China.
What do Trump and Xi want to achieve from the summit?
Expecting tangible results from a gathering as informal as this week's summit may be unrealistic. Nevertheless, it's worth considering what Trump — and the U.S. — want to get from its relationship with China.
In February, the Task Force on U.S.-China Policy — a collection of experts convened by Asia Society's Center on U.S.-China Relations and UC San Diego — issued six policy recommendations for President Trump on how to structure his administration's China policy. These were:
Work with China to halt North Korea's nuclear and missile program
Reaffirm U.S. commitments to Asia
Deploy effective tools to address the lack of reciprocity in U.S. trade and investment relations with China
Intensify efforts to encourage a principled, rules-based approach to the management and settlement of Asia-Pacific maritime disputes
Respond to Chinese civil society policies that harm U.S. organizations, companies, individuals, and the broader relationship
Sustain and broaden

U.S.-China collaboration on global climate change
Considering his executive order last week curbing government enforcement of climate change regulations, President Trump's commitment to collaborating with China to combat global climate change is dubious. But several of these other issues remain at play. Consider North Korea. President Kim Jong Un has accelerated the country's nuclear weapons program, indicating as recently as last week that a subsequent nuclear test may be imminent. Neither China nor the United States wants this to happen. But that doesn't mean that the two sides' goals are aligned: Beijing is far less willing than Washington to apply pressure on Pyongyang for fear that the regime will collapse. Obtaining concessions from Xi on the North Korean question would be a victory for the president.
Then there's trade. Trump's frequent accusation that China was "stealing" jobs from the U.S. due to currency manipulation and unfair trade practices do not stand up to scrutiny: Most economists believe that China stopped weakening its currency several years ago, and Beijing has more recently even taken measures to prop up the renminbi. Short of achieving fundamental changes in the Sino-American economic relationship, Stone Fish said that Trump may look for a high-profile victory related to jobs — "to be able to say to his base, 'I brought back jobs from China.'"
Xi is unlikely to make these or other concessions to Trump without something substantial in return. This might include a promise from the U.S. to pull back from the Pacific, where Washington has opposed Beijing's efforts to construct artificial islands in the South China Sea. "A lot of what Xi wants is regional dominance," said Stone Fish. "and I think that may be something Trump could compromise on."
Is Trump ready for this?
In a December Asia Blog roundup of advice for the incoming president, Asia Society Executive Vice President Tom Nagorski suggested Trump appoint a chief envoy to manage the vital U.S.-China relationship.
"You should choose a high-profile, seasoned, globally savvy person to be your special representative for all things China," Nagorski wrote. "It's that important. You must have confidence in the individual, of course, but this should not be a 'yes person'; you need to know you are getting unvarnished information and guidance."
Less than 100 days into his presidency, Trump has not followed this advice. The Washington Post's Josh Rogin reported that Jared Kushner, the president's senior advisor and son-in-law, has established a communications channel between the two countries. The elevation of Kushner has not surprised anyone who knows Trump — the president has long relied on family members for advice. But Kushner's selection has nonetheless raised eyebrows. Despite being personally introduced to key Chinese leaders through Henry Kissinger, the former secretary of state and chief architect of the U.S. decades-long policy toward China, Kushner has no known expertise or experience in the country.
In addition, China occupies only a fraction of his continually expanding portfolio. Trump has indicated that his son-in-law will be a point person in shaping the administration's Israel/Palestine policy, and Kushner has already assumed leadership of a new White House initiative to streamline government functions. As if this wasn't enough, the 36-year-old real estate developer reportedly traveled to Iraq this week with a top U.S. general.
Kushner's assumption of a major role in U.S.-China relations coincides with the Trump administration's slowness in filling out key roles in the State Department and elsewhere in the national security establishment. In 2013, by contrast, President Obama was a second-term president with a large foreign policy apparatus who already had extensive experience in dealing with China.
"This is a terrible time for Trump to have a summit with China," said Stone Fish, "because he and his foreign policy apparatus are unprepared to really know how to deal with [the country]."