First Reviews for 'Buddhist Art of Myanmar' Hail a 'Sculptural Nirvana'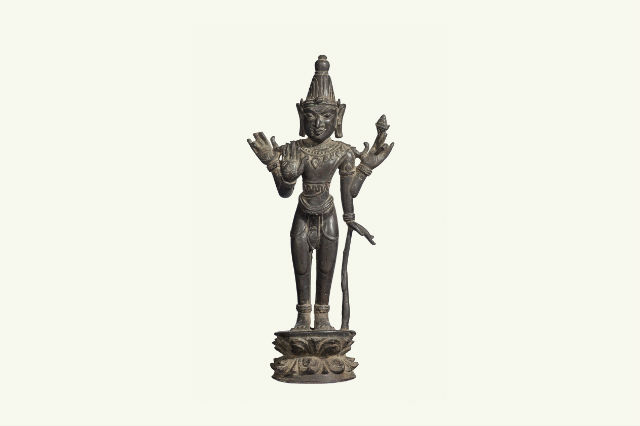 Vishnu; Pagan period, 11th–12th century; Bronze; H. 14 x W. 7 x D. 4 in. (35.6 x 17.8 x 10.2 cm). National Museum, Yangon. (Sean Dungan)

Asia Society Museum's history-making exhibition, Buddhist Art of Myanmar, opens February 10, 2015, in New York. Exploring Buddhist narratives and regional styles, Buddhist Art of Myanmar is the first exhibition in the West to focus on art from collections in Myanmar. Learn more
Asia Society Museum's Buddhist Art of Myanmar, which explores Buddhist narratives through approximately 70 works spanning the fifth through the early twentieth centuries, opened earlier this month in New York. Now the first reviews are in; a sample of some of the most high-profile appear below.
"Hands-on, eyes-on, minds-on devotion is what much of the art is about. Even if your interest is strictly aesthetic or historical, the show is a find, because chances are you won't have seen much of this kind of art before." — Holland Cotter
The Guardian
"A subtle, sculptural nirvana"
"…Sculpture is where the Buddhist art of Burma really shines, and its beauty and intensity reflect not only monarchical power but everyday faith… It is a quieter, subtler effort, a showcase of diplomacy as much as art history… It would be wonderful to see shows like this more frequently." — Jason Farago
Tricycle
"Cosmic theater"
"Despite the dizzying range of works on view, the final impression is of the world as a cosmic theater, with the actors — gods, humans, demons, and animals — each with a part to play in the endless cycle of samsara and nirvana." — Anne Doran