Everything You Need To Know About the Xi-Trump Summit — From the Asia Society Family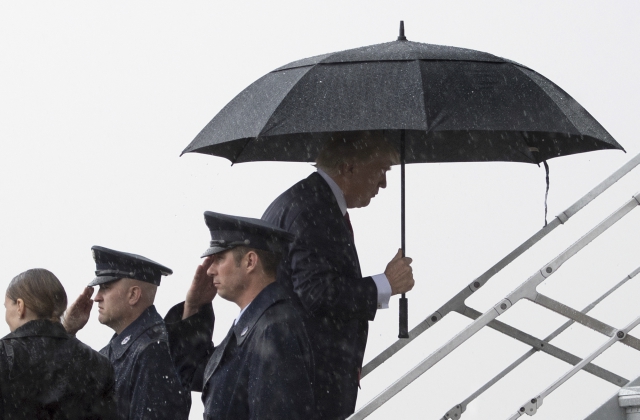 U.S. President Donald Trump departs for his two-day summit meeting with Xi Jinping on Air Force One. (Jim Watson/AFP/Getty Images)
The two-day summit between U.S. President Donald Trump and his Chinese counterpart Xi Jinping kicks off on Thursday at Mar-a-Lago, Trump's resort and "winter White House" in Palm Beach, Florida. The meeting is designed as an opportunity for the two leaders to get to know each other in an informal, relaxed setting, far from the pomp and pageantry of an official state dinner.
On Tuesday, Asia Blog outlined four key questions to ponder about the summit. For more coverage of this high-profile event, check out these contributions from the Asia Society family:
In the Financial Times, Asia Society Policy Institute President Kevin Rudd writes that domestic concerns in the U.S. and China will inform much of the discussion between Presidents Trump and Xi. Rudd also discussed the summit in detail on PBS' Charlie Rose:
And in this segment on CNBC's Squawk Box, Rudd detailed the complex relationship between China, North Korea, and the United States:
Elsewhere, Orville Schell, the Arthur Ross director of the Center on U.S.-China Relations, published an op-ed along with co-author Susan Shirk in the South China Morning Post that outlines five priorities for President Trump in advance of the meeting. Schell also talked all things Trump-Xi in a segment on Democracy Now!
Isaac Stone Fish, senior fellow at the Center on U.S.-China Relations, argues in Slate that President Trump should not ignore human rights during his talks with Xi, a leader whom Stone Fish, in a separate piece published in the Atlantic, says is less powerful than commonly thought.
Our friends at ChinaFile have put together a lively, wide-ranging discussion of the summit that features 11 experts (and counting) from a wide variety of perspectives. Don't miss it.
We still aren't sure how exactly the two presidents will spend their time together. But one thing's for certain — despite Mar-a-Lago's lush golf course and Trump's fondness for the sport, he and Xi will not be hitting the links. Asia Society Chief Content Officer Dan Washburn, author of The Forbidden Game: Golf and the Chinese Dream, tells CNN why the sport is such a touchy subject in China these days.
Need a primer on what the key issues of the Sino-American relationship are? In February, a task force convened by the Center on U.S.- China Relations and UC San Diego published a report detailing six suggestions for President Trump on how to manage America's most important bilateral relationship. Check out the full report here or, if you're pressed for time, you can read the executive summary in both English and Chinese. Schell, one of the two chairs of the task force, provides a pithy summary of the report's findings in the following video.
As always, you can find Asia Society's ongoing coverage of all things Donald Trump and Asia at the following page — one that will surely grow longer during the course of Trump's presidency. Enjoy!
UPDATE: Asia Society Policy Institute Director of Asian Security Lindsey Ford appeared on Bloomberg Technology to discuss what the summit means for the bilateral economic relationship. Here's the clip: