From 'Degenerate' Fears to Cult Violence: How an Ancient Buddhist Belief Impacted Japan Across Eight Centuries

An Aum Shinrikyo follower meditates before portraits of leader Shoko Asahara and his two sons posted on an altar at a seminary of a Tokyo building on August 11, 1999. (Toru Yamanaka/AFP/Getty Images)
On March 20, 1995, five men boarded separate trains in Tokyo's subway and punctured bags of liquid sarin, killing 13 passengers and injuring thousands in the deadliest terror attack in Japanese history. The men were members of the Aum Shinrikyo doomsday cult, which followed the teachings of enigmatic leader Shoko Asahara.
For years, Asahara had warned that the end of the world was imminent and that humanity was doomed — except for those who sought salvation by joining Aum. The motives for the sarin attack are multilayered and still not fully understood. Part of the group's theology, though, was rooted in ancient Buddhist beliefs that had shaped mainstream Japanese society during the Kamakura period, which lasted from 1185 to 1333. Like people of that era, Asahara saw a sick and deteriorating world around him. But his contorted interpretations of Buddhist texts set him on a path that departed radically from those who shared similar beliefs eight centuries earlier.
Surviving Buddhist art from the Kamakura period — some of which is on display in Asia Society Museum's current exhibition Kamakura: Realism and Spirituality in the Sculpture of Japan — speaks to the social upheaval of the time. Intricately realistic sculptures of Buddhist deities were crafted amid great anxiety and fear of a degrading society. Their creation, it was hoped, would help bring salvation.
This general anxiety was rooted in a widely held belief that Buddhism had entered the last, worst stage of a recurring three-part cycle. This stage, the age of mappō, started around the 11th century — roughly 1,500 years after the passing of the Buddha Shakyamuni — and would supposedly last for 10,000 years. "[The cycle] went from gold to silver to bronze," said Max Moerman, associate director of the Columbia Center for Buddhism and Asian Religions, referring to the regressing stages. "Buddhists of the [Kamakura] period recognized the time they were in as kind of an end time [and told themselves] we're in the final age, so all those things we were finding that were good in the golden age, we are not able to attain anymore."
The mappō era was viewed as a morally "degenerate" period, when reaching enlightenment through traditional methods became impossible and society was in an overall declining state of affairs. This belief seemed to be affirmed by real life events. Warrior clans and civil war challenged an imperial court that had dominated the political landscape for centuries, and armed conflicts resulted in sacred Buddhist temples burning to the ground. These events shocked Japanese society, and the anxiety they caused reached the point where routine occurrences viewed through the mappō lens triggered great hysteria.

"Every time you had omens like comets or weird things happening, people would get freaked out and make lots of statues and commission lots of rituals," said Ive Covaci, adjunct professor of art history at Fairfield University and guest curator of Asia Society's Kamakura exhibition. "There wasn't a sense that the world is going to end right now — no sense of an imminent apocalypse — but rather a long slow decline while [people were] living in this evil age. Then there was competition for the best way to overcome this."
According to Moerman, some people responded to the perceived societal degradation with an emphasis on strict traditional practices, while others believed that desperate times called for throwing out some old rules (like prohibitions against monks getting married). There was also disagreement about which religious figures should be emphasized. Sculptures from the time reflected a renewed devotion to "savior" deities, like Jizō Bosatsu and the Buddha Amida, and wrathful deities like Fudō Myōō — who was thought to aid in the removal of obstacles on the journey to salvation — in addition to the more traditional focus on the Buddha Shakyamuni.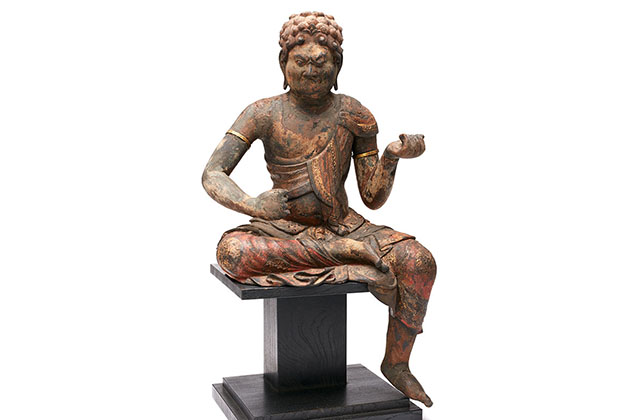 Fudō Myōō. Heian–Kamakura period, late 12th century Japanese cypress (hinoki) with traces of pigment and cut gold leaf (kirikane) H. 19 ¼ x W. 11 ½ x D. 10 in. (48.9 x 29.2 x 25.4 cm) Asia Society, New York: Mr. and Mrs. John D. Rockefeller 3rd Collection, 1979.201. (Synthescape/Asia Society)
Perhaps the most notable development at the time was that Buddhism went from a practice largely reserved for the elite to one that was much more accessible to ordinary people. "There are records of monks and priests preaching to more common people and working with outcasts," Covaci said. "There was more concern for the salvation of a broader swath of society than there had been before. You had more preachers concerned with women's salvation and talking about how even criminals and people who have committed heinous crimes can achieve salvation."
As charismatic leaders of these new movements spread across the country and gained populist influence, some met with disapproval from the more orthodox Buddhist adherents, and a number of new leaders were exiled. But as radical as some reactions to mappō may have seemed at the time, no one could have imagined the impact it would have centuries later when it was invoked by Shoko Asahara and his Aum cult.
Like people of the Kamakura period, Asahara looked around him and saw a degenerating world. According to the book Destroying the World to Save It by psychiatrist Robert Jay Lifton, Asahara saw events like the 1995 Kobe Earthquake and crises like the lagging Japanese economy as evidence that the world was "so hopelessly polluted, so suffused with evil, as to preclude half measures," suggesting that "cleansing" this world could entail violence and murder.
This is where Asahara's beliefs departed from those of people living during the Kamakura period, and took an apocalyptic turn. He fused influences from Nostradamus, Shintoism, the Hindu concept of "Kali Yuga" (an age of evil and vice), and the "end times" prophecies from Christianity's Book of Revelation. From this religious stew emerged a vision of impending violent destruction, with Asahara himself as the overarching savior figure. Since he saw the world as experiencing the stage of mappō in the Buddhist cycle, he believed that bringing about global destruction would wipe out the evil and spark a transition to the next golden age.
Kamakura Buddhists and the Aum cult may have had little in common in terms of how they sought salvation, but their shared perception of a sick and declining world was one that transcends time and borders. "Compared to a romanticized past, once you believe we're in the final age where things are just getting worse, then everything around you becomes a sign of that," Moerman said. "'Oh the earthquake, oh the flood, oh the political problems' — this is an indication that we are in the final age."