The Big TPP Meeting in Chile, Explained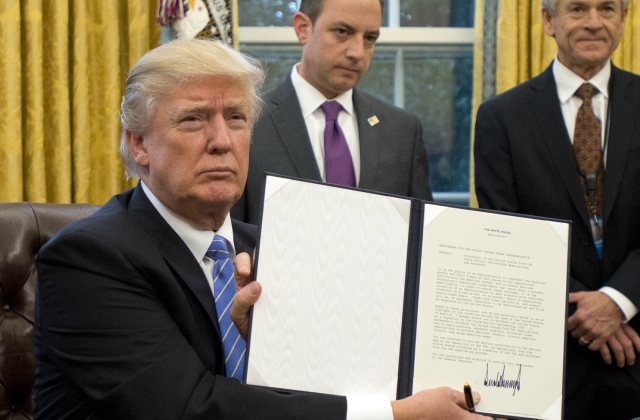 U.S. President Donald Trump shows the Executive Order withdrawing the US from the Trans-Pacific Partnership (TPP) after signing it in the Oval Office of the White House in Washington, DC on Monday, January 23, 2017. (Ron Sachs/Pool-Getty Images)
On the third day of this presidency, Donald Trump signed an executive order formally withdrawing the U.S. from the Trans-Pacific Partnership (TPP), a trade agreement resulting from over five years of negotiations between 12 Asia-Pacific countries that proponents saw as a way for the U.S. to boost its economic and strategic engagement in Asia. In light of the U.S. withdrawal, Chile announced that it would convene trade ministers from the remaining TPP countries as well as China and South Korea on March 14 and 15 to discuss the future of trade in the region.
Below, Wendy Cutler, vice president of the Asia Society Policy Institute and a former diplomat and negotiator in the Office of the U.S. Trade Representative, tells us what to expect from the meetings in Chile. As Acting Deputy U.S. Trade Representative, Cutler played a major role in forming TPP — particularly with the bilateral negotiations with Japan.
What's the context behind this meeting?
We have a new paradigm in trade today. The U.S. has withdrawn from TPP, and said it is not interested in pursuing regional trade agreements and that it prefers bilateral trade deals. The other TPP countries will discuss where that leaves them.  and>
How did the TPP countries react to U.S. withdrawal?
It's fair to say that many in Asia were surprised. They knew that there had been a lot of anti-trade sentiment expressed in the 2016 presidential campaign, but there was an expectation that when President Trump took office, he'd closely study the TPP agreement before making a decision. Few people expected he'd pull out on the third day of his presidency. The U.S. withdrawal was also surprising to countries in the Asia-Pacific region in light of the substantial economic and strategic benefits that the deal provided to the U.S.
What will the trade ministers discuss in Chile?
One of the issues they will talk about is doing TPP without the U.S. They will discuss the possibility of concluding TPP among themselves and perhaps inviting others to join as well. We'll have to see how that conversation goes and who is interested in moving forward with TPP despite the U.S. exit. It would be difficult, but it is worth consideration.
Why were China and South Korea, two countries that are not part of TPP, invited?
In Chile, the TPP countries are also expected to consider the possibility of adding new countries to the deal. As large economies in Asia, China and South Korea seem like possible candidates.
Will the U.S. send anyone?
The U.S. will be represented by its ambassador to Chile, Carol Z. Perez.
Why Chile?
Chile already had a meeting planned with trade ministers on other issues. They took the initiative to invite ministers from additional countries and have a side meeting on TPP.
What do you expect from the meeting?
This will be the beginning of a conversation on how economic integration in the Asia-Pacific region should advance, and more specifically what should happen to TPP in light of U.S. withdrawal. I don't expect any big announcements coming out of the meeting. Rather, I anticipate a statement that the countries had a constructive discussion and that they are exploring various options for moving forward. Trade ministers will meet again in May in Vietnam for APEC meetings.
Would TPP still be relevant without the U.S.?
A TPP agreement without the U.S. is still relevant and would have significant economic value. You'd still have four of the world's 20 largest economies — Japan, Canada, Australia, and Mexico — alongside significant emerging economies like Vietnam and Malaysia.
What happens if TPP is not implemented?
There are still ways to incorporate TPP standards through other avenues, and this is one of the core recommendations of a report published last week by the Asia Society Policy Institute. There's room for Asian countries to unilaterally implement the economic reforms called for on TPP. For example, Vietnam has announced its intention to adopt laws and regulations in areas such as labor, business, and small-and-medium enterprises (SMEs) even without TPP. Vietnam is doing so because it believes those reforms will help grow its economy, move its production up the value chain, and help attract more foreign direct investment
TPP also included rules covering areas that have not been traditionally part of free trade agreements like digital trade and state-owned enterprises. Efforts to address those areas won't go to waste. For example, when Australia and Singapore recently updated their bilateral trade deal, they included a number of chapters and areas that were essentially TPP provisions. We expect this trend to continue as other agreements are negotiated and revised in the region.
What does the U.S. lose by sitting out TPP?
My biggest concern is that countries in Asia will proceed with deals that exclude the U.S., consequently making American products and services less competitive in the region. If and when the U.S. decides that a TPP-type approach is in its interest, the other countries in the region may have already moved on.