Asian American Voters Continued Their March Toward the Democratic Party in 2016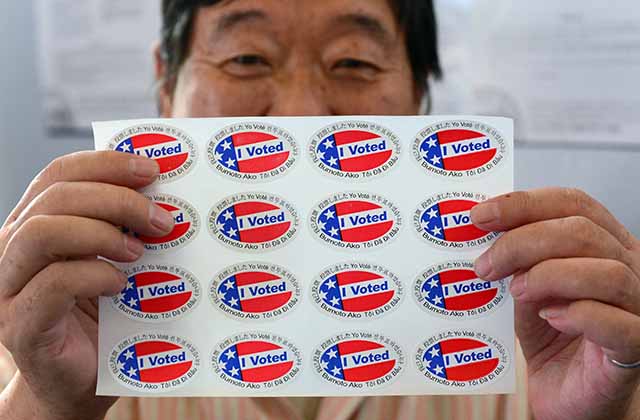 Election official Henry Tung displays a sheet of "I Voted" stickers at a polling station in Monterey Park, Los Angeles County. (Frederic J. Brown/AFP/Getty)
For more than two decades, Asian American voters have been on a steady march toward the Democratic Party when voting for president, and that trend appears to have held this year.
The Asian American Election Eve Poll found that Hillary Clinton beat Donald Trump 75 to 19 percent among Asian Americans in the 2016 U.S. presidential election. If accurate, that figure would represent the highest Democratic margin of victory among the demographic to date.
Taeku Lee, a professor of political science and law at the University of California, Berkeley who researches Asian American political participation, cautions that these numbers are based on surveys and may not reflect the exact voter proportions year-to-year. But "the heavily Democratic share of the Asian American vote and the trend of a steady increase in that share are true features of the Asian American vote," he said.
As recently as 1992, Asian Americans were firmly in the Republican camp, when then-President George H.W. Bush won 55 percent of their vote to Bill Clinton's 31 percent. But this advantage rapidly shifted: A majority of Asian Americans voted Democrat for the first time in 2000 when 55 percent went for Al Gore to 41 percent for George W. Bush. The gap has continued to widen in Democrats' favor since.

Sources: National Exit Polls; 2016 Asian American Election Eve Poll
"Asian Americans have, overall, trended Democratic and independent, but what is even more interesting is that there is tremendous ethnic variation," said Frank Wu, a professor at the University of California Hastings College of Law who frequently writes on Asian Americans and politics. "So while 'Asian American' is an important category for a social movement with voting, as with other phenomena, 'Asian Americans' exist only partially. It's different Asian ethnicities that show much stronger leanings."
In 2012, Indian-Americans had the strongest support for Barack Obama among Asian Americans, voting for him 84-to-16 percent over Mitt Romney, according to post-election polling by the nonpartisan National Asian American Survey (NAAS). Vietnamese-Americans had the weakest support among the groups surveyed that year, with 61-to-39 percent voting Obama. It was the first presidential election in which all Asian American groups surveyed voted for the Democrat.
According to a pre-election survey by NAAS in early October of this year, Hillary Clinton maintained that majority support across all groups, with Indian Americans once again showing the strongest backing. But this cycle, Cambodian-Americans displaced Vietnamese as the group with weakest support, favoring Clinton by a 53 to 18 percent margin over Trump, with 29 percent preferring a third party candidate (though these results were taken one month before the election, and therefore do not necessarily reflect how each group ultimately voted).
Because of the diversity within the "Asian American" umbrella, the reason for the rapid shift toward the Democratic Party defies simple explanation. Taeku Lee said that generally speaking, there have been several pull factors toward Democrats as well as push factors away from Republicans.
He pointed to incidents over the past few decades like those of Vincent Chin, a Chinese-American who was beaten to death by disgruntled autoworkers in 1982, and Wen Ho Lee, a Taiwanese-American scientist who was investigated and incarcerated on unproven allegations of giving American nuclear secrets to China. Incidents like these, Lee said, added to feelings of being treated as a "perpetual foreigner" that many Asian Americans have experienced at some point in their own lives.
"To the extent that Democrats are seen as the party that advocates for civil rights and the interests of communities of color, that is a pull to the Ds," Lee said. "To the extent that Republicans associate with politicians who fan the flames of xenophobia or who advocate for policies that threaten the equal treatment of immigrants and minorities, that is a push away from the Rs."

A special town hall event hosted by Asia Society Northern California discusses the numerous issues that affect Asian Pacific Americans from across the political spectrum. (1 hr., 9 min.)
Lee said that a shift away from what's been referred to as "homeland politics" — a concern with U.S. policy toward immigrants' country of origin — has also contributed to the move toward Democrats. Cold War and post-Cold War politics of origin countries once led many Asian Americans — especially Vietnamese, Korean, and Filipino immigrants — "to favor the party with a more muscular, hawkish foreign policy profile," Lee said. Subsequent generations further removed from the origin country, however, increasingly care about "more pan-ethnic political interests favoring a broad sweep of pretty liberal views on public policy."
According to this year's Asian American Election Eve Poll, the issues that Asian American voters reported caring most about in deciding who to vote for were the economy, health care, and education.
If the overall trend of Asian Americans toward Democrats continues, it will have major implications for future elections, since the Asian American population is rapidly growing. This year, Asian Americans made up 4 percent of all voters — double their proportion in 2000. Between 2000 and 2010, the overall Asian American population grew by more than 40 percent, and China and India have both surpassed Mexico as the top senders of new immigrants to the United States. The demographic is projected to go from 6 percent of the overall U.S. population today to 14 percent by 2065.
However, these growing populations are not guaranteed to move irreversibly toward the Democrats. Frank Wu pointed to "very vocal and very visible" Asian American supporters for Donald Trump, especially among newer Chinese immigrants. Many in this group professed support for Trump based on his stances against affirmative action (which can disadvantage Asian college applicants) and illegal immigrants (who are resented by many who immigrated legally), among other issues.
"So Asian Americans as an electorate continue to evolve," Wu said. "They do not appear to be an overwhelming bloc vote, not to the extent that African Americans have been."