The U.S. Senate Elects Two New Asian American Members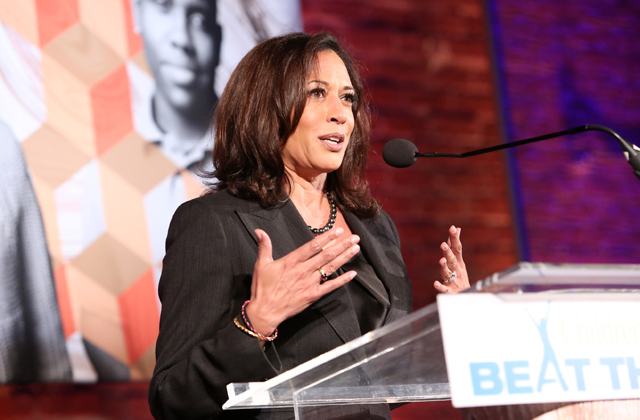 California Attorney General Kamala Harris was elected to the U.S. Senate on Tuesday night, becoming one of three Asian Americans to serve on the body. (Jesse Grant/Getty Images for Children's Defense Fund)
Tuesday's U.S. elections were a dismal affair for the Democratic Party. In addition to Donald Trump's upset of Hillary Clinton in the presidential election, the Republicans also retained control of the U.S. House and Senate. But amid the wreckage came a key milestone: The number of Asian Americans serving in the U.S. Senate will triple.
In California, state Attorney General Kamala Harris defeated U.S. Representative Loretta Sanchez (herself a Democrat) by a resounding 25 points, becoming the Golden State's first new senator since Dianne Feinstein and Barbara Boxer were elected in 1992. And in Illinois, U.S. Rep Tammy Duckworth denied Sen. Mark Kirk (R) a chance at re-election with a comfortable 14-point victory.
Both women have intriguing backgrounds. Harris, born to an Indian-immigrant mother and a Jamaican father, first attained prominence as the district attorney in San Francisco before her election to statewide office in 2010. In addition to joining Duckworth and Mazie Hirono (D-HI) as one of three Asian American U.S. senators, Harris is also the first African-American woman to serve in the Senate since Carol Moseley Braun (D-IL) was defeated for re-election in 1998.

A special town hall event hosted by Asia Society Northern California discusses the numerous issues that affect Asian Pacific Americans from across the political spectrum. (1 hr., 9 min.)
Duckworth, born in Bangkok to a Thai mother and an American father serving in the Marines, is an Iraq War veteran who lost both legs in 2004 when a Black Hawk helicopter she was traveling in was shot down near Baghdad in. Remarkably, she returned to serve in the war in spite of her disability just one year later. After serving in the Obama Administration, Duckworth was elected to a House seat in 2012 before challenging Kirk this year.
Despite Harris' and Duckworth's victories, Asian Americans remain poorly represented in national politics: The 113th Congress had just 12 Asian American members, a proportion more than twice as small as that of the Asian American population as a whole.