Arun Jaitley: Indian Government Ready to Join APEC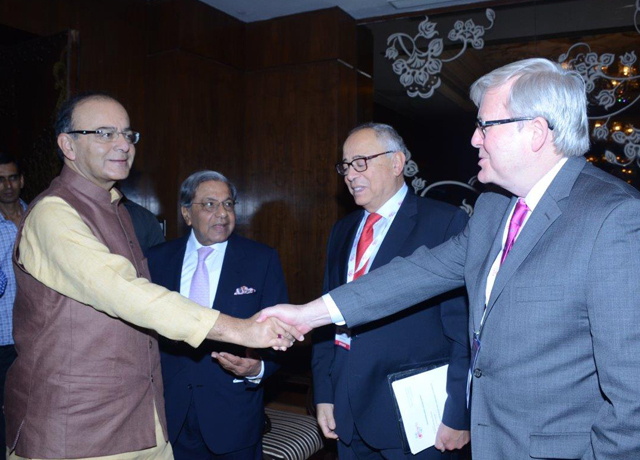 Asia Society Policy Institute (ASPI) President Kevin Rudd meets with India's Finance Minister Arun Jaitley on April 7, 2016 at The Growth Net Summit in New Delhi. (Ananta Center)
Few economies have blossomed as much as India's in recent years — in 2015, its 7.5 percent GDP growth overtook China to become the fastest growing major economy in the world. But is this economic performance sustainable in the years and decades to come? In remarks delivered at The Growth Net Summit in New Delhi last week, Arun Jaitley, India's Minister of Finance, Corporate Affairs, and Information & Broadcasting, highlighted the success of Prime Minister Narendra Modi's government in boosting growth and consolidating India's finances, arguing that the country has "shown considerable resilience" amid the struggles of the global economy.
Jaitley also endorsed India's membership in the Asia Pacific Economic Cooperation (APEC) Forum, and in an exchange with Asia Society Policy Institute President Kevin Rudd said that the government was ready to negotiate "with an open mind" and "a great sense of confidence" about its place in the global economy.
"You can't claim to be one of the fastest growing economies in the world and not think of trade as a win-win option," Jaitley said. He added that rather than pursue "big bang reforms," incremental and small policy changes pursued by the government would result in bold reform and accrue significant dividends for the economy.
In another session of the summit, Rudd affirmed his belief that the "planets are aligned" in 2016 for India to push for APEC membership. But the former Australian prime minister warned that India's accession would require proactive diplomacy with the United States — which has expressed skepticism of India's approach to trade — and other APEC members in advance of a major summit meeting in Lima, Peru this November.
The Asia Society Policy Institute released a report last month that made a similar case. India's Future in Asia: The APEC Opportunity outlines the significant benefits of Indian membership in APEC for India and the region and presents a list of steps India and APEC could take to ease India's path towards membership. 
APEC membership would assist India in maintaining high-levels of growth in the medium term by helping it gain easier access to regional markets, investments sources, and value chains. APEC mechanisms and processes would help India with trade facilitation and ease of doing business. It would also support many of the Indian government's key economic initiatives, such as "Make in India," as well as its "Act East" policy to strengthen relations with countries in the Asia-Pacific.
Jaitley's comments were his strongest public endorsement of APEC membership for India to date, and a signal that the Indian government may seriously pursue membership in APEC as a step towards better integrating the country within the regional economy.