Nuclear North Korea: How Worried Should We Be?
In collaboration with the Asia Society Policy Institute
North Korea, officially known as the Democratic People's Republic of Korea, has increasingly conducted short-range missile launches since Supreme Leader Kim Jong-un took power in late 2011. South Korea and its capital city Seoul are well within striking distance of the North's weapons, and the two countries never signed a formal peace treaty to resolve the Korean War. North Korea is coming also close to mastering warhead technology and possessing intercontinental ballistic missiles which could reach the west coast of the United States. There are internal pressures as well, namely Kim Jong-un's consolidation of power, elimination of enemies of the state, and the regional and foreign policy of a new president in South Korea.
In an era of geopolitical flux and rising tensions, North Korea's intentions and its future plans are among the concerns of security analysts across the globe. Kim Jong-un has conducted more missile tests in his six years of power than both his grandfather and father combined, including two missiles which in theory could have reached U.S. territory if they were fired on a flatter trajectory. What is the international community doing to avert possible conflict in Korea? How effective have sanctions been? What other tools are being used to promote stability and cooperation on the peninsula? Join Asia Society for a high-level discussion with experts in the global security field.
---
Schedule
6:00 pm | Reception
7:00 pm | Program
---
About the Speaker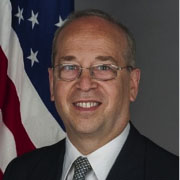 Daniel Russel is currently serving as Diplomat in Residence and Senior Fellow at the Asia Society Policy Institute (ASPI). He is a career member of the U.S. Senior Foreign Service, and most recently served as Assistant Secretary of State for East Asian and Pacific Affairs. Previously, he served at the White House as Special Assistant to the President and National Security Council Senior Director for Asian Affairs. Russel helped formulate President Obama's strategic rebalance to the Asia-Pacific region, including efforts to strengthen alliances, deepen U.S. engagement with multilateral organizations, and expand cooperation with emerging powers in the region. Prior to joining the NSC in January of 2009, Russel served as Director of the Office of Japanese Affairs and had assignments as U.S. Consul General in Osaka-Kobe, Japan (2005-2008); Deputy Chief of Mission at the U.S. Embassy in The Hague, Netherlands (2002-2005); Deputy Chief of Mission at the U.S. Embassy in Nicosia, Cyprus (1999-2002); Chief of Staff to the Under Secretary of State for Political Affairs, Ambassador Thomas R. Pickering (1997-99); Special Assistant to the Under Secretary of State for Political Affairs (1995-96); Political Section Unit Chief at U.S. Embassy Seoul, Republic of Korea (1992-95); Political Advisor to the Permanent Representative to the U.S. Mission to the United Nations, Ambassador Pickering (1989-92); Vice Consul in Osaka and Branch Office Manager in Nagoya, Japan (1987-89); and Assistant to the Ambassador to Japan, former Senate Majority Leader Mike Mansfield (1985-87).
---
Asia Society Texas Center Business & Policy Programs, Endowed by
Huffington Foundation
Bank of America, Muffet Blake, ConocoPhillips, ExxonMobil, United Airlines, and Vinson & Elkins LLP are presenting sponsors of Business and Policy programs, with lead support from Nancy C. Allen, BP America, Nancy T. Chang, Anne and Albert Chao, Eagle Global Advisors, and Wells Fargo. Generous funding also provided by the Friends of Asia Society Texas Center, a premier group of individuals and organizations committed to bringing the best in public programming.
Presenting Sponsors

Presenting Partner

Event Details
1370 Southmore Blvd
Houston, Texas 77004

Add to Google Calendar
$10 Members, $20 Nonmembers. All sales final.