Corporate Partners
Since 1979, corporate leaders have recognized Asia Society Texas Center as a valuable source of insight into the global business environment. A host of opportunities exist for strategic partnership. For more information on Corporate Partnership, contact Jenni Rebecca Stephenson at 713.496.9909 or JStephenson@AsiaSociety.org.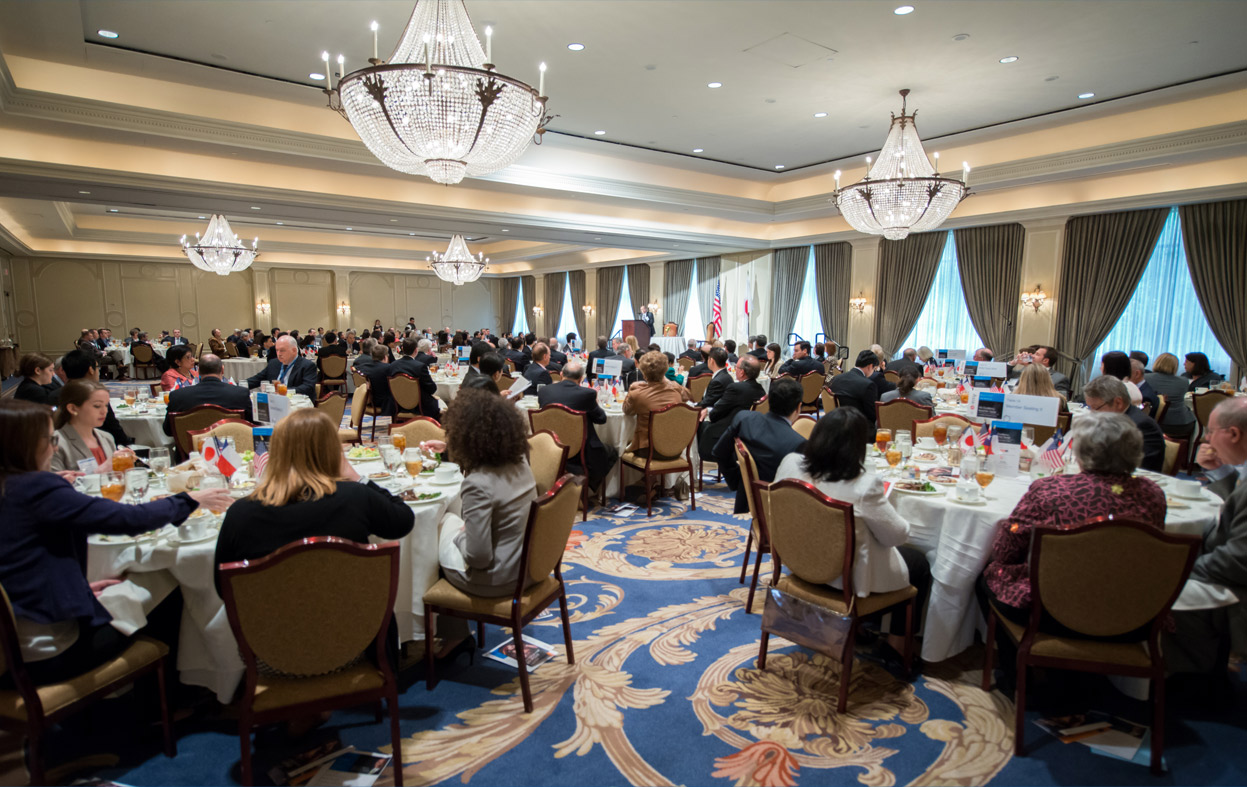 Program Underwriting

Corporate underwriters have consistently fueled a full range of innovative programming, from thought-provoking author talks to stimulating lectures on business and policy. Be sure to check out more information about our Programs.
Special Event Sponsorship

From glittering galas to thematic gatherings, networking events and receptions, the Texas Center hosts a variety of events, affording underwriters brand exposure and a venue for client cultivation. Be sure to check out more information about our Special Events.
Corporate Partners
Asia Society Corporate Partners enjoy a passport to the world of information and contacts. From global business to the local market, our Corporate Partner benefits open lucrative doors for you and your company.
Founder Level Partners ($25,000+)
AARP
Bank of America
BP America, Inc.
Chevron
ConocoPhillips
D. E. Harvey Builders
East West Bank
Exxon Mobil Corporation
Hines Corporation
Mitsubishi Corporation (Americas)
United Airlines
Vinson & Elkins LLP
Wells Fargo Bank, N.A.
Benefactor Level Partners ($10,000)
Amplified Solutions
Asia Chemical Corporation
Baker Hughes Incorporated
Blue Sky Surveying & Mapping
Brask, Inc.
Citi Private Bank
Daikin U.S. Corporation
Foster LLP
Gardere Wynne Sewell LLP
Kuraray America Inc
New Era Life Insurance Companies
NRG Energy
Sidley Austin, LLP
Stone Pigman Walther Wittmann
Vega Energy Partners
Westmont Hospitality Group
Ambassador Level Partners ($5,000)
Andrews Kurth, L.L.P.
Cathay Bank
Citigroup, Inc.
Enterprise Products Partners L.P.
HEB
Houston Methodist
JGC (Gulf Coast), LLC
Memorial Hermann Health System
Texas Capital Bank
Texas Monthly
Chairman Level Partners ($2,500)
Amegy Bank
BNY Mellon Corporate Trust
Cardno Haynes Whaley
Gensler
Harry Winston
Hyosung Holdings USA, Inc.
Kendall/Heaton Associates Inc.
KPMG LLP
Kroger
Lotte Group
MasterWord Services, Inc.
President Level Partners ($1,000)
All Nippon Airways Co., Ltd.
City Kitchen
Golden Bank, N.A.
JD Joyce Investment Management Group
Kirksey Architecture
Kuu Restaurant
Mike Calvert Toyota
Nippon Restaurant, Inc.
Pelli Clarke Pelli Architects, Inc
Silver Eagle Distributors
Total Home Care, Inc.
Vaughan Family Enterprises
Ziegler Cooper Architects