AsiaStore Designer Spotlight: Zariin Jewelry Designs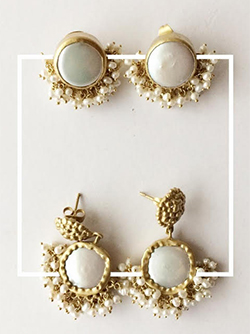 Pearl stud earrings by Zariin Jewelry
Zariin is a jewelry company born from the travels and experiences of fashion-obsessed sisters Vidhi and Mamta Gupta. Born and raised in India, much of their jewelry is a reflection of their cultural roots mixed with influences picked up abroad. 
Despite expressing a passion for design from a young age, neither sister pursued it academically. Vidhi studied corporate finance while Matma pursued an economics degree. After graduating, the sisters spent time working at their family's business working on marketing and exports — but couldn't resist the call of fashion for long. The Gupta sisters leveraged their business acumen to launch their jewelry brand in 2010, focusing on highlighting the beauty and uniqueness of natural stones. 
The sisters spend a lot of time traveling, whether for work or for leisure, exploring and diving into the local culture of the places they visit. These travel experiences serve as a central inspiration for their work, making their final products distinctly global.
"[Our] designs are eclectic, bold, and sophisticated pieces that are built around each stone," they said. Within their first year, Zariin gained international recognition from various fashion publications highlighting pieces like gemstone encrusted cuffs, glimmering eclectic oversized rings, and gypsy-style earrings. Their pieces have been worn by India's biggest celebrities, including Freida Pinto and Priyanka Chopra.
You can find Zariin designs at AsiaStore, located at 725 Park Avenue in New York, and online at AsiaStore.org. This is the final week of AsiaStore's summer sale where you can receive an extra 10 percent off of sale items using the code S17G.