Song-Ming Ang
b. 1980 in Singapore

Working in Berlin, Germany; and Singapore

Showing at Asia Society Museum

On view from March 26, 2021, through June 27, 2021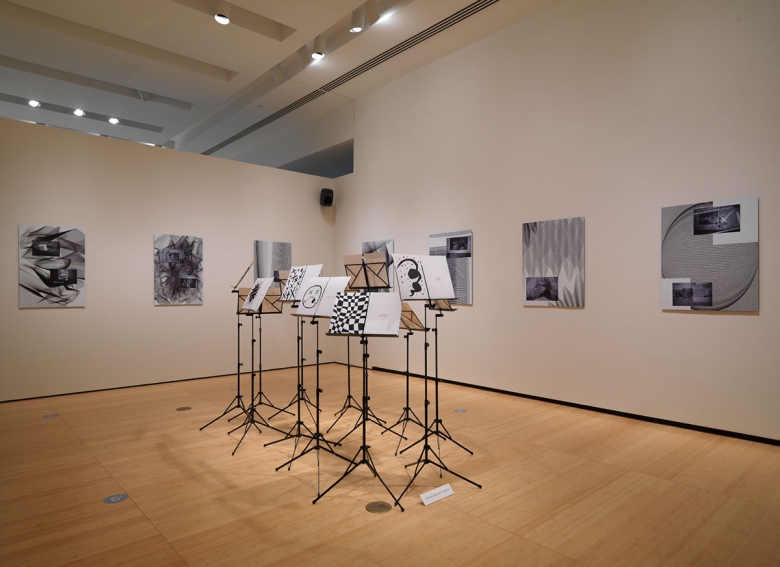 Song-Ming Ang, True Stories, 2021. Original music, speakers, prints on paper sheets, foldable music stands, prints on aluminum, magnets. Twelve foldable music stands, each: H. 48 x W. 17 3/8 x D. 8 1/2 in. (122 x 44 x 21.5 cm). Twenty-four sheets of paper, each: H. 8 1/4 x W. 11 3/4 in. (21 x 29.7 cm). Three prints on aluminum, each: H. 24 x W. 35 1/16 in. (61 x 89 cm). Four prints on aluminum, each: H. 27 1/2 x W. 35 7/16 in. (70 x 90 cm). Courtesy of the artist. Photograph © Bruce M. White, 2021. This work was commissioned by Asia Society Museum, New York, for the inaugural Asia Society Triennial: We Do Not Dream Alone.

Location: Asia Society Museum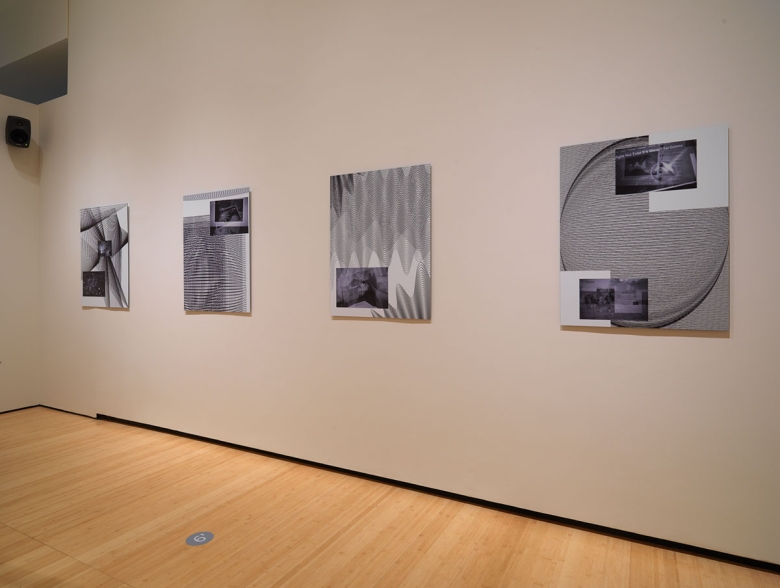 Song-Ming Ang, True Stories, 2021. Original music, speakers, prints on paper sheets, foldable music stands, prints on aluminum, magnets. Twelve foldable music stands, each: H. 48 x W. 17 3/8 x D. 8 1/2 in. (122 x 44 x 21.5 cm). Twenty-four sheets of paper, each: H. 8 1/4 x W. 11 3/4 in. (21 x 29.7 cm). Three prints on aluminum, each: H. 24 x W. 35 1/16 in. (61 x 89 cm). Four prints on aluminum, each: H. 27 1/2 x W. 35 7/16 in. (70 x 90 cm). Courtesy of the artist. Photograph © Bruce M. White, 2021. This work was commissioned by Asia Society Museum, New York, for the inaugural Asia Society Triennial: We Do Not Dream Alone.

Location: Asia Society Museum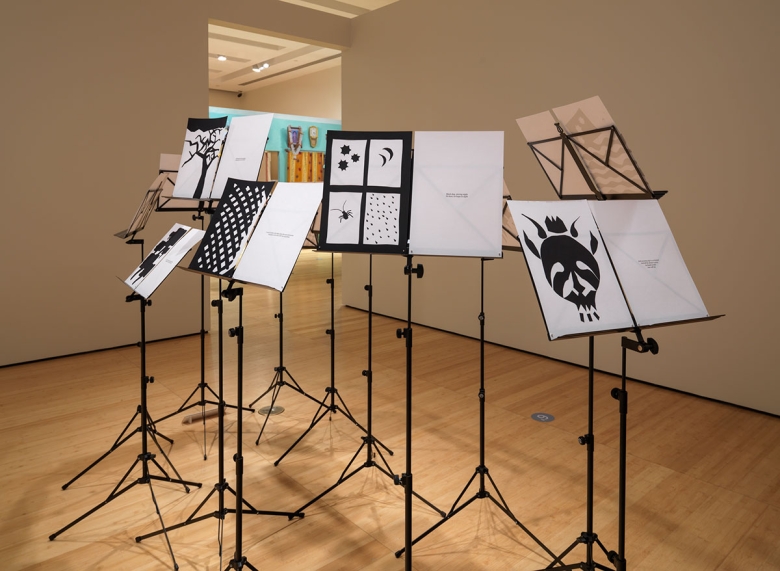 Song-Ming Ang, True Stories, 2021. Original music, speakers, prints on paper sheets, foldable music stands, prints on aluminum, magnets. Twelve foldable music stands, each: H. 48 x W. 17 3/8 x D. 8 1/2 in. (122 x 44 x 21.5 cm). Twenty-four sheets of paper, each: H. 8 1/4 x W. 11 3/4 in. (21 x 29.7 cm). Three prints on aluminum, each: H. 24 x W. 35 1/16 in. (61 x 89 cm). Four prints on aluminum, each: H. 27 1/2 x W. 35 7/16 in. (70 x 90 cm). Courtesy of the artist. Photograph © Bruce M. White, 2021. This work was commissioned by Asia Society Museum, New York, for the inaugural Asia Society Triennial: We Do Not Dream Alone.

Location: Asia Society Museum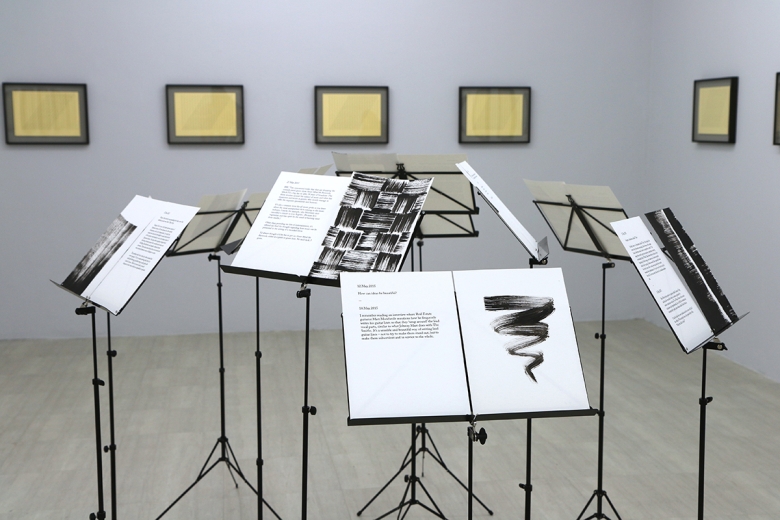 Song-Ming Ang, Notes, 2015. Installation of text and acrylic paintings on music stands. Courtesy of the artist. Image courtesy of the artist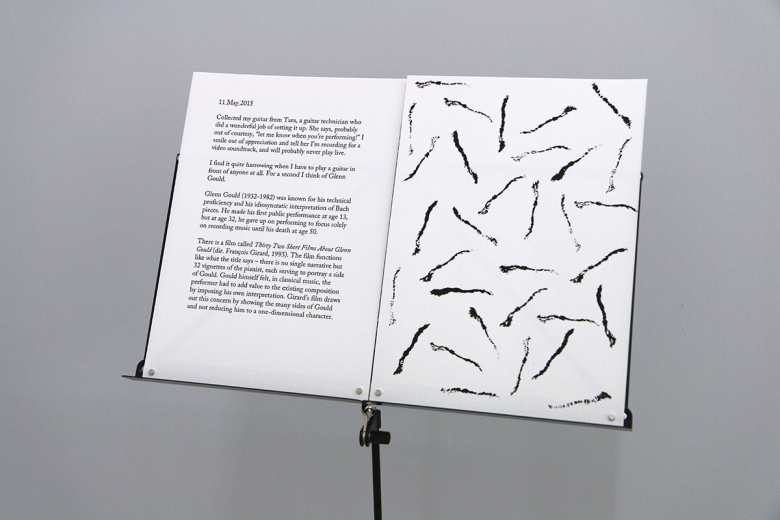 Song-Ming Ang, Notes, 2015. Installation of text and acrylic paintings on music stands. Courtesy of the artist. Image courtesy of the artist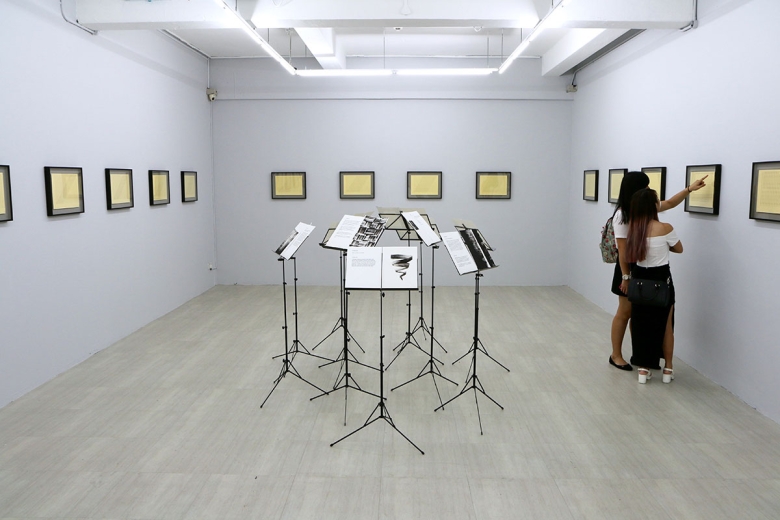 Song-Ming Ang, Notes, 2015. Installation of text and acrylic paintings on music stands. Courtesy of the artist. Image courtesy of the artist
Music and its influence are central to Song-Ming Ang's practice. The artist deconstructs complex geopolitical histories through multimedia projects, which are often collaborative, that center on the theory and craft of music production, including experimental and nontraditional music practices. The artist received a BA in English literature from the National University of Singapore in 2005 and an MA in aural and visual cultures at Goldsmiths, University of London in 2009. 

True Stories is a multimedia site-specific installation created for the Asia Society Triennial. The project is composed of abstract texts and images presented on a group of twelve music stands in the center of the room. The speakers installed around the interior collectively emit an ambient multiphonic soundtrack evocative of a dreamscape. Ang's assemblage of visual and aural non-sequiturs conveys the growing miscommunication and fracture of societal norms that define our contemporary moment. 
Supported by Lauren Bogen and Richard Nijkerk.
Events
Related