Strengthening Institutions Is Key to Preserving Peace in Asia: Asia Society Policy Institute Report
NEW YORK, September 11, 2017 — Amid the rapid change and uncertainty of the 21st century, a key question facing Asia's leaders is whether the region will be able to maintain the unprecedented economic growth and relative peace it has enjoyed for the past 70 years. Given growing concerns about a rising China, a dangerous North Korea, and a potentially less engaged United States, it cannot be assumed that the answer to this question will be yes. The Asia-Pacific region faces an important inflection point.
In a new report, Preserving the Long Peace in Asia: The Institutional Building Blocks of Long-Term Regional Security, the Asia Society Policy Institute's Independent Commission on Regional Security Architecture explores the enhanced role that regional institutions could play in maintaining peace and stability in Asia.
The Commission is composed of eight senior foreign policy and security experts from across the Asia-Pacific: 
Kevin Rudd (Chair), ASPI President and 26th Prime Minister of Australia
Thomas E. Donilon, former National Security Advisor to U.S. President Obama
Igor S. Ivanov, former Minister of Foreign Affairs of the Russian Federation
Yoriko Kawaguchi, former Minister for Foreign Affairs of Japan
Kim Sung-hwan, former Minister of Foreign Affairs and Trade of the Republic of Korea
Shivshankar Menon, former National Security Advisor to Indian Prime Minister Singh
Marty Natalegawa, former Minister of Foreign Affairs of Indonesia
Wang Jisi, President of the Institute of International and Strategic Studies at Peking University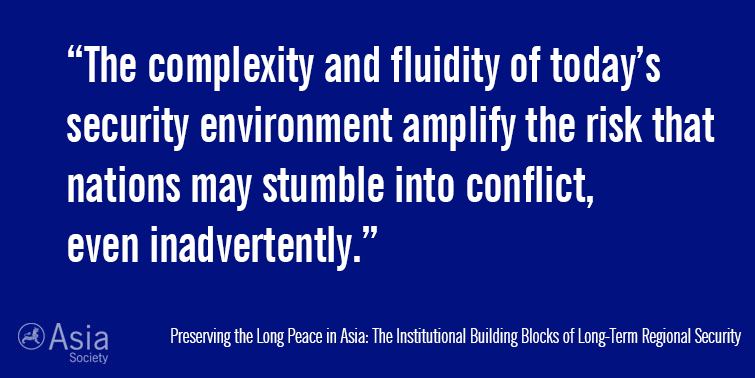 The report outlines the challenges and gaps facing existing regional security institutions, puts forth a roadmap to strengthen important organizations such as the East Asia Summit, and provides a series of immediate steps members states could take to build a stronger foundation for future multilateral cooperation.

Asia Society Policy Institute
For 60 years, the Asia Society has sought to explain the diversity of Asia to the United States and the complexity of the United States to Asia, and to be a bridge in problem-solving within the region and between Asia and the wider world. With a problem-solving mandate, the Asia Society Policy Institute builds on this mission by tackling major policy challenges confronting the Asia-Pacific in security, prosperity, sustainability, and the development of common norms and values for the region.
Contact Information
Juan Machado
212-327-9295
jmachado@asiasociety.org