Asia Society Museum to Present Exhibition of Dazzling Early Gold From the Philippines
NEW YORK, June 2, 2015 — Asia Society Museum presents an exhibition of spectacular works of gold—including exquisite regalia, jewelry, functional and ritualistic objects, ceremonial weapons, and funerary masks—from collections in the Philippines and supplemented with objects from the United States.
Philippine Gold: Treasures of Forgotten Kingdoms, on view in New York from September 11, 2015, through January 3, 2016, showcases recently excavated objects that highlight the prosperity and achievements of the little-known Philippine Kingdoms that flourished long before the Spanish discovered the region and colonized it.
The exhibition, which comprises approximately 120 objects from the tenth through thirteenth century, demonstrates sophisticated gold-working techniques developed during this period. The vast majority of works in the exhibition are on loan from the Ayala Museum and the Bangko Sentral ng Pilipinas Gold Collection and have never been shown outside of the Philippines.
Many of the works, unearthed between the 1960s and 1981, affirm the unprecedented creativity, prosperity, and sophisticated metalworking tradition of the precolonial period. They also attest to flourishing cultural connections and maritime trade in Southeast Asia during what was an early Asian economic boom. 

"Asia Society is thrilled to showcase these stunning gold treasures from the Philippines that are not only historically significant, but which demonstrate a rich cultural heritage and point of pride for Filipinos," says Asia Society President and CEO Josette Sheeran. "The Philippine Gold exhibition showcases the great history of a little-known but captivating era." 
Philippine Gold: Treasures of Forgotten Kingdoms is organized by guest curator Florina H. Capistrano-Baker, Consulting Curator, Ayala Museum, and Adriana Proser, Asia Society's John H. Foster Senior Curator for Traditional Asian Art.
The exhibition is accompanied by a season of programming that highlights the richness and diversity of Philippine culture and current affairs, and explores its cuisine, performing arts, film, design, literature, and more.
Download a pdf of the full exhibition press release at right.
---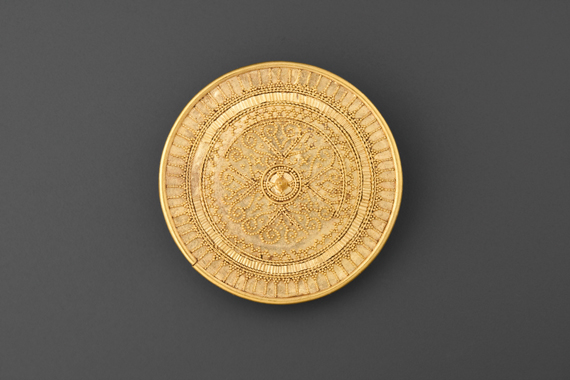 Ear ornament. Eastern Visayas or Northeastern Mindanao, ca. 10th–13th century. Gold. Diam. 1 5/8 in. (4.2 cm). Ayala Museum Collection, Cat. No. 73.4192