Exploring Dance From Aceh, Indonesia
Sparked by need, teeming with profound intention, and defined by a catalytic presence, dance has often played a critical role in the lives of peoples throughout history.
Whether it is Alvin Ailey's modern dance, Revelations, which arose as a monumental expression of the African-American experience in America, the Bharatanatyam dance of India, a prolific storytelling language, or the rebellious Toyi-Toyi dance that emerged during anti-apartheid demonstrations in South Africa, movement is the anthem of peoples.
I have sought out anthemic dances to discover, participate in, and activate the world around me. My journey has taken me to the deserts of Rajasthan, stages in Shenzhen, ballet studios in Tokyo and, most recently, to the Asia Society's auditorium in New York City.
As part of the Creative Voices of Muslim Asia initiative, Asia Society organized a cultural exchange program with the Indonesian dance ensemble Tari Aceh. Complete with a four-city performance tour, discussions, workshops, and demonstrations, Tari Aceh's U.S. visit marked a rare opportunity for American audiences to experience Islamic arts from the Aceh region of Indonesia.
Not only was I thrilled to be able to watch the ensemble perform, but I learned that many of the performers were young women of my own age, in their early twenties, laying out a common ground of movement, age, and gender, that I looked forward to traversing.
Here are some highlights from my weekend with Tari Aceh, which included sharing the performance, workshop, and a trip to the Metropolitan Museum of Art.
Art and faith
As the performance of traditional Indonesian song and dance historically lives in religious and communal spaces, Tari Aceh's performance offered a special immersion into various forms of Islamic expression.
The dance and song lyrics from the performance represented dakwah, a vehicle for sharing Islamic teachings. The songs often featured repetition and call and response, a common compositional structure in traditional music. Soaring melodies and passionate voices came together in unison and evoked a sense of antiquity. Audiences were invited to listen in on melodic gems that generations of communities had held near their communal heart.
Dance choreography divided into two main categories, sitting dances and standing dances, and ranged from purely traditional compositions to those with a contemporary influence. Combining Islamic teachings, moving melodies and lyrics, and a vast movement vocabulary, Tari Aceh presented a complex performance, a testament to their mastery of these different expressions of Islamic faith.
Demystifying the Orient, one dance at a time
The heavily symbolic and substantive displays of Islamic expression invited the audience into an intimate space, as if the performer's raw displays of spiritual passion were not to be seen by spectators seated comfortably in a proscenium theater. To help demystify the Orient and transform the audience from cultural voyeur to participant, the ensemble displayed the English translation of song lyrics on the stage's backdrop.
As the performance progressed, the audience was immersed in myriad cultural and religious experiences ranging from exuberant wedding celebrations to heartfelt laments. Though not necessary, the inclusion of English translation helped contextualize each section, bridging audiences to empathize with the humanity of the performers and their stories.
Movement as rebellion
Ratoeh Duek, the female version of the Aceh male dance of Tari Saman dance, emerged from a history of rebellion. It was once banned in Aceh, where performers used it as a revolutionary tool by adapting lyrics to express political dissent. This performance carried on that defiant spirit in its all-female make-up, a departure from the male-dominated ensembles of most traditional Aceh performances. The women of Tari Aceh displayed fearlessness with their powerful movements and unabashed vulnerability as they shared raw emotion with the audience, effectively shattering common Western stereotypes of restricted and reticent Muslim women.
During the workshop, Tari Aceh members exemplified strong leadership by guiding participants through complex movements and group patterns and by teaching in English with a confident tone. As evidenced by the growing number of all-female troupes, dance provides a nimble and compelling language which, when ripened by social conscience and invention, can help these young women to challenge the status quo.
Interplay at the theatre
Tari Aceh's ability to connect with the audience and invite participation was a compelling aspect of their performance. This was especially evident during the Ratoeh Duek dance, which enraptured the audience.
Unlike most dance forms from the Western canon, the Ratoeh Duek is performed in a horizontal line with dancers in a sitting position, shoulder to shoulder. It is characterized by distinctive movements including body percussion, intricate hand movements, and partner work with technical exactitude and prowess.
The dancers introduced a melodic phrase at a moderate tempo and repeated the phrase at increasing speeds until finally bursting out at breakneck speed. Audiences erupted in cheers at the apex after the first few phrases, and soon learned to watch with anticipation as each new phrase was introduced, never losing enthusiasm as countless phrases were performed. The reception of the Ratoeh Duek exemplified how a display of technical marvel can connect with audiences cross-culturally by inciting awe.
Another piece that inspired participation was a solo vocal performance by the lead singer of the ensemble, Cut Febriyanti. Delicate in frame but exhibiting powerful charisma, her dynamic stage presence stirred the audience to clap along with her. As the audience enthusiastically applauded, the singer continued on with greater gusto—the theater providing a moment of profound interplay.
As the petite songstress commanded all with her voice to an embracive American audience, the noise of an America where expressions of Islamic faith often arouse suspicion, fear, or even violence, quieted for a moment. 
The theater provided a space in which humanity was central; a space to discard prejudice and gain a new perspective, a space that at once reflected the realities of society and reimagined another. 

Cut Febriyanti. (Vaishali Nayak)
Symbolism abounds!
It was at Tari Aceh's workshop that I discovered the heavy symbolism within the dancers' movements, often connected to life and nature in Aceh. One such symbol emulated the ocean, a definitive aspect of Acehnese life that once took brutal form in a tsunami that ravaged Aceh in 2004. As dancers created a wave-like display by rising to their knees and falling to a sitting position in a cannon at increasing speeds, they embodied the various temperaments of the ocean.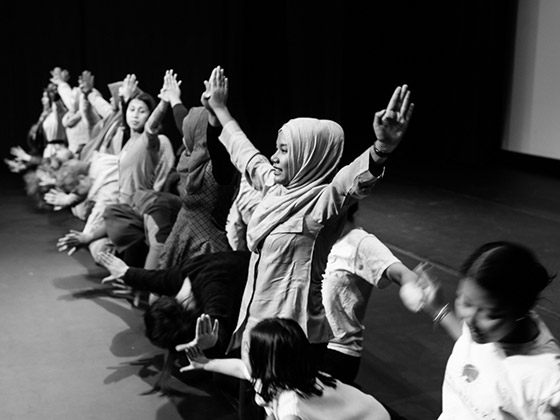 Making a wave at the workshop. (Vaishali Nayak)
The workshop progressed with the learning of the Guel dance, a feminine piece with delicate and synchronized arm and hip movements. I was instructed to place my hands in a v-form on my navel which the dancers shared was in fact symbolizing a woman's virginity. In another dance form, the Saudati Inong, we learned movements that mimicked a cock fight. From just a single visceral immersion with Tari Aceh's craft, the immense complexity and symbolism of the movements revealed the significance of the various dances as both entertainment and messenger. 

Learning a section of the Guel dance at Tari Aceh's workshop. (Vaishali Nayak)
Living Tradition
During the weekend, I also had a chance to speak with Tari Aceh dancer Sona Anjana at the Temple of Dendur, an Egyptian relic housed within the contemporary glass design of the Metropolitan Museum of Art—a fitting background to discuss tradition and its contemporary existence.
Sona recounted how she first started dancing in her youth, then grew to become a dance teacher—a beautiful life cycle that many artists follow. Sona shared that most important in her role as a teacher was her ability to pass on the teachings of Islam through song and dance. Sona started singing a simple tune to demonstrate how easy it was for children to learn through song. During our conversation, she expressed a deep passion for the mastery, preservation, and passing on of her artistic expressions of Islamic faith.
Like many traditional art forms, the traditional arts of Indonesia feel the waves of a contemporary and constantly evolving society. In fact, the traditional Indonesian Tari Saman dance has been added to UNESCO's list of Intangible Cultural Heritage as a cultural practice in need of urgent safeguarding.
Though many view the passage of time as an obstacle for the traditional arts, Tari Aceh exemplified how Islam can inspire a fantastic congruence of traditional and contemporary Islamic expressions. Through creative artistry, preservation of core teachings of the past and incorporation of contemporary elements create a true reflection of the diversity of Indonesia at present.

Tari Aceh dancer Maya Sarwati reading the Quran at the Metropolitan Museum of Art. (Vaishali Nayak)
Dance on new platforms
After I said my goodbyes to the troupe, I walked down the steps of the Metropolitan Museum of Art and pulled out my phone after hearing a faint ring. I had received a friend request from one of the dancers, Risa Anggita Mardan Lubis, who was my main dance partner during the workshop. I was subsequently invited to Tari Aceh's Facebook group, where I found that the dancers had prepared for their U.S. tour by conversing with U.S. college students by sharing photos and videos.
Online platforms such as Facebook offer new possibilities for connection. As a result, expressions of Islamic faith such as traditional Indonesian dance have the opportunity to find new audiences and carve out new spaces for cultural exchange.
Whether through international tours or via the internet, possibilities abound for artists to share their culture and faith, offering hope that the creative voices of Muslim Asia will prosper in the critical role they play as representatives and advocates in spreading the beauty and diversity of Islam to the world.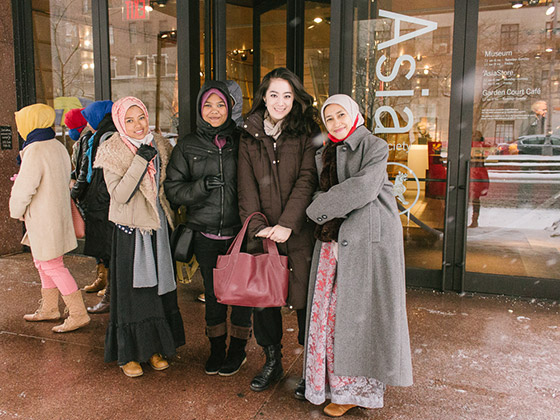 With Tari Aceh dancers outside of Asia Society. L to R: Meipury Lhemper Andesung, Khaira Ummazh, Sarah McCaffery, and Cut Febriyanti. (Vaishali Nayak)