Veni, Vidi, Venti: Starbucks Expands Its Global Reach to Mumbai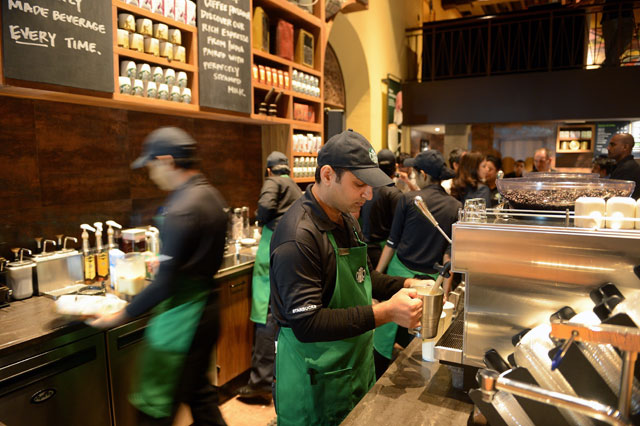 Staff work behind the counter of India's first newly-inaugurated Starbucks outlet in an upscale part of Mumbai on October 19, 2012. (Punit Paranjpe/AFP/Getty Images)
Residents of Mumbai will now have immediate access to a venti Frappuccino. Starbucks opened the first of its Indian flagship stores in Mumbai last Friday, October 19, to a buzz of anticipation and fanfare. Though India has long been primarily a tea-drinking culture, nonetheless coffee still plays a major part in the daily life of Indians, with coffee shops all over Kerala, Goa, Chennai, Kolkata, and of course, Mumbai, embedded in the social fabric of each city. One of Mumbai's oldest and most well-known coffee shops, Leopold Café, was targeted by terrorists during the attacks of 2008 because it's such an epicenter of activity.
For many Indians, Starbucks holds the allure of a global luxury brand. Celebrities like Shahrukh Khan have been seen brandishing the signature to-go cups as a designer item, like Gucci sunglasses.
The opening of the Mumbai store, a collaboration between Starbucks and its Indian partner, the Tata Group, represents an effort to combine the Starbucks ethos with a local Indian sensibility. The décor aims for a Silk Road souk aesthetic with sinuous henna-themed patterns on the floor and faux temple carvings decorating the walls. Asia Society India Centre's Komal Hiranandani visited the store immediately after the opening, and describes the atmosphere in detail:
The ambience lived up to the excited anticipation... with old world charm, high ceilings, a waiting coffee aroma, locally sourced teak furniture, vintage trunks, a French press bar, photographs evoking scenes of local life, and typically Indian paraphernalia strewn about, from block printing woodblocks to embroidered tablecloths.
Menu items include the familiar scones and muffins, European-inspired salmon and cream cheese croissants, in addition to Indian tikka and paneer rolls.
The opening was not without its management challenges. As Hiranandani reports:
In our group of seven, one of us made do with a mocha after being told that white chocolate mochas were out of stock, only to find out that they were available after the order was paid for. On a separate order, another was given a white chocolate mocha instead of a mocha. Though the servers are courteous and welcoming.
Local Indian coffee chains, like Café Coffee Day, are revising their marketing strategies to deal with the incoming competition from Starbucks. But Tata Group CEO Ratan Tata confirms that the Starbucks-Tata venture will make a concerted effort to foster grassroots business initiatives in India with local growers in South India.
"We've been trying to, in a sense, crack the code here," said Starbucks chief executive Howard Schultz. "Asia and the entire Pacific Rim present one of the most significant growth opportunities within Starbucks Coffee Company. India is at the core, along with China."
How the Starbucks fares in India remains to be seen. But chances are, as the appetite for global brands grow in India, the desire for, and curiosity about, the ubiquitous green mermaid will only continue.