South Korea's New President May Be Female, But She is No Women's Rights Crusader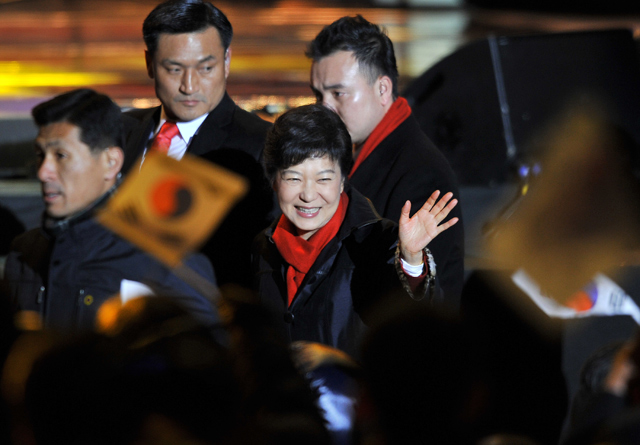 South Korea's president-elect Park Geun-Hye waves to supporters as she arrives to deliver a victory speech on a stage in the centre of Seoul on December 19, 2012. (Jung Yeon-Je/AFP/Getty Images)
As the newly elected president of South Korea, Park Geun-hye has made history by becoming the first female president of her country. The daughter of the former President of Korea, Park Chung-hee, Ms. Park joins a large roster of female leaders in Asia whose rise to power is often credited with familial male connections — a wife, a daughter, a sister of a well-known political leader.
This is as true of Aung San Suu Kyi of Myanmar and Yingluck Shinawatra of Thailand among current leaders as it was true of Indira Gandhi of India, Benazir Bhutto of Pakistan, Sheikh Hasina of Bangladesh, Sirima Bandaranaike of Sri Lanka, and Corazon Aquino of the Philippines.
The fact that so many Asian countries have accepted women as political leaders and heads of state long before Americans have managed to put a woman in the White House has led some observers to believe that it must mean Asian societies are ahead of the Western world in accepting women in leadership roles. The truth is far more complex than the simplistic observation that this automatically means women will benefit from such role models at the pinnacle of their power. In the case of Park, she may have earned the position on her own merits more than other female counterparts, but that doesn't mean her leadership will bode well for women's rights in South Korea or the region during her tenure.
It is fair to say that in many Asian societies, hierarchical by nature, a powerful family connection can actually trump the gender constraints. When the Congress Party of India turned to Sonia Gandhi for leadership, she had hardly any experience in politics, initially by choice. But her role as the wife and daughter-in-law of former prime ministers made her a preferred leader over many other experienced politicians. Similarly, Corazon Aquino won the election in her country after the murder of her husband Ninoy Aquino. She reminded everyone she was "just a house wife," but her connection to the martyred charismatic hero made her a popular choice as a national leader of the Philippines.
Park stands out among this group of women in two particular ways. First, while she is daughter of the former President Park Chung-hee, the legacy of her father in the country is far from laudatory. A military leader, the father is credited with bringing South Korea from abject poverty to an economically powerful force in the region. At the same time, he is also reviled for his military excesses and killing and imprisoning of his opponents. Her father is not an ideal that any Korean political leader today would aspire to.
Equally important is the fact that since the murder of her mother and later her father in the 1970s, Park Guen-hye has spent more than 30 years perfecting her political skills. She became the leader of her party and made political deals as a seasoned politician. She is no novice and should have been considered for the senior-most position in her country. Thus, Ms. Park stands out in the galaxy of female Asian leaders by earning her right to become the president of her country more on her own merit and experience than riding on the coattails of her late father.
But let's be clear, not all female political leaders are necessarily supportive of women's agendas. In fact, Ms. Park's liberal opponent Mr. Moon Jae-in had better and more favorable policies to women than Park. Many of Park's critics have pointed out that by not marrying or having children, she may not have the kind of empathy that women need to show when formulating policy.
Notwithstanding the fact that Korea ranks toward the bottom of polls in its treatment of women, especially in the work place, Ms. Park has hardly mentioned what she intends to do about the discrepancy in pay between men and women, or about encouraging the promotion of women to serious positions. Here she follows in the footsteps of many of her Asian predecessors who were not necessarily supportive of women's rights or equality, especially in their first terms.
In her campaign, Ms. Park used three words: Ready, Female, President. She clearly didn't need to introduce herself to her fellow countrymen, both because of her lineage and her political experience. But she was careful to remind her country that she was a mature, experienced politician who happened to be a woman rather than the other way around.
Let's hope that as women enter the political arena for the second, third, or the fourth time, they will not feel defensive about promoting women's issues. In particular, let's hope that the new Korean president will pay serious attention to the fact that in this neo-Confucian society, women, old and new, continue to rank well below the acceptable standards of developed and developing nations.