Asia In-Depth Podcast: China's Economy — Headed for a Crash?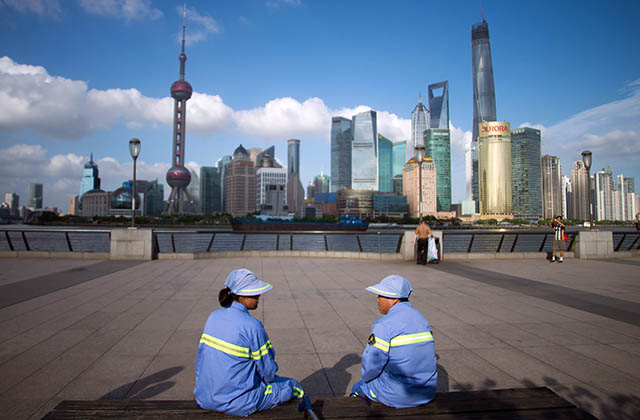 Two cleaners have a rest on a bench at the Bund before the Huangpu River and the skyline of the Lujiazui Financial District in Shanghai. (Johannes Eisele/AFP/Getty)
Subscribe in iTunes ∙ RSS Feed ∙ Download ∙ Full Episode Archive ∙ View Full Transcript
After embracing market reforms in 1979, the world's largest communist country blindsided the world with three decades of consistent double-digit GDP growth. It was dubbed the "China Miracle." But now, the country's growth is slowing and a raft of concerns are emerging in its economy.
Some analysts aren't too worried. Asian Development Bank Chief Economist Shang-Jin Wei says China is entering a period of "unusually unnaturally unfavorable" demographics as the artificially large Mao-era baby boomers retire and yield the workforce to the artificially small one-child generation. But "seeing a gradual decline in growth rate is not a reason to be panicked," he says, noting that China's trajectory is similar to other economies in East Asia that slowed after exhausting low-wage labor-driven growth.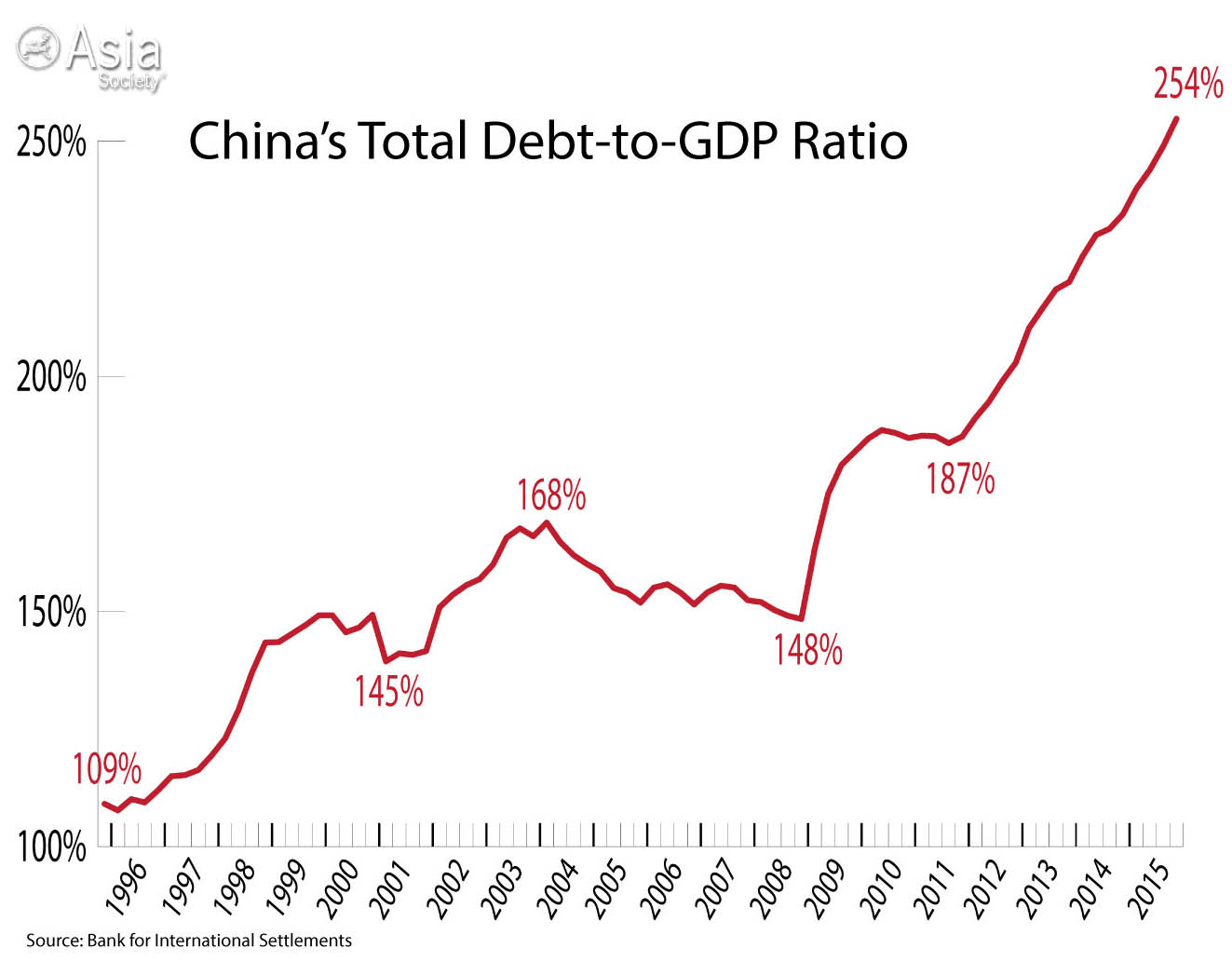 Others are more concerned. According to hedge fund manager George Soros, conditions in China bear an "eerie resemblance" to the United States before its financial crisis in 2008, due to a "parabolic cycle" of debt accumulation.
After the Global Financial Crisis, China's government began pumping credit into the markets to weather the storm — a strategy that resumed with force as the economy began to slow a few years later. The country's debt as a proportion of GDP went from 148 percent at the end of 2008 to more than 250 percent today. "No economy in history, as far as we've been able to find, has ever seen that quick a ramp up in debt without a financial crisis," says longtime Financial Times Beijing correspondent Jamil Anderlini.
Amid soaring debt and slowing growth, many economists say China badly needs reforms to make the economy more market-driven. But this is proving politically difficult. "I think the mindset of those leaders is still at the old stage of the planning economy," says Zhu Chaoping, China economist at the financial services firm UOB Kay Hian. "They are not moving to the direction of marketization and liberalization of the economy. ... It will be very hard to push forward reforms."
With slowing growth and many uncertainties in the economy, capital has been leaving China at an unprecedented rate, suggesting deteriorating confidence among businesses and wealthy individuals. If the government can't maintain confidence and sustain the growth that's been a staple of its legitimacy for decades, it could find itself in trouble. "Of course it's vulnerable," says New York University economist Ann Lee. "They need to certainly continue to show the population that they have their best interests at heart and that they're delivering, otherwise it's too easy for other folks to say we need other options, why can't we create another party to challenge you."
In this episode of the Asia Society Podcast, we hear from economists, investors, and journalists including George Soros, Shang Jin-Wei, Ann Lee, Zhu Chaoping, Jamil Anderlini, Ruchir Sharma, Lucy Hornby, and Richard McGregor to unpack these challenges, look at what's going on in China's economy, and explore what a serious stumble might mean for the world.