Outgoing New Zealand Prime Minister John Key on TPP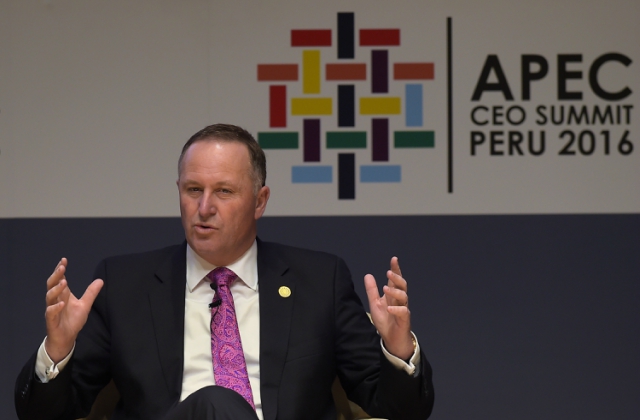 New Zealand Prime Minister John Key announced his resignation on Monday after eight years in office. (Rodrigo Buendia/AFP/Getty Images)
John Key, who has served as prime minister of New Zealand since 2008, announced on Monday that he would resign in order to spend more time with his family. From the New York Times:
Mr. Key, a former Merrill Lynch executive, said Monday that he had never wanted to be a career politician and did not know what he would do next.

"Throughout these years I have given everything I could to this job that I cherish, and this country that I love," Mr. Key said in a statement. "All of this has come at quite some sacrifice for the people who are dearest to me — my family."

Mr. Key said that he would resign on Dec. 12 and that his party would choose a new leader and prime minister that same day. Mr. Key said he would support whomever the party chose but that he would vote for Bill English, his deputy prime minister and finance minister, if Mr. English put his name forward.
Last year, Key appeared at Asia Society in conversation with Kevin Rudd, president of the Asia Society Policy Institute and fellow Australasian, about the Trans-Pacific Partnership (TPP) trade deal. As Prime Minister Key prepares to leave office just 15 months later, the prospects for TPP implementation have dimmed following the election of Donald Trump, a fierce opponent of the deal, as U.S. president.
Watch a clip from the conversation below.