New Hope for India-Pakistan Relations?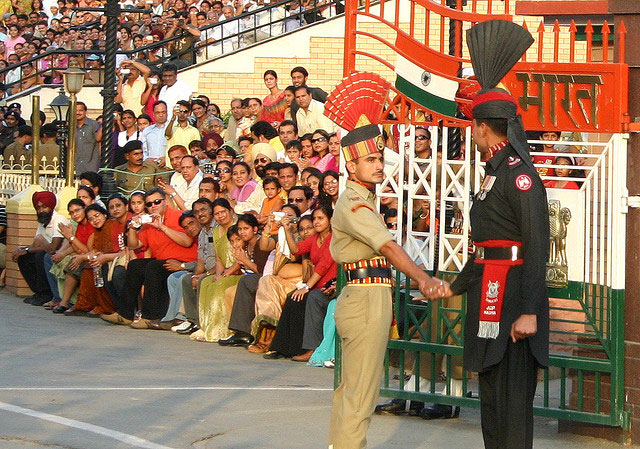 Pakistani and Indian border guards shake hands at Attari-Wagah, the border between India and Pakistan, on May 24, 2008. (joshuahsong/Flickr)
In recent months Pakistan and India have made unprecedented strides in improving bilateral trade relations. Last year Pakistan decided to grant India "most favored nation" status, and recent reports show that Pakistan will soon be importing petrol and energy from India, while India will allow foreign direct investment from Pakistan.
The two countries plan to collaborate on higher education programs, as well, and a new integrated check post for commercial traffic and trade has opened at the Attari-Wagah border crossing. India and Pakistan are also expected to discuss reforms in their visa regime at the upcoming Home Secretary level talks in Islamabad on May 24 and 25.
We asked Asia Society experts on the region to comment on what sets apart Pakistan and India's recent efforts to improve bilateral relations from previous attempts, and whether the current discussions are more likely to produce positive results.
Moreover, as former Prime Minister Nawaz Sharif recently commented that Pakistan should unilaterally abolish its visa regime with India, we asked our experts why Sharif didn't take this step when he was in office (twice) — and what's changed in the past 14 or so years.
Vishakha Desai
President, Asia Society

The current discussions and efforts about improving the bilateral relationship between India and Pakistan seem more promising because the discussion is around the economic and civil society efforts rather than political trust or lack thereof. It seems more grounded in reality and not just in political rhetoric. Also, it feels more multi-pronged. So I feel that there may be a better chance for a real improvement in the bilateral relationship. Political efforts have failed in the past, so why not give these new efforts a chance?
It is remarkable that Nawaz Sharif has called for the abolishing of the visa regime with India. Clearly, this is partly related to the new economic realities and efforts. If India and Pakistan can sort out the visa restrictions and trade barriers, it can be hugely beneficial to both sides. The problem will be with the Indian side because of worries about the potential of export of terrorist actors and activities.
The more Indians and Pakistanis meet each other, work together and do business together, the more we will build trust, and it will have a greater chance for a lasting goodwill than anything governments can mandate.
Hassan Abbas
Senior Advisor, Asia Society
Professor of International Security Studies, National Defense University

There is an increasing realization in both power corridors that without peace between the two states their people will suffer more and geopolitical tensions will only increase. I think both countries have learned the hard way that "conditions for dialogue" (read: "Kashmir on top of the agenda" or "dealing first with cross-border terrorism") are not going to help resolve the lingering issues.
It appears that after a long hiatus democratically elected governments on both sides are now engaged in both open and Track II-level discussions. The business communities on both sides are pushing for more openings in bilateral trade relations. Civil society activists also are more assertive than before, as is evident from the Aman ki Asha initiative from the Times of India and Jang Group in Pakistan — so all of this augurs well for positive results this time around.
Nawaz Sharif's statement is indeed significant but this is not the first time any mainstream political leader from Pakistan said such a thing. The late Benazir Bhutto made similarly courageous suggestions. I think Nawaz Sharif tried to take important initiatives in this direction during his 1997-99 government but Pervez Musharraf's Kargil adventure got in the way. Also, political realities have changed over a period of time — but, most importantly, "it is better late than never."
Pramit Pal Chaudhuri
Associate Fellow, Asia Society
Foreign Editor, The Hindustan Times

The decision by Pakistan to extend Most Favored Nation (MFN) status to India — in effect normalizing trade relations — is among the more exciting developments in the troubled relationship between the two South Asian countries.
First, until now Islamabad has insisted trade relations and various similar people-to-people linkages would be held hostage to a settlement of the Kashmir territorial dispute. By removing this straitjacket from the trade issue, Pakistan has made a major shift in its policy towards India by conceding MFN independent of any other bilateral dispute.
Second, both sides expect a large expansion in trade between the two countries. At present about $5 billion of trade goes via third countries like the United Arab Emirates. Much of this will start to flow directly between the two countries. Once trade feeds into a reduction of the bureaucratic barriers to economic ties there is an expectation new economic areas like services, cross-border investment and so on will blossom. Indian officials foresee the creation of genuine "lobbies for peace" in both countries if the economic relationship deepens.
Third, Islamabad's decision to grant MFN reflects two broader developments within Pakistan. One is a strengthening of the authority of the civilian political leadership. The civilian leaders, whether former prime minister Nawaz Sharif or the present president Asif Ali Zardari, have generally been more enthusiastic about trade than the Pakistan military. It has been the veto wielded by the generals that have kept Sharif and others from implementing such trade measures in the past.
The other is a sense, even with the military, that Pakistan's domestic problems — ranging from terrorism to sectarian violence, a collapse of public finance to a shrinking private sector — and its external problems (the most notable being a collapse of its relations with the United States) are such that it must seek some accommodation with India.
Indian officials note that Pakistan has pulled some 150,000 soldiers from its border with India and moved them closer to Afghanistan over the past few years, a clear indication that Islamabad has concluded its real threats lie to its west rather than its east.
Ayesha Haroon
Associate Fellow, Asia Society
Editor, The News International

At present, there is a lot of pressure from Western governments on Pakistan and India to improve bilateral relations, start trade, ease visa regimes, etc. This is supposed to help Pakistan's army focus on the western border in the near to medium future. Most of Pakistan's non-military governments have favored amicable relations with India. Benazir Bhutto met Rajiv Gandhi, Nawaz Sharif hosted Atal Bihari Vajpayee. The pressure to stay away always came from the army, which has not helped Pakistan.
Discussions alone will not sustain good relations. As trade opens, we will see opposition and anger from trade groups hurting from India's non-tariff barriers. I feel everything is being done in a hurry, and the economic and hence social fallout for ordinary workers has not really been considered. Going from being mortal enemies to best friends in a few months is not very organic. Perhaps there should have been a time of just being ordinary neighbors to help transition to being friends.
Nawaz Sharif improved Pakistan-India relations a great deal. He even managed to get a Bharatiya Janata Party prime minister to come to Lahore and deliver an address at the Minar-e-Pakistan during his tenure. He would have moved forward had Kargil not happened. This is not to say that he would have certainly abolished the visa regime, but relations between the two countries did improve during his tenure.