Muppets Speak a New Language on Sim Sim Hamara, the Sesame Street of Pakistan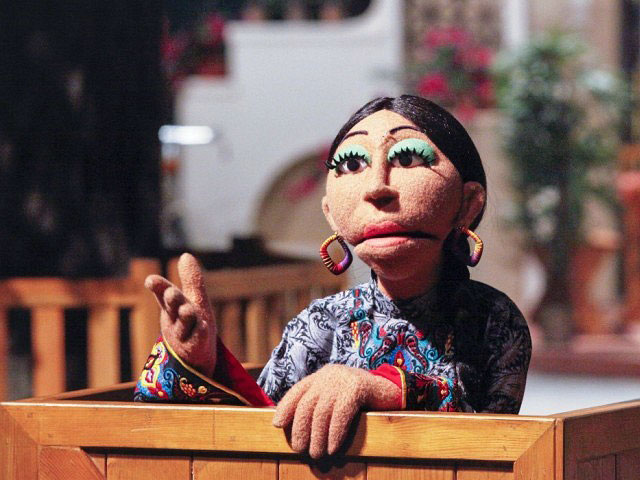 Locally developed character Baji for Sim Sim Hamara, Pakistan's Urdu language version of Sesame Street. (REUTERS PHOTO/DAWN)
Big Bird, Ernie, Grover and the Count are missing from Pakistan's Urdu-language version of Sesame Street, but Elmo will be teaching and entertaining the local children with his new friends: Rani, Munna, Baily, Baji and Haseen-o-Jameel.
Sim Sim Hamara (Our Sim Sim) is the official Pakistani adaptation of Sesame Street produced by Pakistan Children's Television (PCTV) in collaboration with Lahore-based performing arts production company, Rafi Peer Theatre Workshop. Rafi Peer Theatre Workshop has been involved with performing arts for over three decades. The group has been responsible for bringing some of the largest international puppet festivals to Pakistan. In 2004, they established the International Museum of Puppetry in Lahore, which is the first of its kind in Pakistan.
The United States Agency for International Development (USAID) is funding the $20 million dollar project that will run for over four years with 78 episodes produced in Urdu and 56 episodes in regional languages, a radio show, mobile TV vans to show the program in remote areas and a traveling Muppet roadshow (Guardian). Sim Sim Hamara features original puppets with characters that Pakistan's mix of urban and rural children can identify with.
The street is created to reflect a wide range of rural and urban settings from across Pakistan with a local school building, a street-side café, a well, a small flower garden, an art studio, an animal barn, a park and a tall Banyan tree that provides shade to the small diverse community that lives around it. Key learning objectives that the show is promoting include tolerance and cultural sensitivity towards marginalized groups along with basic language, literacy, math, science, and cognition skills as well as developing children's knowledge of health, hygiene, nutrition and social relationships.
The program is aimed specifically at millions of young children in Pakistan who may not have access to school, effective teachers or learning materials. However, not everyone is enthused about the reliance on muppets for children's education. Writing for the Scotsman, Syed Hamad believes that Pakistan's educational system is in shambles. "This is a nuclear-armed country where half the women cannot read and where school funding comprises just 1.5 per cent of GDP," Hamad notes, "but surely it is the responsibility of the Pakistani state to take care of these matters?"
Hamad makes a valid point, and in situations where children don't have access to education, they might not have access to television either to benefit from the educational media. Nevertheless, even if Sim Sim Hamara cannot tackle the larger problems within Pakistan's education system, it will perhaps benefit some children through its instructive content.
Earlier this month, neighboring Afghanistan's TOLO TV and LEMAR TV stations started airing Baghch-e-Simsim, the Dari and Pashto version of Sesame Street. Baghch-e-Simsim, a $1 million project funded by the United States Embassy in Kabul, is a series of 26 half-hour episodes combining reproduced footage dubbed in local languages with live-action films representing social life in various parts of Afghanistan.
In the past, Sesame Street has co-produced localized versions in other Asian countries such as China, Bangladesh, India, Indonesia, Japan and Australia.
Watch a promo for Sim Sim Hamara here: