Live from New York, This Saturday Night: Cambodia's Master Guitarist Kong Nay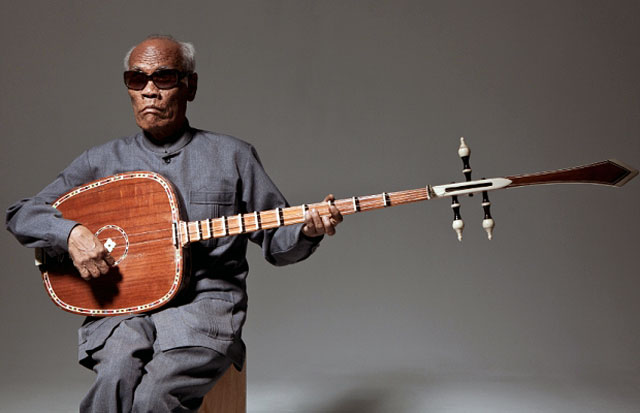 Cambodian musician Kong Nay plays the chapei dong vong (long-neck guitar).
Americans have a rare opportunity to engage with a major Cambodian artist this Saturday evening, when chapei dong vong (long-neck guitar) player Kong Nay brings his soulful sounds to the Asia Society New York stage. Kong will perform solo for the first half of the concert, after which point he'll be joined by distinguished accompanists Ben Allison on bass, Marc Ribot on guitar, and Rudy Royston on drums.
The concert is now sold-out — but if you didn't score a ticket, don't despair. The entire program will also be a free live webcast on AsiaSociety.org/Live at 8:00 pm ET. (Click here for local viewing times around the world.)
Blind since the age of four, Kong learned to play the chapei from an uncle, in a continuation of an oral tradition that stretches back hundreds of years. In chapei music, melodies are passed down from one generation of players to the next, whereas lyrics are generally improvised by the individual performer. Like many other Cambodian folk arts, it's a tradition that was all but decimated under the Khmer Rouge regime of 1975 to 1979.
If you'd like to learn more about Kong and the culture he represents, an informative NPR feature from 2007 (which includes an account of his ordeal under the Khmer Rouge) is a good place to start.
Listen to the complete NPR segment (4 min., 59 sec.) here:
Kong Nay's Asia Society concert is a part of the Season of Cambodia festival, a major celebration of Cambodian arts, culture, and humanities that will present more than 125 Cambodian artists in venues across New York City in April and May 2013. The festival is an initiative of Cambodian Living Arts.
More audio: "Farewell Wishes" by Kong Nay (3 min., 48 sec.)