Before Lil Buck Dances With Madonna at Super Bowl, Watch Him Dance in China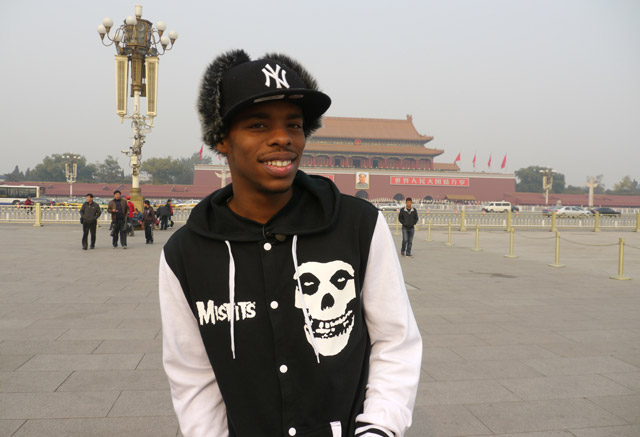 Street dancer Charles "Lil Buck" Riley in Beijing's Tiananmen Square. (Asia Society/Michael Zhao)
On Sunday, millions of people will watch professional street dancer Charles "Lil Buck" Riley [Twitter] dance with Madonna during the Super Bowl halftime show.
But why wait until Sunday? Last November, Lil Buck was one of 16 American cultural figures — including Maryl Streep, Joel Coen and Yo Yo Ma — who traveled China to participate in the four-day U.S.-China Forum on the Arts and Culture, organized by Asia Society's Center on U.S.-China Relations.
Below, please find two of our favorite Lil Buck moments from the trip caught on tape. Enjoy.
BEIJING, November 2011 — While Lil Buck was visiting the Coal+Ice exhibition at Three Shadows Photography Art Centre, he spontaneously performed to LYNX's "Burning Bone" in front of the large 14-meter-wide projection screen after hooking his iPhone up to the sound system.
BEIJING, November 2011 — Lil Buck and Yo Yo Ma perform "The Swan" at the National Centre for the Performing Arts in Beijing.