Konrad Ng: The Asian Pacific American Experience is 'Quintessentially American'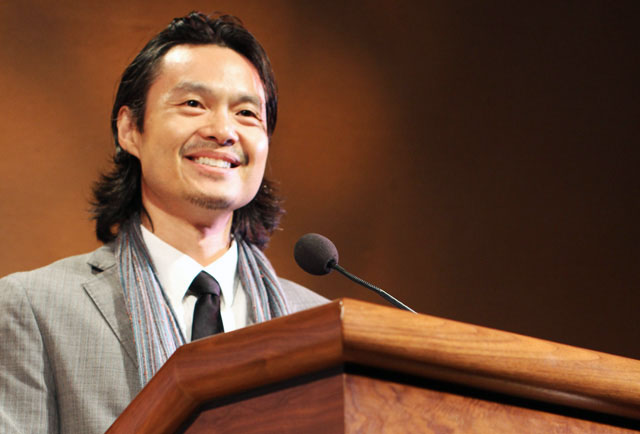 Konrad Ng in Washington, DC on October 19, 2012. (apacenter/Flickr)
Konrad Ng (@konradng), Director of the Smithsonian Asian Pacific American Center since 2011, is a scholar of Asian American cinema and digital media. At the University of Hawaii, where he earned his doctorate in political science, Ng has studied how minority and diaspora communities use cinema and digital media to engage in artistic and cultural representation and preservation, and community mobilization.
Ng is married to President Barack Obama's half-sister Maya Soetoro-Ng. He has served on the boards of the Center for Asian American Media and the Asian American Literary Review and is a member of the Association for Asian American Studies.
To mark Asian Pacific American Heritage Month, Asia Blog interviewed Ng (via email) about his work at the Smithsonian, the rising political clout of Asian Pacific Americans and his experiences as part of the extended first family.
To mark Asian Pacific American Heritage Month, we'll be running Q&As with noteworthy Asian Americans throughout May. Read them all here.
Since 2011 you have been director of the Smithsonian Asian Pacific American Center. What is the objective of the program?
Since joining the Smithsonian, my goal has been to transform the office into a leading and impacting national museum center. Over the last two years, we have increased staff, fundraising goals and the scale of our exhibitions and programs, taking up novel topics like understanding the American experience through South Asian Indian Americans or exploring the intersection between Asian and Latino Communities in the U.S. in food, art and neighborhood. We have established a National Advisory Board and we have reestablished ourselves as Smithsonian Asian Pacific American Center, an action approved by the Secretary of the Smithsonian and the Smithsonian's Board of Regents whose members include the Vice-President, the Chief Justice of the Supreme Court and Senators and Representatives from both parties.
The renaming reflects our plans for growth, the pan-institutional nature of our work and the importance of the Asian Pacific American experience to the Smithsonian. Our mission is to produce national exhibitions and public programs that show how the Asian Pacific American experience reflects the American spirit, is a universal lens for learning, and sparks the learning in everyone. I think many people recognize that the Asian Pacific American experience is a quintessentially American story — it offers a history about the peopling of our country and the character of the citizenry, and it tells a story about the future, in how we are experiencing identity in unique ways.
The Center has to fundraise for all its initiatives and that is always a challenge, but I am betting that the nation is hungry to learn more about itself through the history, art and culture of Asian Pacific American communities.
The Smithsonian Asian Pacific American Center has selected the title of a poem by Filipino American writer Carlos Bulosan, "I Want the Wide American Earth," as the theme for Asian Pacific American Heritage Month 2013. Does this poem have any special significance to you?
Thanks for highlighting Bulosan's poem and its role as the theme for Asian Pacific American Heritage Month 2013! We were moved by Bulosan's life and work (1913-1956). Here is a man who was born soon after the end of the Philippine-American War, left the Philippines to pursue better opportunities in America — and, as in many other immigrant communities, the country of opportunity was also an experience of hardship. Yet, for every reason for Bulosan to feel cynical, he instead wrote poems and stories that celebrated the ideals of America, that saw America as a beacon of freedom to the world and, importantly, as a home for Asian Pacific Americans.
Bulosan's poem is also the title of the exhibition that we opened to commemorate Asian Pacific American Heritage Month. This exhibition views the American experience from the perspective of Asian Pacific America. It shows our contributions and struggles, our achievements and sacrifices, how we have been central to this nation since the founding of the republic in every way, across the arts and sciences, as agents of change in courtrooms and on the streets, in public office and on the battlefield, and as brothers, sisters and compatriots to African Americans, Latinos and other communities in America. "I Want the Wide American Earth" as a poem, as a theme, as an exhibition, shows how we are America, but not simplified as the so-called model minority, rather we are a people with scars that form a truly American voice.
Asian Pacific Americans played an important role in determining the outcome of the most recent presidential election and, as the fastest-growing segment of the U.S. electorate, will no doubt factor in the future. What can candidates do to better connect with this key constituency?
I think it is important to recognize that we are a sophisticated constituency that requires investments in terms of time and recognition. This means spending time in Asian Pacific American communities, learning our histories and concerns, and making sure that the most talented members of our communities are also senior members of any team. Really, the strategy is no different from building and expanding a base necessary to win an election on any scale. The growing recognition of Asian Pacific Americans as a deciding vote will depend on the location and scale of the campaign, but it is happening at a time when technology is enabling ever more sophisticated polling operations. Better data and multiple mediums of communication will allow political campaigns to calibrate their outreach in key ways. Well-resourced campaigns with a strong candidate and staff will be able to execute their strategy with precision.
That said, most campaigns are generally won with resources but decided by "boots on the ground" and getting out the vote, which itself depends on building and mobilizing a base.
You were famously called out by Stephen Colbert as the token "Asian Guy" on stage with Barack Obama at the close of the Democratic National Convention in August 2008. How did that make you feel?
Great question! We had a good laugh back then. I think Colbert is a sharp and talented satirist and performer. I can now call myself a "two-term Asian Guy."
Other than getting to play basketball at the White House, what are some perks of being brother-in-law to the President of the United States?
Truthfully, the perk is that I am married to his younger sister! Maya is an amazing, inspiring and loving woman and life partner I married up. We are grateful for the opportunity to witness history from a unique perspective and see our family's passionate love for America up close; it is a humbling honor.
Thank you for the interview. Asia Society is a terrific organization!