Interview: 'Top Chef' Kristen Kish on Her Korean Fried Chicken Addiction, and More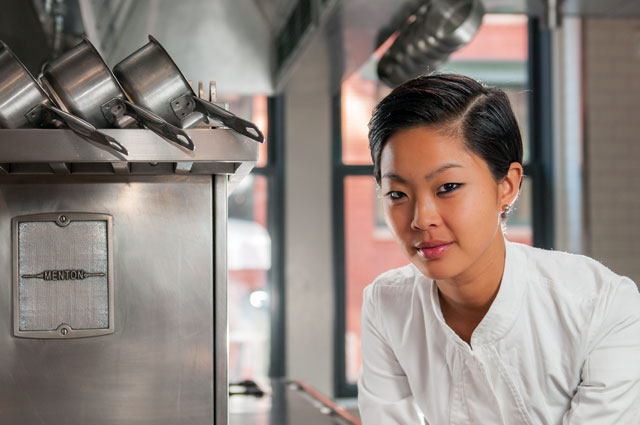 Kristen Kish. (www.mercurephotography.com)
Kristen Kish is a talented rising young chef and the latest winner on Bravo TV's Top Chef (Season 10). She is the second woman and the third Asian American to win the coveted title.
Kish graduated from Le Cordon Bleu in Chicago in 2006. She is currently the Chef de Cuisine at Barbara Lynch's demonstration kitchen Stir in Boston, where she manages the design and execution of daily menus and creates unique culinary experiences for ten guests each night. Beginning next month, she'll move up even further to become the Chef de Cuisine at Boston's highly acclaimed restaurant Menton, also owned by Lynch.
Born in South Korea, Kristen was raised by her adopted family in Kentwood, Michigan, where her passion for cooking began when she was just six years old.
To mark Asian Pacific American Heritage Month, we'll be running Q&As with noteworthy Asian Americans throughout May. Read them all here.
In an interview on Land of Gazillion Adoptees, you say you want to go back to Korea not to find your biological family, but to know where you came from, and learn about Korean culture. Even though you weren't brought up in an Asian household, how has your Asian American background helped shape who you are today?
It's funny, I always said I have an affinity for rice, soy sauce, kimchi, and Korean food in general because it's in my blood. I have loved it since I was a kid.
But honestly, I have to credit my mom and dad. They really introduced me to Korean culture as best they could, starting at a very young age.
You may be a classically trained French chef, but you are also an admitted Korean fried chicken junkie. What are some other Asian dishes you can't do without, and why? (And where can we get some?)
Korean fried chicken I absolutely love! I love Korean BBQ. My favorite place is Chung Ki Wa, just outside of Boston.
Japchae is one of my favorite noodle dishes and bi bim bap, when it's right, is something I would eat for breakfast everyday if someone would make it for me.
If you were asked to create a recipe in honor of Asian Pacific American Heritage Month, what would it be?
I don't ever really cook 100% Asian dishes but I do use Asian ingredients very subtly. I don't ever not use things in my cooking because they aren't "classically" French. I love the aroma of lemon grass. Beautiful chilies, ginger, fermented items... toasted rice. Pairing these as underlying notes in French and Italian cooking is fun for me.
You've become quite the Twitterer. Who are three foodies you think everyone should follow, and why?
Other than the obvious "big-name chefs" and restaurateurs on Twitter, I like to follow people that I respect. Friends, chefs, artists — anyone, really. I enjoy the people who actually do their own tweets and post pictures too.
Barbara Lynch, my mentor and, more importantly, a friend whom I look up to for advice and inspiration. Her tweeting is sporadic but she's fantastic.
Seoul Sausage Co. are great. I get to meet them soon and take a trip to K-Town in La. They are fun, funny, and make great food.
What's the one thing about how Top Chef is made that would surprise most regular viewers? What behind-the-scenes action are we missing?
A lot of waiting around. Long days. It was hard to only "cook" for a few hours and the rest of the time sit or wait for the next thing. I'd rather work for 18 hours then sit for five hours. I learned to live off of four hours of sleep. I'm good at napping now instead of sleeping! There was also an abundance of chips... I ate my weight in Doritos (haha).
I will say the show did a great job of accurately portraying what was going on. It's got to be a hard job to edit so much down to 44 minutes.